Use social media to
boost sales
Social media marketing can be the ticket to driving more sales during your busy season, but many small businesses struggle with developing their strategy. We're here to help dispel the mystery. FedEx Small Business Grant winners talked to us about how they navigate the noisy world of social media to drive positive buzz for their brands, traffic to their websites, and ultimately, sales.
At its core, social media is about relationship building
You are providing a direct line to your customers through your messages, photos, videos, and interactions on social media channels. Let's look at some pointers to help you start building those social media relationships now and market to that customer base into the busy season.
Make content customers want
Any good relationship should be mutually beneficial. Brainstorm ways that your social media content can provide value to your customers. Is it entertaining? Are you providing discounts or other promotions? Does it teach something?
For example, FedEx Small Business Grant Winner Nicole Snow of Darn Good Yarn, the seller of ethically-sourced yarn and fabrics, offers a "free pattern Friday" where her company-owned social media channels share instructions to help followers make new crafting creations. By serving customers in this way, Darn Good Yarn encourages its audience to engage more with its brand, develop a preference for its products, and ultimately make purchases.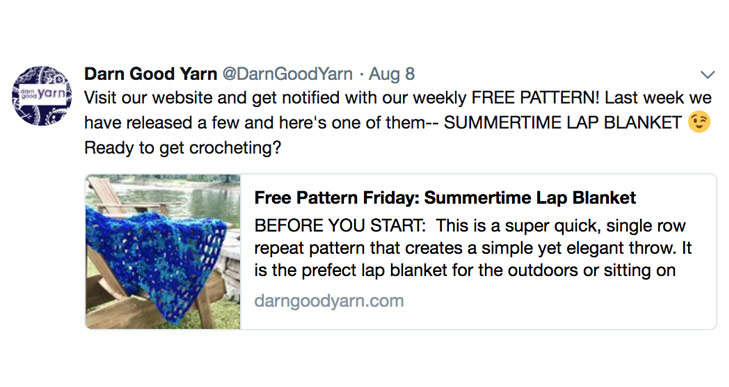 A post on Darn Good Yarn's Twitter account directs customers to their Free Pattern Friday offering. The post provides value to followers while driving traffic back to the Darn Good Yarn website.
Other businesses offer value to social media followers via contests. For example, FedEx Small Business Grant winner Shark Wheel, the inventor of a new type of wheel that can handle multiple types of terrain and is marketed for skateboarders, offers a skateboard giveaway six times per year.
Create a customer profile
Lee Selman, co-owner of Paleo Treats, a San Diego-based dessert company catering to customers on paleo and keto diets, says it's important to develop a firm picture of your customer demographics and preferences to aid your social media marketing. To this end, she identifies her top 10 
highest-spending customers and reaches out to request an individual phone interview with each of them. Based on her interviews, Lee identifies the customers' ages, locations, occupations, favorite confections, and why they bought from Paleo Treats.
Amplify your content with paid advertising
After analyzing her customers' needs and key demographics, Lee and her co-founder, Nik Hawks, use Facebook paid advertising to target users who are similar to those top customers. Facebook offers detailed targeting options, so they can pinpoint users based on demographics, location, and preferences for paleo and keto diets.
One of Paleo Treats' successful ad campaigns targets customers in their local San Diego area. The ads ask users to share their email address to unlock a coupon for an in-store purchase. These ads allow Nik and Lee to remarket to these customers later via email. They also drive more traffic to their brick and mortar store, where Lee and Nik find that customers tend to make higher-volume purchases than they do online.
---
As you plan to market through busy season, Nicole advises you to keep in mind that ad inventory tends to be more expensive during certain times of the year, particularly the winter holidays.
---
Nicole Snow, owner of Darn Good Yarn, also uses paid social advertising. The objectives for her ads include testing new products, moving inventory, and acquiring new customers. In fact, customers acquired through social media ultimately account for 60 percent of Darn Good Yarn sales.
As you plan to market through busy season, Nicole advises you to keep in mind that ad inventory tends to be more expensive during certain times of the year, particularly the winter holidays. To help you maneuver these budgetary issues, consider using diverse methods beyond paid ads to get your message to customers.
Use influencers to boost visibility
Another way to amplify content during the busy season is through partnerships with influencers. Influencers are social media personalities with large followings that can help drive more traffic to your company's social media channels, website, or store.
---
"Build an army of influencers, because I think it's the marketing of the future."
---
Zack Fleishman, COO and co-founder of Shark Wheel, says influencer marketing is critical to his business. "Build an army of influencers, because I think it's the marketing of the future," says Zack. "Rather than paying for an ad, I think there's a much bigger return on investment by getting people that are well respected in your community or in your product category to vouch for your product. It's just a real-life stamp of approval on your product."
In choosing influencers, Zack says he looks for people who have a high number of followers, high engagement rates in terms of likes, comments, retweets, and shares, and can authentically represent the Shark Wheel brand. "We want an influencer to portray a positive image and an adventurous spirit. It should be someone who breaks away from the norm, because that's what our product represents," says Zack.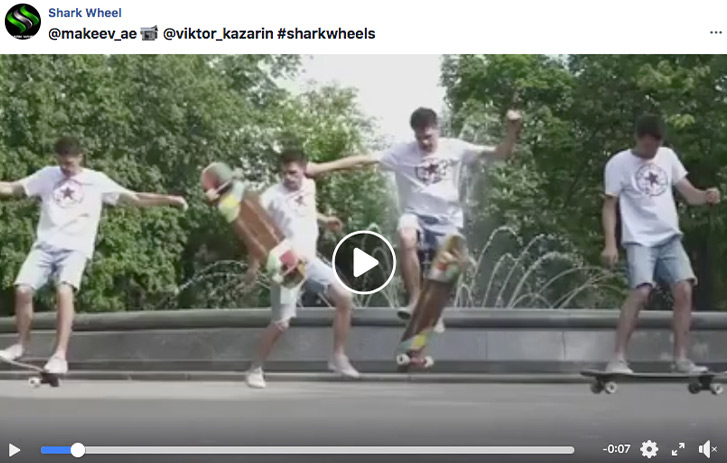 A video post on Shark Wheel's Instagram account features skateboard influencer Alexander Makeev performing tricks. The influencer also shared the video on his Instagram account to drive his more than 16,000 followers to Shark Wheel's properties.
Zack says influencers have supported Shark Wheel's biggest successes on social media. The company has seen their Instagram audience jump from 10,000 to 24,000 followers within a year as a result of their influencer marketing on social media.
One of Shark Wheel's most notable promotions was a partnership with influencer Roman Atwood, an online prankster with more than 14 million subscribers on YouTube. Atwood's audience shares similarities with Shark Wheel customers, so the partnership was a natural fit. The influencer offered a skateboard giveaway on his social media channels that directed users to Shark Wheel social media properties. Zack says Shark Wheel gained 15,000 followers overnight as a result of the promotion.
Use data to your advantage
Social media offers a unique benefit to marketers in that it offers near real-time feedback and detailed data that can be leveraged to help improve your strategy. Use that intelligence to your advantage and adjust course as you go. Lee, of Paleo Treats, will test five different versions of a video ad at a time. After a few days of testing, she and co-founder Nik will determine which ad is performing best and invest more budget in promoting that post.
Authenticity is king
According to Lee, customers like to see a genuine view of your brand on social media. She and Nik will share real testimonials from customers or offer a behind-the-scenes look at their work at Paleo Treats. Lee also personally reaches out to top customers on social media with friendly comments on behalf of her brand.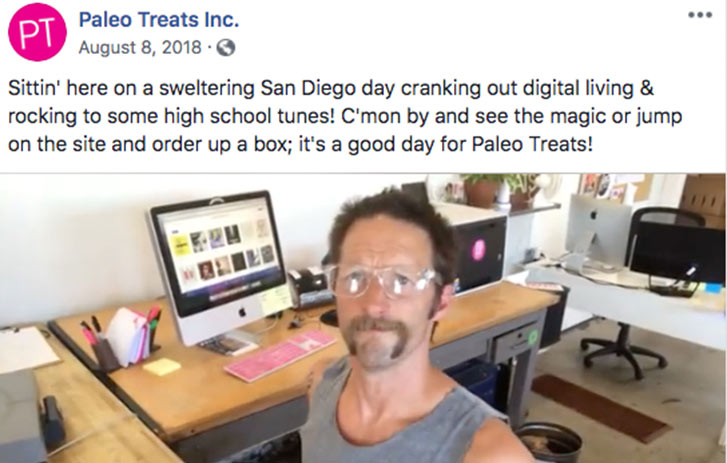 Nik Hawks, co-owner of Paleo Treats, shares a Facebook video from his day at work to give customers an inside look at life at their company.
"People want to know who you are and who they are getting behind if they buy your product," says Lee. "Remember, people don't want to be sold to. Tell stories; show them who you are." These unmanufactured moments help Paleo Treats make a sincere connection with customers.
Nicole Snow has a similar philosophy. She started her own personal public-facing Instagram channel to give customers a chance to connect with her one-on-one. According to Nicole, this personal approach to business is critical to success. "Know who you are, be who you are on social media, and that will translate into a strong relationship with your customers."
Related reading
Additional resources