Reduce, replace, revolutionize: the 3 R's of the FedEx sustainability strategy
Mitch Jackson
November 6, 2017
Connecting the world responsibly and resourcefully is an essential part of the FedEx approach to sustainability. In the latest published Global Citizenship Report, FedEx outlines how this philosophy supports the concept we call Practical Sustainability – strategic and transformational stewardship that adds tangible value in the efforts to be more responsible. FedEx uses the building blocks of performance, transparency, innovation and leadership to help us determine what sustainability initiatives we should be undertaking.
One such initiative that we have detailed for some time is our program to increase vehicle fuel efficiency – our current goal is to do so for the FedEx Express vehicle fleet by 50% from a 2005 baseline by 2025. FedEx has already achieved a 35% improvement. And, in doing so, we described it as a Reduce, Replace, Revolutionize strategy.
Frankly, though, this Reduce, Replace, Revolutionize strategy is not unique to our vehicles alone. It permeates our approach to Practical Sustainability, and encompasses all of these areas of focus: performance, transparency, innovation and leadership. How so?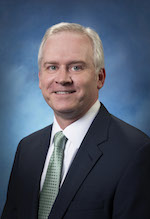 Mitch Jackson
Staff Vice President - Environmental Affairs & Chief Sustainability Officer
FedEx Corporation
Reduce: Reduce or eliminate impacts from activities or operations.
Some examples include the following: 
Vehicles: All of our operating companies work hard to optimize their vehicle routing with a focus on efficiency and customer service. This allows FedEx to reduce overall mileage and fuel use, thereby reducing vehicle emissions.

Aviation: The FedEx® Fuel Sense program, which identifies operational efficiencies across our aviation operations in FedEx Express, saved 81 million gallons of fuel in FY16, avoiding 1.7 billion pounds of CO2e emissions. 

Facilities: Energy efficiency programs for facilities that reduce energy usage abound at FedEx, such as the FedEx Freight GREEN site-designated facilities, the FedEx Ground EarthSmart Champion program, and the FedEx Express ISO14001-and LEED-certified sites.
Paper& Packaging: FedEx Office has a national recycling program that is committed to paper shredding services and recycling – for our operations and customers. Also, FedEx uses a dimensional weight pricing system to encourage more efficient packaging and product density in transport, while reducing transportation emissions. 
Replace: Use the right solutions in the right applications.
Examples include: 
Vehicles: Upgrading vehicles to more efficient ones wherever possible, rather than using the same type vehicle for differing applications, contributes to sustainability. In addition, FedEx has been advocating to bring new efficiencies to less-than-truckload (LTL) freight carriers with 33 feet twin trailers. Annually, this would reduce congestion by 6.6 million truck trips, truck traffic by 1.3 billion miles and carbon emissions by 4.4 billion pounds.

Aviation: The FedEx aircraft fleet modernization program saved almost 72 million gallons of fuel in FY16 alone, avoiding another 1.5 billion pounds of CO2e emissions. It is worth noting that these Reduce and Replace aviation strategies together saved 153 million gallons of fuel and avoided 3.2 billion pounds of carbon emissions – in one year. 
Facilities: FedEx has long focused on upgrading to more efficient lighting. In fact, FedEx facilities saved 214 million kilowatt-hours of electricity in FY16, avoiding 330 million pounds of CO2e emissions.

Paper & Packaging: FedEx Office offers a wide range of paper, with 98% of paper options being Forest Stewardship Council (FSC) or other third party-certified sustainable. 
Revolutionize: Discover and utilize the technologies and solutions of tomorrow, today.
Examples include: 
Aviation: In addition to technological innovations in the aircraft themselves, solutions with regard to the energy sources used in aviation are also important. That is why FedEx Express has a goal to obtain 30% of jet fuel from alternative fuels by 2030 – an ambitious and very challenging issue in current conditions. But, it is one that could contribute to and help revolutionize the primary energy source used for commercial aviation today. 

Facilities: The FedEx goal to expand on-site renewable energy generation and continue to procure renewable energy for facilities is an example of revolutionizing facilities. It's also been a rewarding program, both internally and externally. In FY16, FedEx generated almost 17 million kilowatt-hours of electricity, avoiding almost 15.5 million pounds of CO2e emissions. In addition, the Solar Energy Industries Association ranked FedEx in the top 20 companies using solar on their facilities in the U.S, and in the top 10 companies by solar capacity installed in 2016.

Paper & Packaging: Digital innovation is critical to environmental transformation and FedEx Office is leading the way. Customers can use the FedEx Office® Print Online service from their desktop to print to a FedEx Office location closer to where the printed materials are needed. So, while these printed materials are still created, FedEx Office revolutionizes the method of transport, thereby decreasing emissions. Think about it: FedEx Office® Print Online can take the shipping out of shipping printed materials. 
Just like the three "R's" of education – reading, writing and arithmetic – form the foundation of our modern educational system, Reduce, Replace, Revolutionize is a sustainability strategy that can work for operations, assets and services, just as it does for FedEx. It allows FedEx to use the building blocks of performance, transparency, innovation and leadership to help in Changing What's Possible – for us and others.