Innovation & technology policy perspectives
Innovation & technology policy perspectives
Innovation is in our DNA
FedEx sees benefits of next-generation innovation for our team members and operations, including computer-assisted vehicles, artificial intelligence, robotics and drones. We support efforts to modernize federal laws and regulations that encourage advances in transportation technology.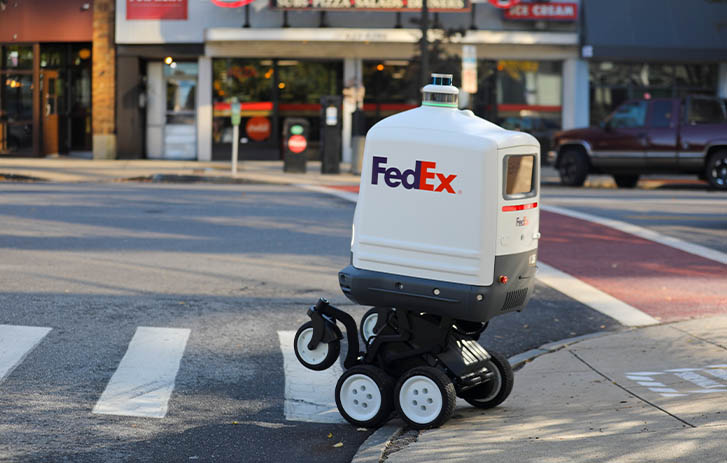 Roxo™, the FedEx SameDay Bot
In February 2019, FedEx unveiled a prototype of the FedEx SameDay Bot, an autonomous delivery device designed in response to the rapid growth of e-commerce, the complexities and expense of last-mile delivery, and our commitment to environmental sustainability. Roxo, as the bot is known, will travel at moderate speeds along roadsides and on sidewalks to deliver smaller shipments safely to customers at their homes and businesses. In collaboration with DEKA Research & Development Corp., FedEx continues to conduct trials to further develop Roxo for widespread use. 
Drone Delivery with Wing
FedEx participated in a pilot program with the Federal Aviation Administration (FAA) and Wing Aviation LLC, a subsidiary of Alphabet Inc., to test a small package, small drone delivery pilot program. In October 2019, FedEx and Wing completed the first scheduled commercial residential drone delivery service and the first scheduled e-commerce delivery via drone in the U.S. In April 2021, FedEx concluded testing, choosing to prioritize research and development of other technology and innovation programs. 
Drone airport operations with MSCAA
FedEx is participating in the U.S. Dept. of Transportation's Unmanned Aircraft System Integration Pilot Program (UAS IPP) in conjunction with the Memphis Shelby-County Airport (MSCAA) to test drone operations on airport property to generate data and knowledge for future UAS policymaking. Memphis was one of ten lead participating sites chosen by the FAA in May 2018. Since then, FedEx has been performing research and development to support aircraft inspections and airport safety and security surveillance activities, collecting hundreds of successful flights.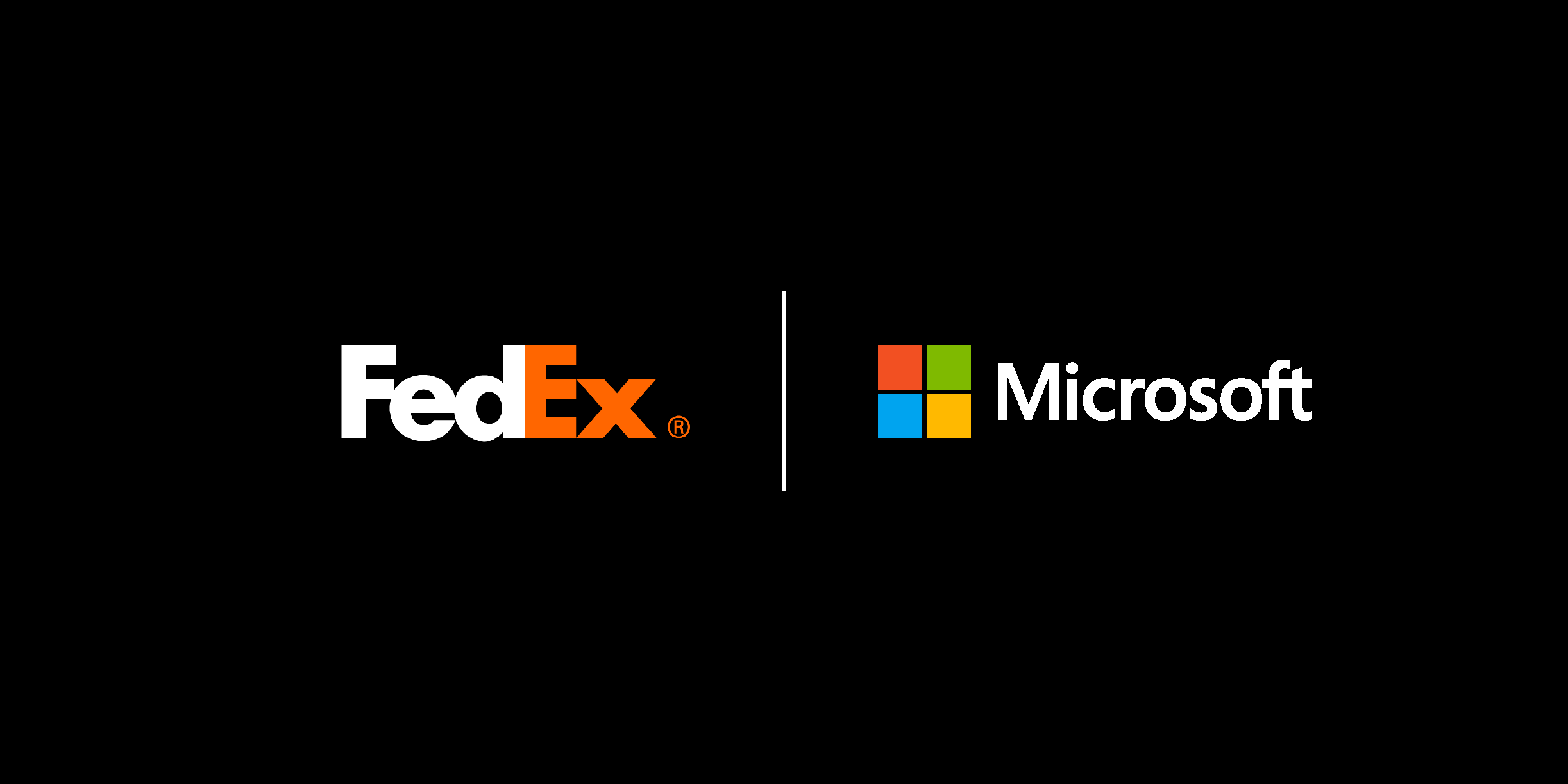 Data transformation: FedEx Surround and beyond
FedEx Surround, the first solution resulting from the FedEx and Microsoft collaboration, allows any business to enhance visibility into its supply chain by leveraging data to provide near-real-time analytics into shipment tracking, which will drive more precise logistics and inventory management. While most carriers are reactive to global logistics dynamics with limited visibility options built into a package's journey, FedEx Surround will provide near-real-time insights — down to the granular level of ZIP code, for example — to shine a digital light on the progress and movement of physical inventory.
SenseAware ID: the latest in Sensor Based Logistics
FedEx has long been a pioneer in sensor-based logistics, providing advanced tracking of urgent and high value shipments for over a decade through its proprietary SenseAware portfolio. SenseAware ID is the latest innovation in FedEx sensor technology, designed to make sensor-based logistics more accessible to FedEx customers. This new technology uses a lightweight, compact sensor that transmits precise package location data via Bluetooth Low Energy (BLE) to established access points throughout the FedEx Express network. Packages equipped with the SenseAware ID sensor are tracked hundreds of times versus dozens of times with traditional package scanning protocols, which provides an unprecedented amount of real-time data about the location of the shipment. The enhanced location visibility provided by this technology will create opportunities for FedEx customers to reimagine their supply chain through real-time updates on a package's location within the FedEx Express network. 
Cold chain solutions for healthcare and other critical shipments
FedEx Express has the flexibility and customized solutions to maintain the temperature of critical packages from pick-up to delivery around the world. Utilizing charter flights, refrigerator trucks and trailers, warehousing, dry ice, thermal blankets, and temperature-controlled containers, we can safely move sensitive shipments, such as vaccines and other bioscience shipments, where and when they are needed. The FedEx Cold Chain Center at FedEx Express World Hub in Memphis, TN, was built in 2016 and includes state-of-the art temperature controlled rooms that can maintain packages at temperatures ranging from frozen (-25°C to -10°C), to cold (2°C to 8°C), and controlled room temperature (15°C to 25°C). 
Supporting our operations with artificial intelligence and machine learning technology solutions
FedEx has been collaborating with Mercedes-Benz Vans since 2018 to help develop and test its intelligent and innovative technology product, Coros. Coros, standing for Cargo Recognition and Organization System, is a machine learning and computer vision package tracking solution that brings added efficiency, transparency, and intelligence to package delivery operations. Coros leverages a suite of vision sensors, edge computing, and machine learning to bring last mile logistics into the age of artificial intelligence, using computer vision to provide real-time visibility into a parcel's journey, automate manual processes, and assist couriers during loading and delivery operations with package alerts and guidance.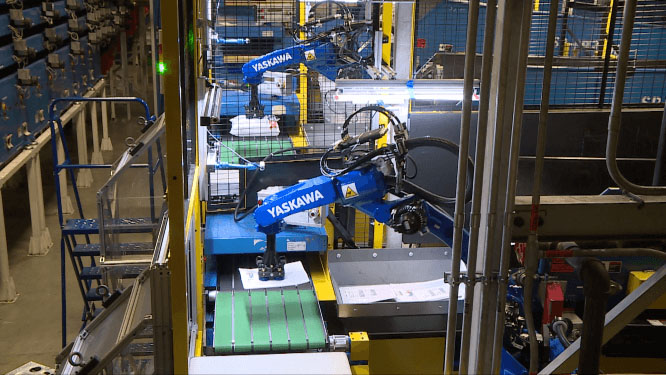 Robotics and automation
At FedEx, we see automation as an opportunity to enhance our team members' jobs within our system, make them more comfortable and easy, and above all, as safe as possible. We've progressed our work with robots and automation, and will continue to do so moving forward. FedEx Ground has recently undergone a transformation, investing in highly-advanced technology and innovations that have resulted in one of the most automated networks in the industry. They continue to test a number of new and emerging technologies within their operations to help maintain this position.
FedEx Express has also been integrating a number of new technologies and automation into its network. Most notably, FedEx has installed four robotic arms to help process small packages and letters within its Small Package Sort System (SPSS) at the Memphis Hub. As the FedEx Express Memphis Hub embarks upon its larger Memphis Hub Modernization and Improvement Project, these robotic arms have been installed, tested and deemed fully operational. FedEx Express worked closely with Plus One and Yaskawa to implement an industrial robotic arm that picks packages from a collection bin and places them on a conveyor belt to be scanned and inducted into the small package sort. This collaborative technology is among the first of its kind in the logistics industry.
Autonomous vehicles
FedEx continues to be a leader in transportation technology that improves safety and efficiency for our team members, operations and customers. We believe that autonomous vehicle technology is promising and has the potential to impact transportation at all levels in the future – from long-haul to last mile delivery. We have been actively testing autonomous vehicles throughout each of our networks and we support more testing and research to advance transportation technologies that improve safety and efficiency for all drivers.  Additionally, we view the testing and adoption of technology and automation as an opportunity to increase safety, improve productivity and provide training and career opportunities for FedEx team members. We are working with the Partnership for Transportation Innovation and Opportunity and support their commitment to "advancing autonomous vehicle technology in ways that improve quality of life and economic opportunity for all Americans."
Our digital transformation
We are constantly innovating at FedEx to meet changing customer needs in a demanding marketplace. We are always looking at trends and the needs of our customers to determine new developments and design the technology solutions to support them. 
The benefits of blockchain
FedEx sees great potential for blockchain in transportation, where a shared digital ledger could create more efficient and secure supply chains for our customers. We are exploring a number of potential use cases for blockchain technology across our operating companies and are founding members of the Blockchain in Transportation Alliance and the Blockchain Research Institute. Blockchain technology has the potential to improve shipment visibility, speed customs clearance and provide a common language across different companies' systems and various industries.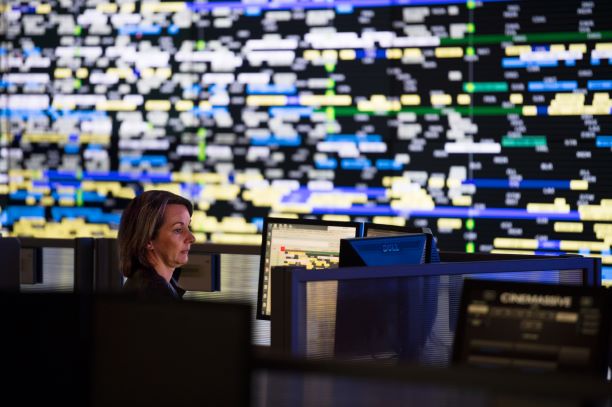 Cybersecurity
An increasingly connected world is increasingly vulnerable to cyber threats and FedEx continues to make significant investments in information security to protect the integrity of our systems and data. FedEx is focused on the protection of trade secrets and customer data, guarding FedEx information systems against malicious interference and disruptions to outside infrastructure critical to FedEx operations.
FedEx has aligned with U.S. government agencies and national business associations to influence sensible federal, state and local cybersecurity and privacy policies and legislation. In addition to such alignment, FedEx has helped spearhead collaboration among technology suppliers to improve and strengthen their security practices. As the world accelerates its digital expansion, FedEx has a renewed commitment to join with other companies and government agencies to reinforce policies, legislation and security practices that fortify the protection of digital data.

News and updates
Featured innovation stories
Aaron Prather is a self-proclaimed tinkerer and solver of puzzles which has led him through a varied career at FedEx to his current role heading up the Small Package Sort System at the Memphis Hub. Prather's team led the installation of four robots at the facility's main sorting room where they execute thousands of "pick and place" maneuvers a day. Three of the four robots average around 1,400 packages an hour while a fourth, named Sue, recently received a software upgrade allowing her to move 1,600 packages through every 60 minutes.
Yes, Prather's team wanted to name the robots and Sue's metallic coworkers nametags clearly read: Bobby, Colin and Randall.
"Three of the names were picked out of a hat, but everyone really wanted to name one of them Randall after a favorite manager who had recently retired," Prather explained of the humanizing efforts.
Whether in package sorting or assembly lines, robots are perfect for simulating repetitive and tedious tasks, allowing team members to focus on higher-level more complex tasks. For Prather, who just celebrated 25 years at FedEx, finding a solution to a puzzle is what he's best at.
"I originally wanted to help develop the routes for couriers, and that's what I studied in college. But over time I found myself moving from one area inside FedEx to another."
All told, Prather has held over a dozen roles at FedEx over the years tackling everything from data analysis to figuring out how to move live chickens through the network. It was this same problem solving that led the cruciverbalist (a fancy word for someone who likes to solve crossword puzzles) to investigate working with a new effort that had just started testing.
"There wasn't an opening at the time, I was just interested in the idea of robots coming to the facility and talked about it with the manager all the time. I found it fascinating. When he moved on, I knew I had to pursue the role."
Prather and the FedEx team worked hand in hand with robotics firms Plus One Robotics Inc. and Yaskawa Electric Corporation to develop the specialized robotic arms that can articulate properly to handle the delicate task of picking up small, and often odd-shaped, packages.
Two years after the project began, the robots are a first in the industry and couldn't have come at a better time with more and more customers relying on e-commerce and delivery than ever before.
One surprising benefit of working with robots is the impact on Prather human staff: "They are freed to do so much more and are overseeing the robots."
A natural born tinkerer, Prather takes apart old iPhones "just to see what's inside" and built a crude robot for a former hockey club he worked with that would repeatedly shoot pucks so defenders could learn to steal them.
He's also been back hitting the books on robotics the past few years working with the International Organization for Standardization (ISO) and recently was enlisted by the Robotics Industries Association (RIA) to lead a task force that will investigate what's needed to allow robots from different manufacturers to talk to each other in a common language.
The robots at FedEx have artificial intelligence (AI) built in while their human counterparts are adapting the old-fashioned way. "The team is figuring out what types of packages the robots are best at handling and feed them what they 'like,'" Prather explains. It's this type of productivity and team innovation that the man building an AI powered RC car in his garage finds rewarding. "People I run into always think working with robots is the coolest job…and I have to agree."