Technology and innovation policies and perspectives
Technology and innovation policies and perspectives
As a global leader in the transportation and technology industries, FedEx sees the undeniable efficiency and safety benefits of next generation innovation for our team members and operations. We support efforts to modernize federal laws and regulations that encourage safety and efficiency advances in transportation technology.
Drones (Unmanned aircraft systems)
In October 2019, FedEx launched its participation in a small package, small drone delivery pilot program operated by Wing Aviation LLC, a subsidiary of Alphabet Inc. This pilot program is being conducted in Christiansburg, VA, as part of the U.S. Department of Transportation's Unmanned Aircraft Systems Integration Pilot Program. This trial is the latest example of FedEx working with technology leaders to develop cutting edge solutions to meet customer needs in an ever-changing marketplace, such as enhancing last mile delivery for same-day delivery of urgent shipments and other exceptional delivery needs.
In 2019, Wing became the first drone delivery company to receive provisional Air Carrier and Operator Certification from the U.S. Federal Aviation Administration (FAA). With this certification, Wing can begin limited commercial delivery of goods to homes in Christiansburg. Wing has conducted more than 80,000 test flights and thousands of on-demand deliveries as part of its commercial trials, including more than 3,000 deliveries to doorsteps, driveways and backyards of customers in Australia.
At FedEx, our purpose is to connect people with possibilities, and we know technology helps us do that in a big way. We support more testing and research to advance transportation technologies and regulations to improve safety and efficiency for all FedEx team members, customers and the general public.
To learn more about the Wing pilot program, including how to opt-in if you live in the Christiansburg area, visit www.wing.com/virginia.
Participants will only be able to receive regularly scheduled packages, and the sender will not accrue any additional charges outside the standard cost of shipping.
FedEx Newsroom, October 18, 2019 - Wing Drone Deliveries Take Flight in First-of-its-Kind Trial with FedEx
FedEx Newsroom, September 19, 2019 - Drone Deliveries Coming Soon, as Wing Unveils Plans for First-of-its-Kind Trial with FedEx and Walgreens
FedEx is also participating in the FAA Unmanned Aircraft System Integration Pilot Program (UAS IPP) in conjunction with the Memphis Shelby-County Airport to conduct drone operations on airport property to generate data and knowledge for future UAS policymaking. Memphis was one of ten lead participating sites chosen by the FAA in May 2018. Since then, FedEx has been performing research and development to support aircraft inspections and airport safety and security surveillance activities, collecting hundreds of successful flights.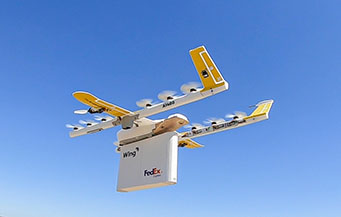 Emerging technologies
Innovation has been part of the FedEx culture from day one, and our team members have developed and implemented many of the industry-leading technologies that now drive our global network. We are exploring new technologies including computer-assisted vehicles, artificial intelligence, robotics and drones.
Industry Coalition Memberships
Blockchain
FedEx sees great potential for blockchain in transportation, where a shared digital ledger could create more efficient and secure supply chains for our customers. We are exploring a number of potential use cases for blockchain technology across our operating companies. Blockchain technology has the potential to improve shipment visibility, speed customs clearance and provide a common language across different companies' systems and various industries.

Industry Coalition Memberships
Blockchain, FedEx, and the Future
Take a peek towards the future as Blockchain technology is discussed by Don Tapscott, co-author of Blockchain Revolution and Rob Carter, FedEx CIO and EVP of FedEx Information Services.
Cybersecurity
FedEx is a stakeholder in a variety of cybersecurity policy fronts, including the protection of trade secrets and customer data, guarding FedEx information systems against malicious interference and disruptions to outside infrastructure critical to FedEx operations.