From cardboard box to robotic wall
With the simple click of a mouse, you can buy anything from new shoes to the latest electronics and have it delivered right to your doorstep. FedEx moves millions of shipments every day, many of which come in cardboard packaging. According to the ABB Group, 100 billion boxes are produced each year in the United States, 75% of which are recycled. So, how is this cardboard packaging recycled?

In some cases it's picked up by the recycling truck and remade into other paper products. Other times it becomes part of something a bit more unique….
First-year students from the Department of Architecture at the University of Memphis recently teamed up with high school students from the Memphis Business Academy to figure out a way to reduce the waste stream by realizing the value of recycled materials.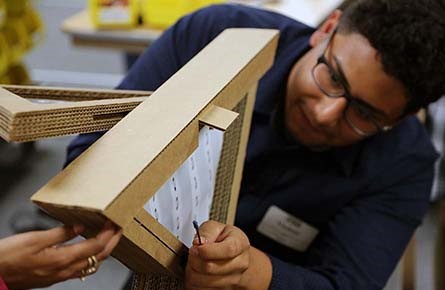 Using recycled cardboard from the FedEx Packaging Lab, which helps design better packaging for customers, these students designed robotic walls that react to sunlight, much like advanced shutters on a house or building.  These prototypes could be up to 60 feet high and 30 feet wide when combined into a system and built to scale.
It took the two groups several months to create the unique designs and incorporate robotics to mobilize the components of the wall. Throughout the process, MBA students received hands-on experience with the architectural build process while the University of Memphis students relied on MBA's expertise with robotics to bring the designs to life.
The project is part of the Sustainable Schools Challenge, a Clean Memphis program intended to promote sustainable practices in schools.