Aviation policies & perspectives
Aviation policies & perspectives
Our perspectives & policies on aviation
FedEx Express is the world's largest full-service, all-cargo airline. FedEx Express covers every U.S. street address and services more than 220 countries and territories. Our global network provides time-sensitive, air-ground express service through 375 airports worldwide. We are members of Airlines for America, Cargo Airlines Association and U.S. Airlines for Open Skies.
Runways to the future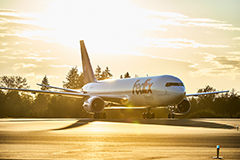 Aviation is a force for good and a source of opportunity.  It builds a more connected world, and a connected world is a better one. FedEx is proud to be a part of the evolving field of aviation through  initiating a new, industry-leading pilot development program to ensure a full pipeline of pilots for us and the industry at large.
Open Skies
FedEx is a longstanding, consistent advocate for U.S. free trade policy and U.S. Open Skies policy. We are the world's leader in providing a global network of connectivity for U.S. businesses, as well as the global e-commerce marketplace. We believe continued open access to international airports is fundamental to the economic growth of our customers and our company.