Delivering thanks to our team members
November 30, 2018
We're delivering thanks to some of our amazing team members who have gone above and beyond to help their neighbors in times of need. Read their stories:

People-first philosophy
Madelin Catalan – Bakersfield, CA
Just before Thanksgiving, Danny Murdock, FedEx Ground Senior Manager in Bakersfield, California, received an email from a local veterans' center.
The agency was short on food for Thanksgiving Day baskets that would allow veterans and their families to enjoy a traditional holiday dinner. Danny shared the letter with Office Administrator Madelin Catalan, who enthusiastically agreed to lead a collection effort.
In less than 24 hours, thanks to Madelin's organizational and communication skills — as well as generous contributions from team members and contracted service providers — the station donated boxed dressing, gravy, instant mashed potatoes, green beans, rolls and turkeys. "We delivered bags and boxes filled with items," Madelin says. "Everyone at the station was happy to work together to show their appreciation for our veterans."
Randel Stokes – Charlottesville, VA
In January 2018, a customer in Charlottesville, Virginia returned home to find her garage on fire. She went into the house to retrieve her fire extinguisher, only to realize she couldn't reach it.  That's when she heard the voice of courier Randel Stokes. He had been delivering a package next door when he saw smoke and flames at the house. Randel asked if he could help, and the customer told him she couldn't reach the extinguisher.
Randel flew into action, running to his truck to grab his extinguisher, and proceeded to fight the fire. He didn't stop there.
Randel raked the piles of melted plastic and machinery into the driveway. When firefighters arrived, they said if Randel hadn't reacted the way he did, then the fire would likely have spread to the house. Randel showed himself to be a true Humanitarian, and we are Delivering Thanks to him for coming to the aid of those in danger.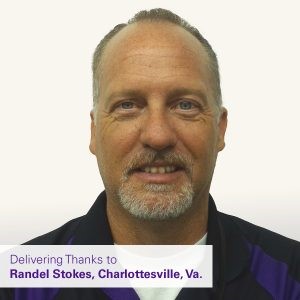 Lifesaving actions
Jennifer Ibarra – Chino, CA
As FedEx Ground Dock Operations Manager Jennifer Ibarra was turning at a light, she watched as the car in front of her crashed into a utility pole. Immediately, Jennifer pulled over and dialed 911.
Thanks to her FedEx Ground first-aid training, Jennifer was able to recognize that the driver was having seizures and to act accordingly. While waiting for help to arrive, she ensured the woman remained undisturbed and reported her condition to emergency responders immediately.
According to Eric Ballejo, assistant hub manager, "Jennifer had no reason to involve herself in this particular accident, but she is the type of person who has a natural desire to help those in need." We are Delivering Thanks to Jennifer for her selfless actions.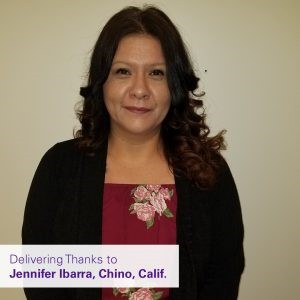 Gene Zappaterreno – Williston, ND
Gene Zappaterreno of Strother and Radzak, Inc., a FedEx Ground contracted service provider in Williston, North Dakota, was headed back to his van after making a delivery in Crosby when he heard "what sounded like a crash, followed by a child screaming."
At first, as he looked around, he saw nothing — until he spied a young girl's head peeking out of a catch basin. "She was hanging on with one hand," he said.
The nine-year-old was playing on the plastic cover of the basin when it broke and she fell into the hole, which was filled with gas lines and rainwater from a recent storm. Gene ran to the basin, grabbed the girl and pulled her out. "I kept telling her she was going to be okay," he says. Gene sat with the girl, who continued to sob, until her mother emerged from the store and rushed to her daughter's side.
After the incident, Gene reported the open basin to the City of Crosby. For his calm and compassionate response, we are Delivering Thanks to Gene.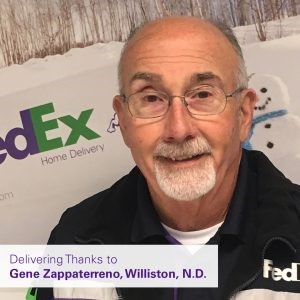 Eric Snorden – Dallas, TX
Eric Snorden, a FedEx Freight handler in Dallas, Texas, was headed home one day when he came across a car that had hit a pole and was on fire, hanging off the side of the road.
Eric pulled over immediately and saw a man in the driver's seat slumped over and unresponsive.
The fire was quickly spreading toward the man, so Eric reached in and pulled him to safety. An ambulance arrived shortly thereafter, and the driver was left in good hands.
We are Delivering Thanks to Eric for this heroic rescue.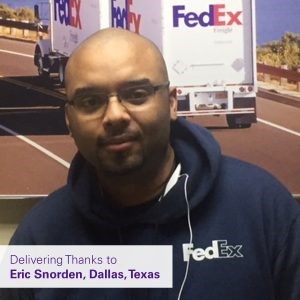 Catalin Manolache – Rome, Italy
While FedEx Express Italy courier Catalin Manolache was on his route, a car ahead of him skidded on the wet road and collided with a wall. Upon seeing this, he immediately stopped his van and went to help the victim out of his car and assist him.
Catalin called for an ambulance and remained at the accident site until help had arrived, and by doing so provided comfort and reassurance to the victim. For his heroic actions, Catalin received a FedEx Humanitarian Award, and we are Delivering Thanks to him this holiday season.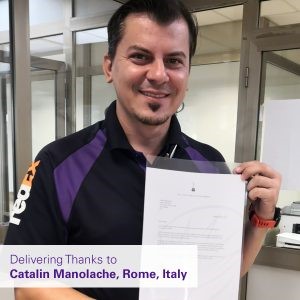 Brett Herrick – Hallam, Australia
Brett Herrick is a true hero. A driver for TNT Australia, Brett was returning to his vehicle after a delivery when he noticed an unconscious woman in desperate need of medical assistance. Rushing to her aid, Brett saw that she was not breathing and immediately began administering CPR while shouting for a bystander to call emergency services.
"Wanting to help someone in need comes naturally," reflected Brett. "It's the right thing to do; I hope that if I was in a situation where I needed help, someone would be there for me."
Brett, who has been a member of our team since April 2017, acted heroically in this dire situation. We are Delivering Thanks to him for encompassing the caring attitude that is at the heart of the combined TNT and FedEx Express culture.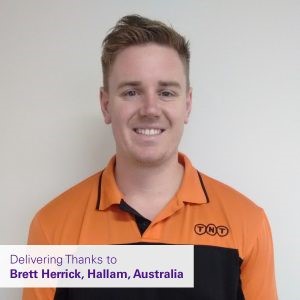 Jim Crocker – Harrison, AR
Jim Crocker, a Liability Claims Manager and trained firefighter, was on a flight when a passenger suddenly slumped into a non-responsive position.
Jim, along with other passengers, immediately stepped in to help.
They assessed the victim's condition, started CPR and were able to stabilize the passenger before landing and meeting first responders at the gate upon arrival. We're Delivering Thanks to Jim for his quick thinking and willingness to help in a fellow passenger's time of need.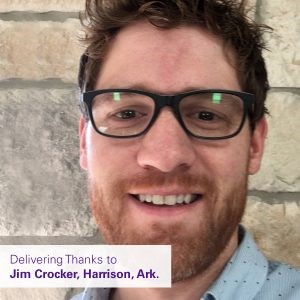 Nicole Davis – Bellows Falls, VT
One evening, our FedEx Freight city driver Nicole Davis was heading back to the service center on snowy roads when she noticed a car in a ditch. She immediately pulled over her vehicle and called 911.
Nicole saw that part of the vehicle was near a tree about 10 feet away and made her way through the snow to find a girl with injuries. Nicole assured the victim that help was on the way and stayed with her until first responders arrived.
We're Delivering Thanks to our team member Nicole for her heroic deed.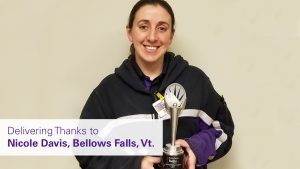 Keith Dickerson – Seattle, WA
While on the road, FedEx Freight city driver Keith Dickerson came upon a motorcycle accident in which the rider had struck a guardrail and was ejected from the bike.
Keith pulled over, jumped out of his truck, asked someone to call 911 and ran over to assist the rider.
Noticing the rider was unconscious, he checked for a pulse. Seeing that he was breathing, Keith stayed beside the rider, talking to him until he gained consciousness and the paramedics arrived on scene. We are Delivering Thanks to Keith for his quick thinking.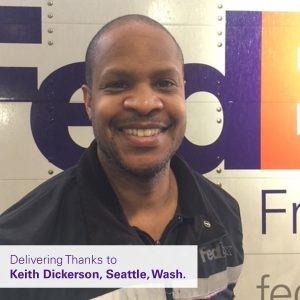 Going the extra mile
Robyn Gardner – Kalispell, MT
Just before Valentine's Day, FedEx Ground Senior Operations Administrator Robyn Gardner fielded a customer service call about a recipient's request for a special delivery.
Robyn contacted the recipient and learned he was leaving on a 5 a.m. flight to China the next morning and wanted to take an important package with him: an engagement ring for a marriage proposal. "The ring was scheduled for delivery that day," explains Robyn. "However, the gentleman was concerned he'd miss the delivery as he had early morning meetings."
Robyn reassured the gentleman she would do her best on his behalf. "I called the contracted driver who services the address and explained the situation, and he offered to contact the recipient and make delivery arrangements."
In a follow-up message, the gentlemen noted that Robyn "found a way to get the job done without …delays and showed the type of character I hope all the people in my own organization show." We are Delivering Thanks to Robyn for putting the customer first.
Wayman Hindsman, Jr. – Fairfield, CA
As a result of poor air quality from wildfires, the day's trailer volume in Fairfield, California could not be processed. Within that volume was a package containing a recipient's cardiac medicine.
The man had only enough medicine for the day and there was no time to order more or fill a prescription. When FedEx Ground Operations Coordinator Wayman Hindsman learned about the package's important contents, he unloaded the trailer it was in, so it could be delivered that day.
According to Brandon Parsons, P&D manager, "Because Wayman responded so quickly, he was able to help the recipient avoid serious health complications that would have resulted in being rushed to the hospital." We're Delivering Thanks to Wayman for acting on this crucial request.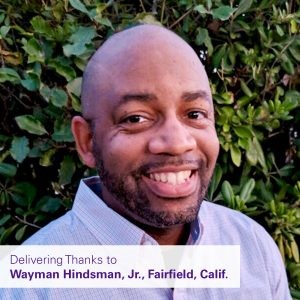 Will Hargrove – Reno, NV
Willie Hargrove, a Service Center Manager for FedEx Freight, received a call from a customer who was in tears. Her husband's medicine, on which his life depended, was not due to be delivered until after his current medicine had run out.
There were no scheduled deliveries in the customer's area, so Willie immediately stepped in to help.
He drove 208 miles roundtrip to deliver the medicine to the very grateful customer. For this selfless action and his passionate dedication to serving customers, we're Delivering Thanks to Willie this holiday season.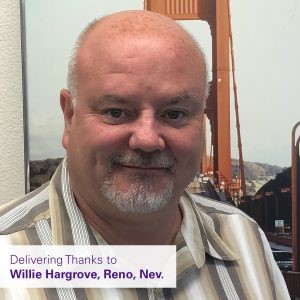 Hai-Long Ren – Beijing, China
While returning to the station after completing his morning deliveries, Hai-Long noticed a woman sitting on the ground, accompanied by two other people.
As he approached to help, they informed Hai-Long that the young woman had just awakened from an epileptic episode and was unable to walk. Hai-Long immediately offered his assistance, carrying the woman back to her office, a distance which took 40 minutes.
The woman recovered after taking her medication in the office, and we are Delivering Thanks to Hai-Long for taking the initiative to assist.