How to create a shipping policy for your small business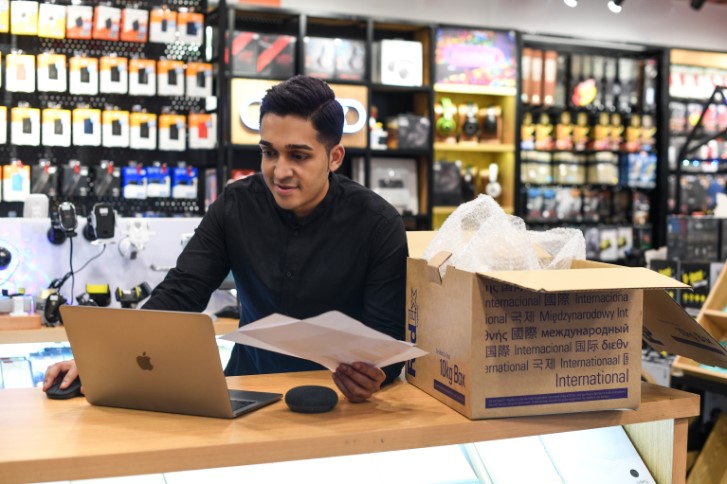 Shipping is a critical component when operating an online store. Creating an easy and efficient experience will go a long way when establishing brand loyalty and trust with your consumers. One of the best ways to do this is by publishing a shipping policy on your website. 
What is a shipping policy?
A shipping policy consists of all the information a customer may want to know about receiving their order. Some common elements include:
Delivery options. Define the customer's shipping options which might feature ground, overnight, and international.


Estimated arrival. The estimated arrival time will be based on the delivery options you offer. Establish these shipping expectations up front so they won't come as a surprise to consumers. Also include if orders are processed and shipped on weekends and holidays.


Shipping costs. Be transparent about shipping fees. Is free shipping an option for customers who spend over a certain amount? Is there a flat rate for all orders?  If there are multiple shipping options, be sure the cost differences are clear to the customer when ordering.


Destination. Do you send products internationally or just within the U.S.? If you mail overseas, will taxes or duties be added to the shipping rate? Customers may also want to know if your e-commerce shipping terms are the same when shipping to a P.O. box or if you even ship to P.O. boxes.


Shipping courier. Tell customers which service will be delivering their package and how they'll receive their tracking number. Communicate these details in an order confirmation email.


Returns policy. Explain how a customer can cancel or return a product, whether returns are free, and how long they have to initiate a return after receiving their order.


Unexpected delays. Proactively communicate common instances for delivery exceptions or delays – like wrong address information or inclement weather – that might be outside of your or your company's control. Note who customers should contact to resolve issues as they may arise.
Businesses aren't legally required to publish a shipping policy—however, it's highly recommended. Making this information as transparent as possible on your website builds trustworthiness, which can lead to more sales. Customers are more likely to purchase from your online store if they understand and feel comfortable with your shipping and returns policies.
How to create a shipping policy that works for your business
Research examples. Look at the shipping policies used by other small businesses in your niche. This will give you an idea of what shipping methods you should offer to provide to be competitive or gain a competitive edge. 


Iron out the details. Compile detailed information from each of the important elements listed above: delivery options, estimated arrival, shipping costs, destination, shipping courier, and the returns policy. Consider the various shipping options available through FedEx—FedEx Ground® can help keep costs low, while FedEx Overnight and FedEx 2Day® offer expedited service 


Write it out. Design an easy to read policy. Swap large blocks of text for stylized content using headings and subheadings, tables, bolded text for important details, bulleted lists, and white space between sections. Minimize legal jargon and stick to your brand voice 


Publish shipping information to your website and other communications. Dedicate a page on your website to your shipping policy, and make sure it's easy to locate. Include a link from your site's footer plus any pages where customers may wonder about shipping options like product pages and checkout.
Additionally, consider sending shipping updates via confirmation emails and note special instructions on a postcard or return label that's inserted into your packages. 



Follow your guidelines. Once the orders start rolling in, closely follow the guidelines laid out in your shipping policy. If you're shipping with us, you can either drop packages off at your local FedEx store or schedule a pick-up from your place of business.
Managing your shipping policy
Any time you change your shipping options, you'll need to refresh your policy. Even when you don't make any changes to your shipping methods, You should verify its accuracy every six months. Check the current delivery rates and timing through the courier you use. If anything has changed, update the shipping policy to ensure your customers are getting the most relevant information.
Check out our Small Business Center for extra shipping, marketing, and tech tips to help you scale your business.