Seven ways to reduce shipping costs
When you're running a profitable small business, you're incurring many operating costs, from digital platform fees to shipping expenses. You might be surprised to learn small- to mid-size companies overspend on shipping by around 13% annually. By reducing these costs, you could tip the scales in your favor, increase margins, and set yourself up for long-term success.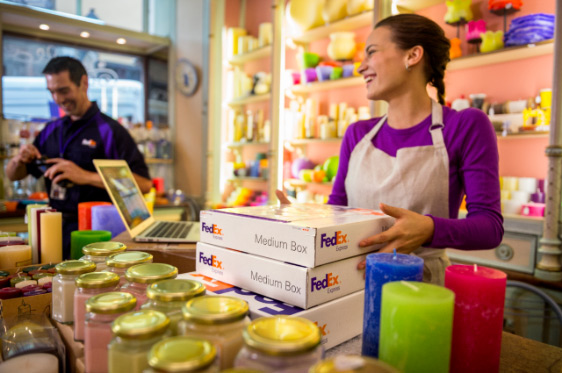 Why is shipping so expensive?
On the surface, shipping fees can seem staggeringly high. However, when you consider the infrastructure and workforce it takes to fulfill online orders, it's amazing how affordable it is for consumers—and just how much it costs businesses. 
How to reduce shipping costs
There are many ways to save on shipping costs. Before making any changes to your business model or product prices, connect with your shipping carrier representative. They'll be able to offer even more suggestions plus answer your outstanding questions. Here are six ways to reduce your shipping costs:


1. Get discounted shipping rates
Find out if you qualify for discount shipping using these popular methods for small- to mid-size businesses.
Negotiate discounted shipping rates based on volume or through a single carrier commitment.  

Join the club. Many carriers offer shipping discounts for small business owners who are members of professional organizations and industry groups. 

Charge your shipping costs to your credit card to take advantage of the discount shipping companies have negotiated for their cardholders.

Explore rewards programs, which often include additional offers based on your shipping frequency.
2. Leverage discounted supplies
eAnother way to keep shipping costs low is to look into cutting back on packaging cost.
Buy in bulk. Get discounts by purchasing higher volumes of packaging materials like bubble wrap, mailers, and dunnage upfront.

Leverage free packaging materials offered by carriers like FedEx Express when you use their services. 


3. Use the "right" packaging
Examine shipping methods and adopt these best practices to ensure you don't incur extra costs:
Use a box closely fitting the shipping product's size to avoid paying extra for larger size and weight. However, make sure the box has room for packing supplies to cushion your product from damage.

Use flat-rate packaging can help you reduce costs when shipping heavy items. Be careful, though.  Many flat-rate packaging programs have weight restrictions.

Think outside the box, literally, and look to use poly and padded mailers for soft goods instead of big boxes which can be more cost-effective.
4. Prepay shipping to save money on shipping labels
A great solution for small businesses shipping orders the same size and weight consistently is purchasing a set number of labels upfront. In addition to claiming discounted rates, prepaid labels also save time—and, as you know, time is money. Additionally, you can sign up for the packaging return program.
5. Factor in all fees
A simple shipping cost optimization step you can take is to account for all of the fees when calculating small business shipping rates. Consider in add-ons like Saturday delivery, signature confirmation, and fuel surcharges before setting your shipping costs.


6. Work with providers 
Are you still wondering how to get cheaper shipping rates? In general, the more volume shipped, the better the odds of receiving discounted shipping rates. Proactive small businesses like yours can work with shipping providers using your account to confirm your volume and potentially qualify for discounted shipping.


As e-commerce continue to grow, shipping expenses may continue to rise, and the role they play in businesses' bottom lines could become more prominent.

Take advantage of our Small Business Center for additional tips and information.
Related reading