The art of gratitude: Writing thank you notes for customers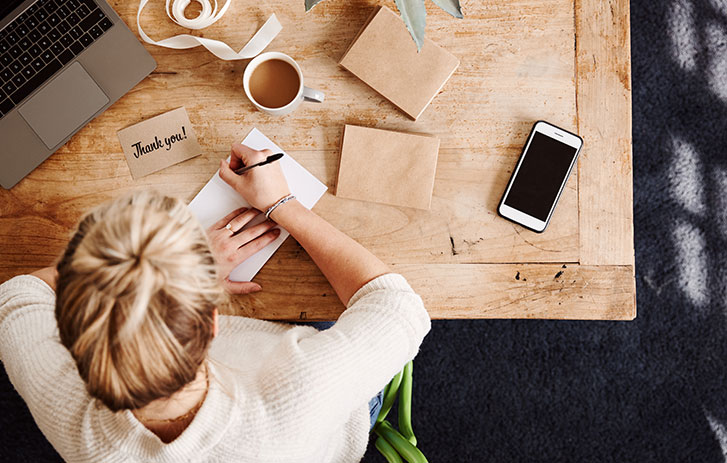 Customer loyalty is big business — recent research suggests it's a $323 billion industry encompassing everything from special offers to the advanced CRM systems used to build relationships and retain customers. Although many small businesses can't afford the same high-tech programs employed by their big-name competitors, there's a simple and effective tool at their disposal: thank you notes for customers. 
Why you should use business thank you notes
Today's customer wants a personalized shopping experience. A "thank you for your business" note (handwritten or personally signed) is an easy and effective way to deliver it.
According to Salesforce, 84% of customers say being treated like a person, not a number, is very important to winning their business. Following up on a transaction with a sincere show of appreciation like a thank you note, or even tucking "thanks for your business" messages into your orders, encourages repeat business and increases consumer advocacy for your business. 
Adweek suggests that personalization can increase marketing spend efficiency by up to 30%. Although ROI on custom-tailored thank you notes for customers can prove difficult to track, they're helpful for keeping you connected with your customer and more likely to be seen than emails, which are often lost in cluttered inboxes. 
How to thank a client for their business
Strive for a personal feel in your thank you notes for customers (a great reason to consider handwriting them) and avoid sounding overly contrived. There's a basic formula to follow that provides proper structure, keeps the message concise and allows for personalization. Here are the six components of a well-written business thank you note:
Start with a greeting:

The goal of a "thank you for your business" note is to build a bond between you and your customer, so keep it warm, friendly and personal — avoid stuffy salutations. Make sure to use the customer's name and a title that's appropriate to your relationship with them.
For customers you don't know, such as a first-time buyer from your Etsy shop, use Mr. and Ms.
For more familiar customers, like a long-time shopper of your store, cut out the formality and use their full or first name. 
Unisex names and names from other cultures can make it difficult to determine the gender of a customer; in these cases, The Emily Post Institute (the preeminent authority on etiquette) advises dropping the courtesy title to avoid any potential embarrassment. 
Express gratitude:

Say "thank you" in the first sentence or two to show your customers the intention of the note and to express your appreciation of their business. You want your customer to feel special, so keep it customer-centric by sharing details about their purchase or how much you value their business. A good trick for striking the right tone in this section is to use the words "you" and "your" frequently. For example:
Thank you for shopping with us the other day
It's customers like you that are the lifeblood of our business
Thanks for your continued patronage 
Allude to the future:
Ultimately, the reason you're writing thank you notes for customers is to build long-term relationships that drive business, so subtly hint at future transactions. Strike an optimistic tone and express your enthusiasm for further interactions with statements like, "I look forward to your next order" or, "if you require additional items, just let me know." 
Avoid creating unrealistic expectations or the wrong voice by steering clear of writing about problems and concerns. Statements such as "if you have any issues, don't hesitate to call" undermine your efforts to keep an upbeat tone.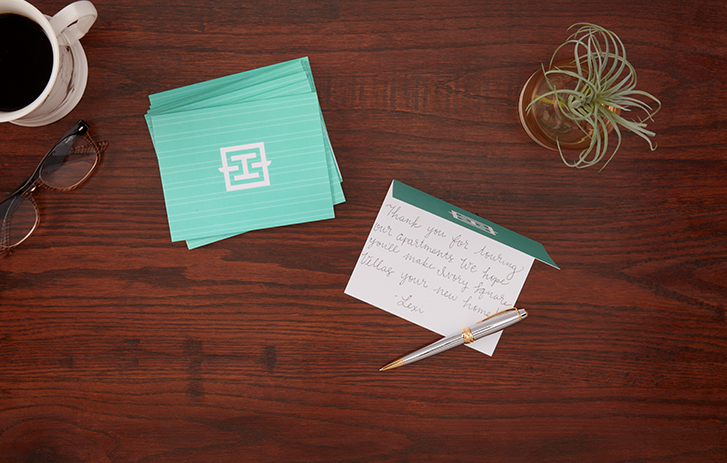 Close with a friendly sign-off:

Close your client appreciation cards with a friendly and on-brand sign-off. Favorites include:
Remember, the second word of a complimentary close — such as Best regards — is not capitalized. 
Sign your name:
No matter if your letter is typed or handwritten, a handwritten signature is essential to give a personal feel to your thank you cards for customers. Use your full name for newer contacts and just your first name for more familiar customers. The end goal is to keep it casual and inviting, so avoid using formal titles. 
Tips to create standout thank you cards for clients
Hand write them:

The intention of "thank you for your business" notes is to demonstrate your appreciation, and nothing exemplifies this better than taking the time to handwrite a letter. 
Select on-brand cards:
Deliver multiple messages simultaneously and further leverage your personalization program with custom, branded thank you notes that reflect your business's aesthetic. If you're on a budget, think about creating a thank you postcard, which is less expensive to mail. 
Keep it casual:

If your business is the type that uses smiley faces at the end of sentences or emojis rather than words, go for it. You want your customer to know a "real" person took the time to write a thank you note. 
Get inked:
Black and blue are tried and true ink colors that work well for most businesses. However, if your brand is more pink ink, have at it. Just avoid writing in red — it's the ink version of typing in all caps. 
FedEx Office can help you create attention-grabbing thank you notes that will wow your customers and help build your brand. We have an array of templates to get you started, or you can custom design your cards to deliver client appreciation cards unique to your business.
Related reading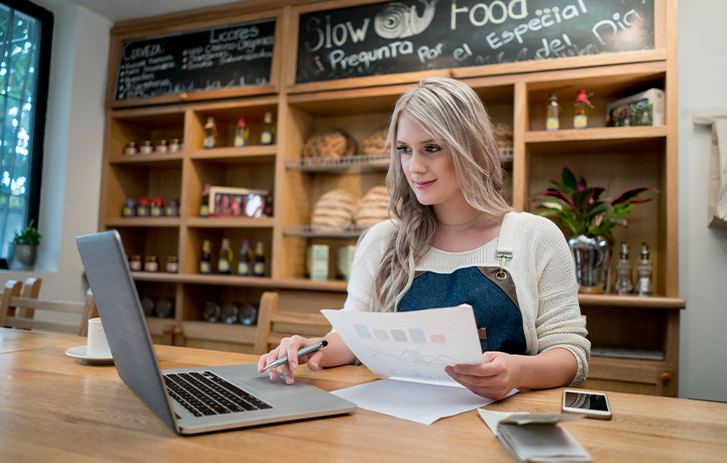 Free advertising strategies for small business
What business can say no to free advertising? Here are some ideas to get you started before you start investing the big bucks.
Read article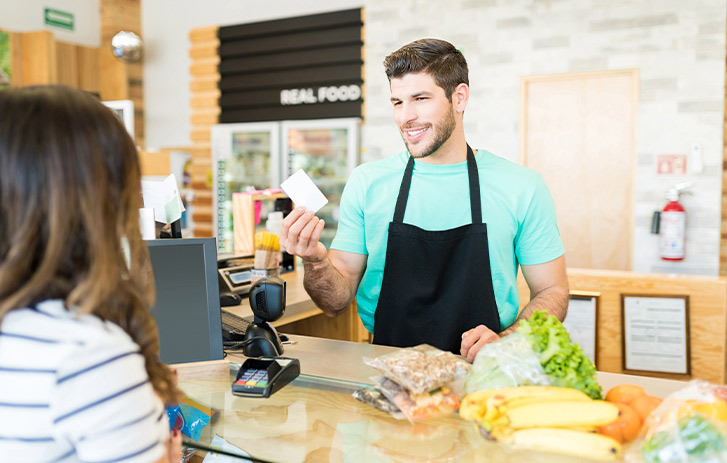 Alternative uses for business cards 
From coupons to frequent punch cards, there are many ways to get the most out of your business card.
read more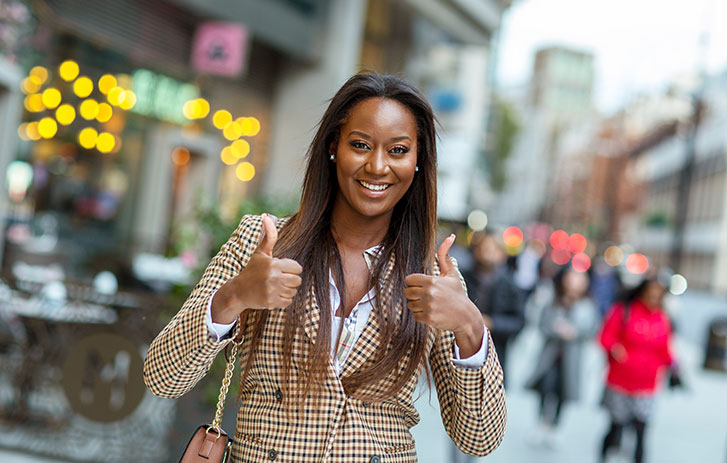 Creating an effective customer advocate program
Building brand advocacy through can be simple if you offer excellent service and products and show loyalty to your brand ambassadors.
read more
---
The information on this page and links provided are as a convenience and for informational purposes only; they do not constitute an endorsement or an approval by FedEx of any of business, products, services, or opinions of any other corporation or organization or individual. FedEx bears no responsibility for the accuracy, legality, or content of any external site or for that of subsequent links. It is important to do your own analysis based on your business needs before using any third-party products or services. Any actions you take upon the information on this page is strictly at your own risk.