Five reasons to create memorable unboxing experiences (and 5 creative e-commerce packaging ideas to bring your boxes to life)
Unboxing is a powerful marketing tool for today's e-commerce companies. The unboxing experience is the final touchpoint a brand has with the customer, and it's the first impression a consumer has with their product. Both of these are extremely important, considering the limited points of contact compared to brick-and-mortar businesses. Creating a memorable unboxing experience benefits your brand, improves customer retention and can ultimately lead to more sales. 
Why the unboxing experience is important
Packaging plays a huge role in how customers perceive a product. A recent survey found that 72% of consumers' purchasing decisions are influenced by a package's design. For businesses, this is an incredible opportunity to build brand awareness, connect with the customer and sell an experience. The most memorable unboxing experiences are theater—telling a story and evoking emotion.  
Reinforce branding. The unboxing experience is a great way for businesses to share their story with their customer. It puts your business's logo and colors front and center, differentiates you from competitors, and creates a unique customer experience.  
Build loyalty. Building loyalty isn't easy. A Bain & Company study found that 60–80% of satisfied customers still fail to do further business with the company that satisfied them. According to Yotpo, it takes at least five purchases for a customer to consider themselves loyal to a brand. Great packaging offers more than a great product — it delivers an unforgettable experience and could accelerate that brand support.
Go social. Social media is the modern-day word of mouth. If you create an unboxing experience one person loves, it's likely they'll share it with their network of friends and family. One study found that 40% of online shoppers would share an image of their purchase on social media if it came in branded packaging. 
Reach new customers. Unboxing has become its own genre of video; according to Google, the amount of time people have spent watching unboxing YouTube videos is equivalent to watching a full-length movie more than 20 million times—a powerful statement considering that 90% of people say they discover new brands on YouTube. 
Increase perceived value. Creating a memorable unboxing experience is a simple value-add for your customer—it makes a product feel more special, the customer more satisfied, and it makes them want to shop with you rather than your competition. A 2019 study found that 45% of customers believe gift-like packaging makes the product seem more upscale. 
Creating great packaging for unboxing
Unboxing campaigns create the tactile experience of shopping in person through the use of smart, thoughtful design, along with careful selection of shipping and packaging materials. This culminates in a rewarding and exciting experience—endearing your business to customers and setting it apart from competitors.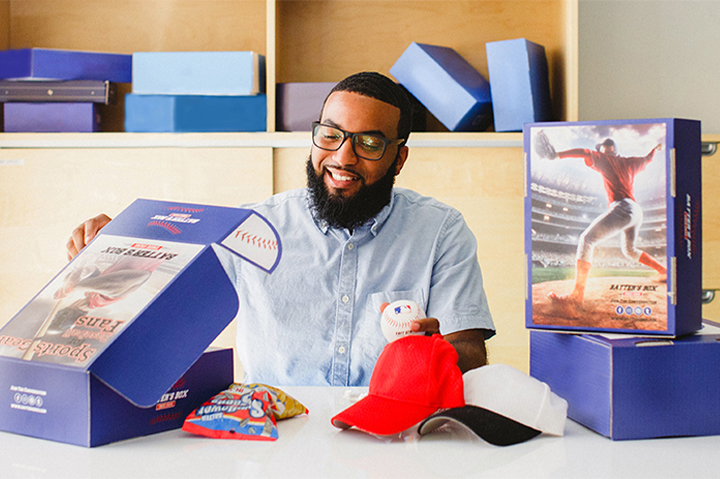 Design custom shipping boxes. This is your first chance to make an impression. It's also an easy way to differentiate yourself from the mass of uninspiring plain brown boxes found on doorsteps everywhere. Creative shipping packaging, such as branded boxes, builds anticipation for what's inside and creates an eagerness for the rest of the unboxing experience. 
Complement with unique packing materials. Packaging serves two functions: it has to protect the product in transit and appeal aesthetically to the customer. There are tons of creative packaging ideas out there, ranging from branded packing tape to custom tissue paper to unique mailers—just make sure your choice is aligned with your brand. For example, if you're an eco-conscious company, use environmentally friendly packing materials or minimize the amount of packaging you use.  
Enclose a free sample. It's no secret that people love free stuff. Adding a free sample is another way to add perceived value to your customer, introduce them to another product, and create more excitement during unboxing. A whopping 62% of shoppers are likely to make repeat purchases upon receiving a giveaway. 
Insert marketing materials. A well-branded box should also include marketing materials. A brochure highlighting your other products, a flyer detailing your business history or a postcard offering a discount on a future purchase are all components of e-commerce packaging designed to facilitate recurring sales. 
Add a personal touch. Statista found that 90% of U.S. consumers find personalized marketing content very or somewhat appealing.
Don't forget presentation. Put a bow on it. Literally. Presentation is where you take all of your great packaging ideas and arrange them into a cohesive, aesthetically pleasing unit. Put your product forward and hide necessities like receipts, return labels and manuals out of the way—even better, group them together in a branded envelope. 

Creating a memorable unboxing experience is only limited by your imagination. FedEx Office can help you create great packaging and effective marketing that will convert one-time buyers into dedicated, long-term customers.
Related reading
Additional resources
---
The information on this page and links provided are as a convenience and for informational purposes only; they do not constitute an endorsement or an approval by FedEx of any of business, products, services, or opinions of any other corporation or organization or individual. FedEx bears no responsibility for the accuracy, legality, or content of any external site or for that of subsequent links. It is important to do your own analysis based on your business needs before using any third-party products or services. Any actions you take upon the information on this page is strictly at your own risk.