How to calculate landed cost for your small business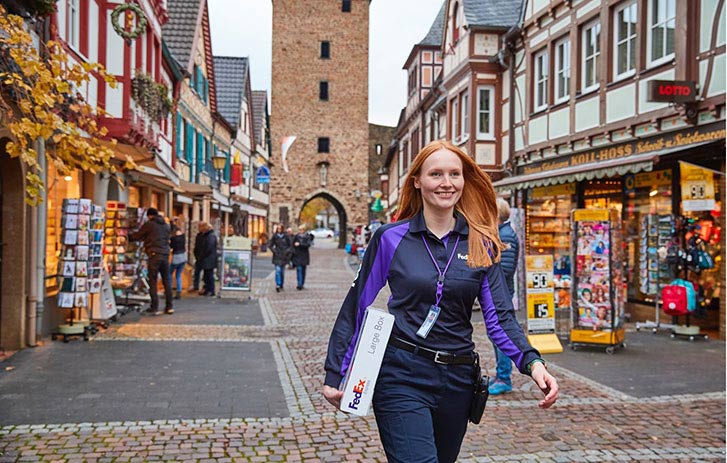 Expanding to international shipping is exciting—you're growing and broadening your consumer base. As a small business owner, learning the required steps and expenses for international shipping will help prepare you for future successes. One of the first things you'll need to determine is your total landed cost.
What is landed cost?
Landed cost is the sum of expenses associated with shipping a product. Typically, the term refers to costs connected with international shipping like taxes and fees. If your business ships to international customers regularly or imports or exports goods, then you'll need to know the landed cost for each different type of product to achieve optimal pricing on your merchandise.
Landed cost is an important calculation for small business owners. The earlier you know your international shipping expenses, the earlier you can plan for how to cover them, make a profit, and maintain competitive prices. For example, if you're importing a product from Italy to sell in the U.S., the total landed cost will be the lowest possible price to sell the product. However, if you sell at this price, you will not make any profit. To sell at a profit, price your imported product above its landed cost.
What goes into your landed cost?
Let's take an in-depth look at the various fees involved in determining landed cost. It's important to note not all of the outlined expenses may apply to your business or to every international shipment you make or receive.
Insurance: Insuring your merchandise is essential. It protects you against lost, stolen, or damaged goods. However, its cost depends on the category and value of the shipped goods.


Customs: Each country has specific fees and regulations associated with importing and exporting goods. Shippers should expect to pay custom-related costs like duties and tariffs, but for additional details, check Trade.gov.


Exchange rates: It pays in the long run to keep the fluidity of exchange rates in mind when establishing product prices. Small business owners are at the mercy of currency exchange rates.


Demurrage fees: Shipping lines frequently charge demurrage fees for containers sitting beyond the free time allotted inside a port or terminal. These fees increase the longer the containers remain onsite.


Free on board (FOB): Although not a direct fee, FOB affects your purchasing and, therefore, your shipping expenses. FOB is used to describe who is liable for products damaged during transit. So, accounting for this is an excellent practice when setting prices.


Export license: While 95% of all U.S. exported goods do not require an export license, research thoroughly before shipping internationally. Start by determining your product's Export Control Classification Number (ECCN), as this will indicate licensing requirements and, potentially, costs.


Port charges: There are various port charges, so associated fees vary depending on the package's destination. Shippers can experience early or late port charges, demurrage fees, or even cancellation costs.

How to calculate total landed cost
Now that you know the possible expenses, you can more accurately estimate your total landed cost. Select only those relevant to each international shipment as no two will be the same. If you aren't exporting goods, you won't incur an export license fee. Similarly, you may not need to account for demurrage costs if storage isn't required.
To help you calculate this number, consider the primary components: product, shipping, customs, risk and overhead. Once you add up the cost per unit, carrier fees, taxes, tariffs, and duties—plus insurance and processing fees—you can adjust product pricing and shipping fees.
Landed cost formula:
Product + shipping + customs + risk + overhead = landed cost
After accounting for product and shipping costs, add customs, which includes all tariffs, taxes, and duties required by the country's regulations. Then, risk is the cost of protecting your investment, which might be insurance, compliance, and quality assurance. Additionally, overhead covers various fees like currency conversion, payment processing, and bank charges.
Landed cost calculation example:
Below is a hypothetical example of this formula. Suppose you've purchased 500 items from a supplier at $20 per unit. The duty is 2%, or $.40 per item ($20 x. 0.02). Shipping is $1,000, or $2 per item ($1000/500 items). Plus, insurance is $200 with an additional $10 per customer order, which means your insurance cost per unit is $200/500 + $10, or $10.40. There's also a $2 payment processing fee per unit.
Total landed cost = $20 (product) + $2 (shipping per item) + $.40 (duties) + $10.40 (insurance) + $2 (processing fee) = $34.80 per unit
Tools to help calculate:
As soon as you gather the various data required by the international shipping process, you can perform a landed cost analysis that will reveal cost reduction opportunities. To help you get started, try these online tools:
Estimate customs fees by inputting your data into FedEx's duty calculator.


Calculate VAT here.


Figure out currency exchange and conversion rates here.

Related reading
Additional resources
---
The information on this page and links provided are as a convenience and for informational purposes only; they do not constitute an endorsement or an approval by FedEx of any of business, products, services, or opinions of any other corporation or organization or individual. FedEx bears no responsibility for the accuracy, legality, or content of any external site or for that of subsequent links. It is important to do your own analysis based on your business needs before using any third-party products or services. Any actions you take upon the information on this page is strictly at your own risk.