FedEx® HealthCare Solutions
FedEx® HealthCare Solutions
Get to Know: In-Vitro Diagnostic Testing
According to studies published by the National Institutes of Health (NIH), in-vitro diagnostics (IVD) supported nearly 70 percent of all clinical decisions made in hospitals and clinics. Some of the most exciting medical treatments in development, such as personalized medicine and gene therapy, are dependent on IVD testing techniques that guide the decision making of healthcare professionals. Biotech companies in the market are growing at an exponential rate, and the industry itself is marked with new technologies and growing revenue. The collection, processing, distribution and storage of the patient tissue and fluid samples obtained for these tests represent a growing supply chain challenge demanding innovations in packaging, sensing, cold chain and many other areas.
According to the U.S. Food and Drug Administration (FDA), an IVD test can be classified as a medical device or a biologic that is used to perform tests on samples such as blood, urine and tissue that have been taken from a human body to help detect an infection or diagnose a disease or condition. These products can be used to take preventive measures and monitor certain drug therapies. These devices can range from simple tests and consumer products, such as blood glucose meters and home pregnancy tests, to sophisticated DNA testing technology supported by an array of reagents, calibrators, control materials, kits and automated systems. The wide array of products and their uses requires a complex supply chain to enable efficiency between the various entities within this chain. Common to all of the products, though, is the management of biologic materials and highly sensitive instruments, which could produce compromised test results if failures in the supply chain occur.
Players Within the IVD Industry
The major participants within the IVD supply chain are the healthcare providers, which may have their own labs; independent testing labs; and the manufacturers of testing products. Healthcare reform in many Western countries, especially the U.S., has led to a reduction in test reimbursement, causing downward pricing pressure for these tests and the resulting products used to conduct them. To maintain their profits, manufacturers are focusing on improving their supply chains to reduce the cost of goods while at the same time not compromising product quality, test results turnaround time and accuracy.
Manufacturers in the U.S. and Europe often purchase raw materials from countries such as China, India, Singapore and other Asian nations. Many original equipment manufacturers (OEMs) outsource to contract manufacturers in low-cost regions as a cost-cutting measure. In both cases, a supply chain network is required to transport the raw materials internationally to specific manufacturing and distribution locations in the destination country, requiring intricate tracking processes to ensure the materials are transported on time. OEMs and contract manufacturers must meet rigorous IVD manufacturing standards, such as compliance with ISO 13485 guidelines, as well as highly detailed documentation and transparent traceability.
Due to the complex needs of end users, which can range from a small lab in a physician's office to a larger hospital or reference laboratory, competitors in the market often partner with each other to provide a comprehensive diagnostic solution to enable patient diagnosis. This multi-party nature of some IVD solutions increases supply chain complexity because it requires the integration of different supply chains and documentation systems.
Requirements for IVD Supply Chain Solutions
The value of IVD products is directly tied to the accuracy and quality of the testing results, which can be achieved only through scrupulous manufacturing and quality-control systems. These requirements shape the supply chain needs of competitors in the industry.
Raw materials: Raw materials are often a rate-limiting factor for many OEMs manufacturing their reagents and kits. Consequently, end manufacturers must carefully manage their inbound supply chains to ensure predictable inventories. Companies that supply materials for use in diagnostic kits are sourcing globally; therefore, the need to control the supply chain is crucial, since the manufacturer and the distributor of a diagnostic product are, ultimately, responsible for the quality and control of all raw materials. Raw material suppliers must meet standardized labelling procedures to ensure tracking and manage recalls, as well as appropriate shipping and storage services, which ensures the product is delivered to end manufacturers with predictable quality.
Reagents: Reagents are considered ancillary materials used in manufacturing, but a faulty reagent could affect the safety, purity and potency of the final product. The analytes within these reagents must be 510(k) cleared before manufacturing. Once approved, reagent production demands cold chain technologies to ensure success. Reagents are delivered as express shipments or as air freight in a cooler that may come equipped with special temperature and data tracking technologies packed with it. The risk of compromised quality rises significantly when the products are transported internationally, so the cold chain process must be adjusted accordingly.
Analyzers and instruments: The devices used to analyze the patient sample in combination with the reagent may be extremely simple or highly complex, but they are all subject to regulatory clearance by the FDA and similar bodies in other countries. The supply chains for these devices are similar to other Class II medical devices and often rely on complex international networks of suppliers. Because of the need for high precision and careful calibration, the devices are subject to more testing and quality-control mechanisms.
Future of IVD Supply Chain
Despite growing regulatory stringency and reimbursement pressures, the global IVD products industry is expected to generate approximately $73 billion by 2022. There is a growing demand for high-quality tests to support healthcare providers' shift toward more common screening and earlier diagnosis of conditions. Personalized medicine will require testing to match the right medical therapies to the genetic profile of patients. In order to conduct wide-scale clinical trials and develop standardized treatment approaches, IVD tests must meet consistent quality standards. This requirement demands that the products used to deliver those tests, as well as the supply chain that supports them, meet similarly rigorous quality standards. In addition, transportation and logistics providers serving the industry must be prepared to provide flexible solutions related to storage, temperature controls and accurate labeling while retaining product quality.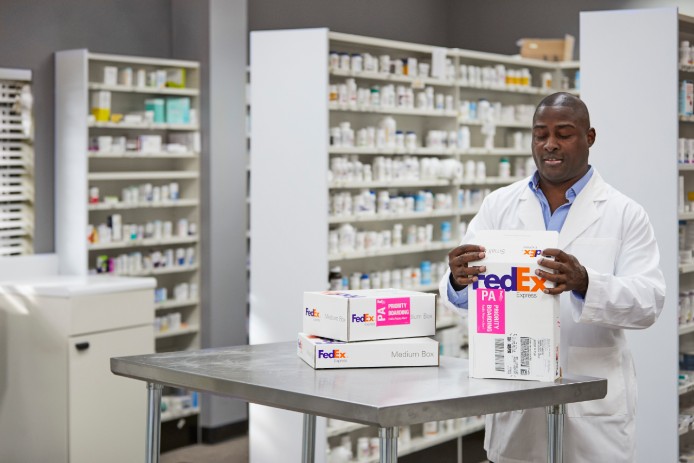 FedEx HealthCare Solutions Knowledge Center
Check out our library of articles, videos and webinars that discuss the healthcare supply chain as it looks today and where it's headed in the future. Plus, learn from experts how innovative technology, strong connectivity and data-driven solutions will help improve the healthcare industry.