FedEx® HealthCare Solutions
FedEx® HealthCare Solutions
Shipping Optimized for Small Packages
by Dr. Christelle Laot
July 10, 2017
A large pharmaceutical company generated savings by selecting overnight shipping rather than a more economical mode of transportation. When the company reduced packaging materials and associated shipping weights for faster transit times, it received only small financial incentives on a per-package basis, but savings were significant when looking at a large volume of small packages. Although those results may seem counterintuitive, the FedEx Life Sciences and Specialty Services internal team has advised shippers for years to take a holistic approach regarding small packages with temperature-sensitive contents.
Even though overnight shipping can cost more than slower modes of transportation, it has major benefits that help to offset those transportation costs. In addition to the reduction in insulation materials mentioned earlier, simplified packaging designs can mean lower labor costs toward package preparation. Overnight shipments also have tighter, more reliable time windows for delivery, with a faster turnaround for reusable temperature data loggers and packaging. But more importantly, the risk of temperature excursion during transit is generally lower for overnight shipments, since small packages are flown at night and then delivered in morning hours, when weather conditions are more moderate.
In contrast, a more economical mode of transportation could imply exposure to extreme temperatures for a day or more on tarmacs and in truck containers. Any temperature excursion costs time and money, especially when no stability data exists and corrective and preventive actions (CAPA) are being drafted.When all direct and indirect costs are accounted for  the total cost of overnight shipping is often attractive to healthcare shippers.
The key to a successful overnight shipping experience is to optimize pickup conditions. FedEx studies determined that the risk of temperature excursion for express shipments is at the highest near the origin of the journey. Thermal profiles are highly affected by the location of the drop-off point. Obviously, an air conditioned building such as a FedEx Office location is better controlled than a drop box located on a sunny sidewalk. However, shippers need to keep in mind that small packages may be transported in non-temperature-controlled FedEx vehicles on the way to the airport. The best solution to ensure product integrity remains to tender small packages at the FedEx Express ramp located directly at the airport with the latest cut-off time.
Packaging systems and insulating materials should be adjusted to take into account seasonal variations. The FedEx package testing and design lab has been providing guidance to shippers through FedEx sales representatives. The lab is even equipped to perform mechanical measurements and simulate thermal conditions in environmental chambers.
FedEx cold chain experts have been working closely with healthcare shippers to raise awareness and leverage the advantages of overnight shipping. Interestingly, even though members of the healthcare community have established clear packaging instructions, procedures are rarely defined around shipping steps. Clinical laboratories and scientists may not have yet realized that decisions made for small-package pickup have the potential to impact clinical trials and patient diagnostics.
---
Christelle Laot
Technical Fellow
Dr. Christelle Laot joined FedEx Express in 2007 and is currently technical fellow in the FedEx healthcare industry vertical. In this role, she provides thought leadership, strategic direction and subject matter expertise for healthcare transportation. Prior to her work with FedEx, Dr. Laot held managerial positions in R&D, innovation and strategy at Bayer in Germany for about six years.
Dr. Laot obtained a PhD and MS in chemical engineering from Virginia Tech (USA), a Diplôme d'Ingénieur from UTC Compiègne (France), as well as an MBA from HEC Montreal (Canada).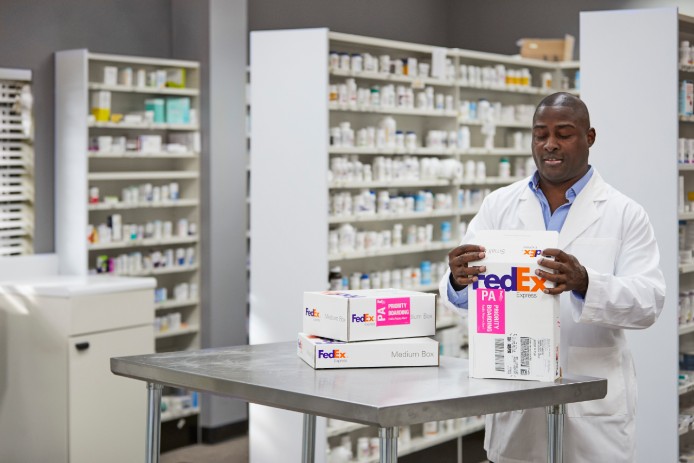 FedEx HealthCare Solutions Knowledge Center
Check out our library of articles, videos and webinars that discuss the healthcare supply chain as it looks today and where it's headed in the future. Plus, learn from experts how innovative technology, strong connectivity and data-driven solutions will help improve the healthcare industry.