FedEx® HealthCare Solutions
FedEx® HealthCare Solutions
Adapting the Healthcare Supply Chain to the Market of the Future
With the healthcare industry rapidly changing, supply chains and logistics experts need to innovate to keep up. Kevin McPherson, vice president of Healthcare Logistics for FedEx Supply Chain, shares how FedEx® solutions can help make that happen.
FedEx: Healthcare has many unique supply chain needs compared with other industries. What are the industry's most important needs?
Kevin McPherson: I think the most important need that the industry has is to serve greater populations of people with these products. Products flow very easily in the United States, Canada and Europe, but many parts of the world can't get the same products as easily. They might not have the infrastructure or the correct governmental regulations in place, therefore preventing products from getting to people.
The second is being able to handle products in compliance with the way they need to be packaged, stored and monitored throughout the transportation process, and to then have audit trails. The basic integrity and security of the supply chain is paramount, particularly as we move away from traditional pharmaceuticals and into more biopharma products. More of those products are temperature controlled, and if they're not properly handled, they can not only become ineffective, but, in some cases, they can actually be harmful to patients. So, access, expansion, auditability, and better care and handling of the products while in transit are paramount throughout the industry.  
FedEx: How important is speed of delivery for these types of products?
KM: Speed is a very relevant topic today. We're in an environment where people feel they need everything immediately. The prevailing thought is, "I'm going to hit a button and it's going to show up in two or three hours." And while that's aspirational, is it really a requirement? We can fly products immediately in a cardboard box and probably get it there in a few hours. But, we can also use a temperature-validated container that will keep that product at the required temperature for 72 hours, and we can move it with a more economical means of transportation. The concept of speed is really relative to many upstream activities. I believe reliability of delivery — at a manufacturing, hospital and patient level — is more important than speed. There are always exceptions to that, particularly in cases such as implant logistics for trauma, but for the most part the need for everything delivered within hours isn't necessary or economically feasible in the healthcare sector.
FedEx: Can you share some examples of companies that have leveraged specialized services from FedEx or FedEx Supply Chain?
KM: We have a global pharmaceutical company that uses SenseAware®, a FedEx innovation. It's a sensing device for tracking packages and the temperature in air cargo containers. SenseAware gives them real-time visibility into their inventory by using cellular GPS communications. Because they know where the product is, they can monitor whether it's going to arrive to its location on time.
I think it makes sense for manufacturers to leverage the tools, techniques, technology and assets of a company like FedEx. A large global company brought us in because they no longer saw the viability of insourcing their own logistics. They had a massive distribution center that was only 60 percent utilized. They told us, "There are two sizes of warehouses. Either too big or too small because we never get it right." We reengineered the entire facility down to half the space. As a large organization, we have the specialized ability to aggregate volume and bring efficiency to manufacturers.
FedEx: What kind of impact does improvement in supply chain efficiency bring to a healthcare products company?
KM: Global medical device and pharmaceutical companies have traditionally had very heavily laden balance sheets and have spent laborious amounts of time focused on the supply chain. By further improving efficiency in their product networks, companies can maximize cost-effectiveness and redirect their focus on other areas of the business like research, development and marketing.
FedEx: What are the most effective ways that companies have found to gain better insight into their supply chain costs?
KM: In order for manufacturers or hospital systems to better understand their costs of operations and the costs within their supply chain, they have to start with an inside look at their metrics. They have to perform data analytics, pick the right metrics, benchmark those against other peer groups, and then see where they stand. Companies must baseline their problem, benchmark it, engineer it to an optimized solution and then go implement the engineered solution.
FedEx: How does FedEx Supply Chain help its customers identify what supply chain challenges they should be focusing on?
KM: One of the many ways that FedEx Supply Chain helps customers identify those potential areas of improvement is that we will compile the data analytics for them. We typically have multiple customers in the same market segments, so we can also share best practices and work against the data aggregation which we have compiled.
FedEx: How do supply chains need to adapt to rapid advances made in medical technology now and in the future?
KM: We hear the terms "smart," "smartphones," "smart devices," and that's really what we're seeing in the med tech sector. More devices are monitoring health and sending signals to a smartphone or to a central database. The med tech industry is moving toward devices that will actually send signals about what's going on in the body. In diagnostics, we're rapidly moving toward the ability to understand a person's genomic makeup, and what specific drugs or treatment regimens will work on them based upon their genetic makeup. This is going to create a more targeted, customized approach to treating disease. The supply chain for that treatment will need to be as close to the patient's home as possible and offer a model that lends to efficient, fast and reliable care. Therefore, you could envision that large acute care hospital that is four blocks long beginning to phase into smaller, hyperlocal healthcare treatment facilities. It's a changing world and the healthcare industry will have to adapt.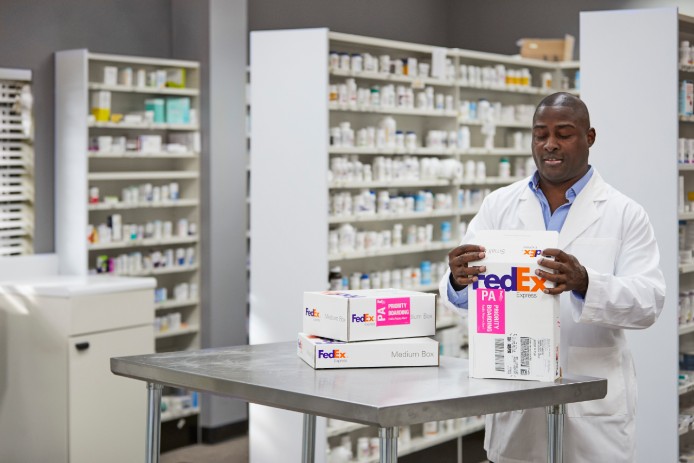 FedEx HealthCare Solutions Knowledge Center
Check out our library of articles, videos and webinars that discuss the healthcare supply chain as it looks today and where it's headed in the future. Plus, learn from experts how innovative technology, strong connectivity and data-driven solutions will help improve the healthcare industry.