FedEx® HealthCare Solutions
FedEx® HealthCare Solutions
Turning Cost Challenges Into Opportunities
According to the U.S. Centers for Medicare and Medicaid Services (CMS), health spending in the United States is expected to grow by 5.8 percent per year from 2015 through 2024 — approximately 1.3 percentage points faster than the gross domestic product (GDP). Historical data also shows an upward trend of U.S. hospital spending, which already totaled approximately $1 trillion in 2015. According to an article by GHX, the healthcare supply chain represents 40–45 percent of healthcare facility spending, a cost second only to labor. To combat this, healthcare providers are urgently looking toward industry best practices to help lower supply chain costs. Some best practices include:
Reducing Costs Through Inventory and Order Management
The analysis of inventory and order histories is the first step toward costs savings, but healthcare products companies and the providers they serve often struggle to get accurate, actionable and timely information. Inventory that is expiring or missing can cost healthcare facilities an extraordinary amount of money. Technologies such as radio frequency identification (RFID) tracking, sensors and barcodes have been used in other industries for years to address this same problem, but the healthcare industry has been slow to change.
Thankfully, the industry is slowly embracing these technologies, starting with high-value implants and drugs. By implementing electronic ordering, analysis and supply chain management software, providers can greatly improve their inventory levels. Standardization of inventory and order management data expands visibility and transparency in the supply chain, further optimizing future orders and shipments. Some providers are taking the bold step of developing their own internal warehousing and distribution operations in order to buy products in higher volumes and lower negotiated prices. As hospitals consolidate into fewer networks, the internal supply chain operations of healthcare products customers will become more sophisticated than in the past.
Better Control Over Internal Supply Chains Creates a Positive Ripple Effect
In an attempt to create cost savings, healthcare institutions are continuously striving to reduce both the number of product shipments and also their in-house inventory. Storage costs include the facility space, corresponding energy bills and transportation to move the products in a timely manner, not to mention the impact on footprint and security risks. Both providers and healthcare products companies are working aggressively to reduce the amount of damaged, lost, consigned and expired products coming out of facility inventories. Unintended use of expired products can pose a risk to patients and caregivers, while missing products are a direct hit to a provider's bottom line. Utilizing better packaging, tracking and supply chain management intelligence inside the healthcare facility itself represents a major opportunity for improvement. Once hospitals have a clearer picture of their in-house inventories in real time, they will be in a better position to order the precise amount of products they need from vendors, which will in turn know what manufacturing volumes they need to hit.
Optimizing Ordering and Shipping Through Automated Processes
There is a delicate balance within inventory management as healthcare institutions strive to optimize their ordering and storage capabilities. Every facility has a unique set of needs in regards to product use and order frequency. The costly transportation services associated with next-day or two-day shipping may be necessary for some specialty products, but order history analysis can increase the number of standing orders and help consolidate inventory. When providers are able to use automatic and electronic processes, they are usually able to reduce manual errors and inventory discrepancies.
For many healthcare providers, finding ways to reduce costs in order to fund operations is a question of survival. Developing more efficient and streamlined supply chains will have a direct impact on whether certain communities will have the same access to care in the future.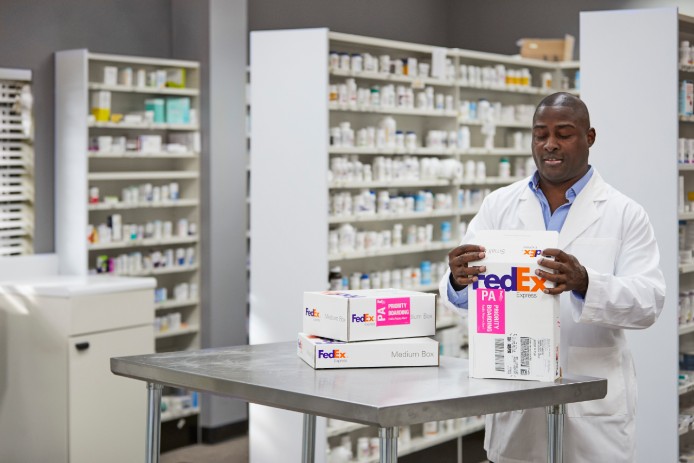 FedEx HealthCare Solutions Knowledge Center
Check out our library of articles, videos and webinars that discuss the healthcare supply chain as it looks today and where it's headed in the future. Plus, learn from experts how innovative technology, strong connectivity and data-driven solutions will help improve the healthcare industry.