FedEx® HealthCare Solutions
FedEx® HealthCare Solutions
Technology Innovation Profile: 3D Printing and Going Local
From tissue grafts to cancer treatments and knee implants to hearing aids, rapid advances in 3D printing, regenerative medicine, materials science and digital imaging now allow healthcare providers to use products designed specifically for individual patients. Compared with older-model supply chains, which relied on warehouses or cabinets filled with stock inventory, this revolutionary model requires one-off manufacturing of specific product components with rapid shipment to the point of care. But with this new model comes a unique challenge for healthcare products companies: How do they quickly evolve their supply chains so materials suppliers, printers, distributors and providers are seamlessly connected and the needs of these new products are met?
The answer? Going local. As 3D printing evolves commercially, business models may arise where implants, casts, splints and orthoses manufacturers and tissue providers build 3D-printing hubs in urban areas so they can produce customized and special-order implants close to where they will be fitted to the patient. In this supply chain model, CT scans, X-rays and patient measurements would be sent to the hub where manufacturing and packaging would be done in a secure, controlled setting. Specialized storage and transportation of the finished product would be managed by a supply chain vendor with local fleets. This strategy would help healthcare products companies gain a competitive advantage in an increasingly commoditized market.
Currently, some medical device companies are delivering 3D-printed implants manufactured around the world to hospitals within 24 hours. But what about when hospitals have an immediate need for devices that are not stocked in their inventory? Manufacturing these products at a local level could reduce the time it takes for a hospital to receive products and reduces the need for a constantly stocked inventory. This strategy could also help lower selling, general and administrative expenses while making manufacturers more profitable.
Watch this video and see how FedEx worked with Stryker Craniomaxillofacial to deliver customized, 3D-printed cranial implants to patients within 24 hours.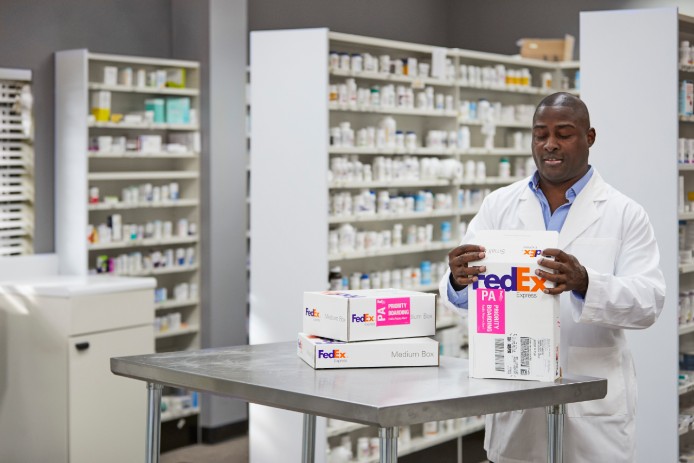 FedEx HealthCare Solutions Knowledge Center
Check out our library of articles, videos and webinars that discuss the healthcare supply chain as it looks today and where it's headed in the future. Plus, learn from experts how innovative technology, strong connectivity and data-driven solutions will help improve the healthcare industry.