FedEx® HealthCare Solutions
FedEx® HealthCare Solutions
The Internet of Things and Healthcare Supply Chain
The Internet of Things (IoT) describes the fast emerging concept of an interconnected network of digital devices and other machines with the ability to transfer data without human-to-computer or human-to-human communication. This machine-to-machine communication — between what many may call "smart" devices — is built on cloud computing and networks of data-gathering sensors, allowing for efficient, instantaneous connections of data. The healthcare industry is under significant pressure to reduce costs, improve efficiency and deliver better care, and many industry watchers are excited about how IoT solutions can be applied to the market's supply chain to address these goals.
The true potential of IoT lies in making sense of the vast amounts of data that sensors in the network are able to gather in order to derive insights that can help users make appropriate decisions related to their supply chain. For example, using IoT to conduct real-time analytics on consumption patterns of products in hospitals can help providers deal more effectively with product reorders, stockouts, expirations and recalls. An IoT solution with this capability could be powered by predictive analytics that use data from product consumption, past orders, expired products, patient records, procedure volumes and other variables to make better predictions for planning production and fulfilling orders.
 
Use of Sensor Tracking Technologies
Many drug products, such as vaccines, biopharmaceuticals and cell therapies, need to be transported under stringent environmental conditions where temperature, humidity, light exposure and other variables are tightly controlled. The pharmaceutical industry is estimated to incur $15 billion in product losses each year due to temperature deviations alone. Approximately 1.5 percent of all pharmaceutical shipments are marked as scrap due to logistical failures. In an effort to rein in these costs, manufacturers, distributors and healthcare providers are increasingly relying on new types of tracking solutions that can capture information about a shipment and provide that sensor data in near real time on a web platform.
Product integrity monitoring devices, such as SenseAware®, a FedEx innovation, are central to these solutions. The products use sensors to track environmental conditions as well as a shipment's precise location. These devices can be included with the shipment to track parameters such as temperature, shock, humidity, tilt, exposure to light and whether a package has been opened. The data from the products can be collected using technologies such as USB or Bluetooth. Supply chain companies using these tracking systems are able to work with manufacturers in real time to immediately rectify any conditions that could be putting shipments at risk.
 
Using IoT for Product Identification and UDI Compliance
Medical device manufacturers have shown significant interest in using IoT to enable their unique device identification (UDI) programs as mandated by the FDA. With an IoT solution, any medical device could potentially be made a smart asset, therefore making its data traceable. One of the primary goals of UDI is to allow for smoother and faster recalls of faulty medical devices, thereby reducing the risk to providers and patients.
The data available in a UDI system could also be used to reduce the use of counterfeit drugs and devices. A 2010 World Health Organization estimate suggests that about 8 percent of the medical devices in circulation were counterfeit. Since there is no assurance that these products meet the same quality assurance standards as when produced by original equipment manufacturers, they pose a major risk for patients and a source for injuries or even death. Manufacturers have taken steps to address authentication issues by adding digital certificates that can map back to specific products. Overall, making medical devices "smarter" allows for improved supply chain visibility, helping to better control and manage inventory levels, manage recalls and address counterfeiting.
In recent years, manufacturers and their healthcare provider customers have been relying more on radio frequency identification (RFID) tags to comply with UDI requirements. Unfortunately, one of the major drawbacks with RFID tags is the inability to sterilize them, which limits how they can be deployed for multi-use products, thereby preventing capture of information throughout the device's lifecycle. However, new advances in next-generation radio frequency technology are making it possible for tags to survive with the asset throughout its lifecycle, even under rugged conditions.
 
Smarter Storage and Smarter Transportation
By embedding sensors in both the products being used and the environment where they are stored and transported, manufacturers, distributors and providers have the ability to not only understand the status of a device in transit but actually how it is used within the customer facility. "Smart" medical inventory cabinets and similar systems are in widespread use for controlling access to high-value drugs and devices. These systems make use of RFID tags on the stored products. As the products are added to or taken from the cabinet, their use is tracked and matched to patient records. This allows for maintaining accurate inventory records, eliminating the need for manual counting and reducing the possibility of stockouts.
Smart cabinets can also automatically reorder supplies that are running low and send alerts for expired products to be removed, within the set parameters and rules. The systems are especially helpful for hospitals managing consigned inventories. Similar technologies are being deployed in warehouses, distribution centers and transportation vehicles, setting the stage for a seamless network that is able to capture and store sensor data across a healthcare product's entire lifespan.
As in most areas of healthcare, the supply chain is only beginning to leverage IoT, and the benefits of the technology are only beginning to be realized. As hardware and communication protocols evolve and become less expensive, and more healthcare-specific applications are developed, the continued adoption of IoT can be expected to be a critical component of most supply chain solutions seeking to improve efficiency and reduce costs.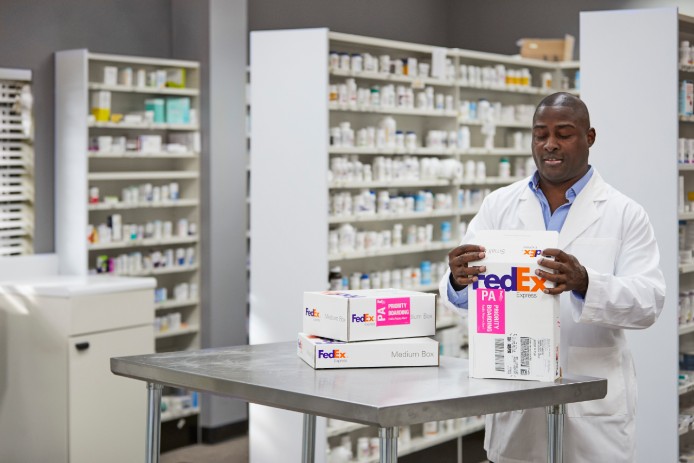 FedEx HealthCare Solutions Knowledge Center
Check out our library of articles, videos and webinars that discuss the healthcare supply chain as it looks today and where it's headed in the future. Plus, learn from experts how innovative technology, strong connectivity and data-driven solutions will help improve the healthcare industry.