Optimizing your packaging
What does optimization mean?
In packaging, optimizing means analyzing your packaging and making choices to create the most effective, efficient, and cost-conscious packaging you can. This means choosing the right-sized box and picking the right materials and cushioning to balance durability and cost.
Successful optimization can reduce the cost of materials and shipping. It can also cut down on breakage in route and save you time packing.
Pack like a pro

Matching your packaging to the size and weight of your items is the first step to smarter, more efficient shipping. At FedEx Office, we're committed to helping you pack your shipments so you can optimize both protection of the contents and transportation cost. You can even let a team member at your local FedEx Office pack and send your shipment for you.
Use these 4 simple steps to help ensure your shipment contents are secure:
Box: Match your box to the size and weight of your item(s). Use double-walled boxes for heavier items. If reusing a box, remove all old labels and make sure it's high quality, with no holes, tears, or dents.
Pack: Choose cushioning with enough density to keep items from shifting. Bind printed material together. Wrap and tape all sharp or protruding edges. Put a copy of the label inside and write pertinent shipper/recipient details on the inner package flap.
Seal: With your box properly packed, apply at least three strips of packing tape (no duct or masking tape) that is at least 2" wide evenly across all flaps and seams, top and bottom, using the H taping method.
Label: Firmly secure the label or pouch on the package's largest surface. If you're using a pouch, be sure to reseal it after inserting the shipping label.
Check out our insider tips and watch our How to Pack video.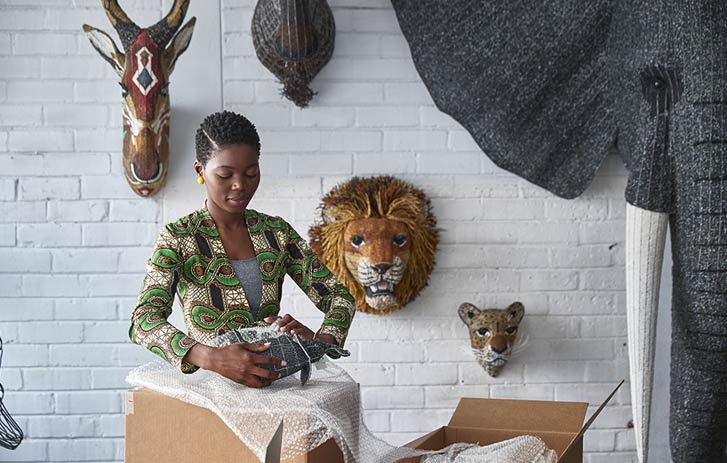 Get your packaging process down to a science
Shipping lightweight or irregular-shaped items can be a challenge, but with the right techniques and materials, you can achieve efficient, cost-effective shipping. The FedEx Packaging Lab can provide you with custom engineering guidance to help you design the right packaging for your product, reducing the potential for damage or loss.
The pros at the lab offer package testing, design, and engineering services for a wide variety of products. Plus, you benefit from the dedicated support of our nationwide team of field packaging engineers.
Our services are available for both package and freight shipping. 
Do you have an e-commerce busines

E-commerce shipping trends have caused a recent decrease in package density. The average package weight compared to its exterior dimensions is declining, which is inefficient and costly for small businesses. As an industry leader in sustainable transportation practices, FedEx provides you with solutions for more efficient packaging options.
Use our packaging resources to find the perfect fit for your shipments. We'll help you get it right, so you can get the most out of your shipping and maximize profits.
Download our infographic full of packing tips to learn how to improve your packaging process, so your shipments stay safe and on schedule.
Help the environment
Shipping with the proper packaging doesn't just help your business; it can help the environment. Reducing excess packaging and overall shipment size can reduce material, fuel use, and vehicle emissions. And choosing reusable options allows customers to make returns to you in the same packaging for less waste.  
Learn more about our reusable packaging options.
Related reading
Additional resources