Six steps to create business cards for your small business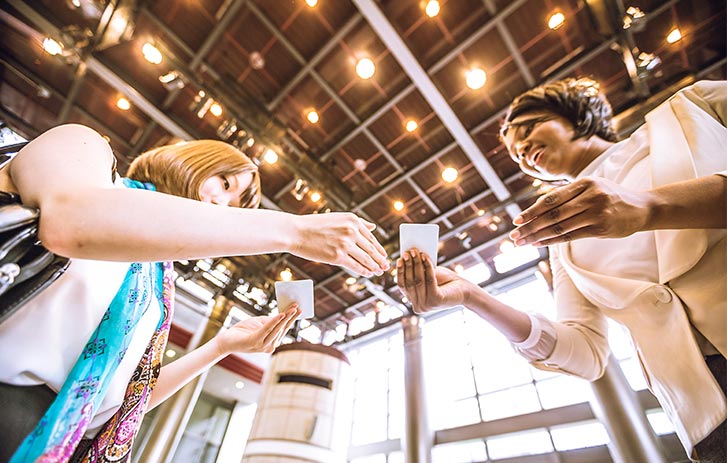 Your business card is often the first visual representation of your company to a new contact. According to NewScientist, it takes about 0.1 seconds to make a remarkably accurate first impression, so you need a modern business card that immediately creates interest. At a glance, it should tell your future customer what you do, who you are and why you're perfect for what they need.
Cards are tactile—they create an impression more impactful and lasting than an email or digital glimpse of your company logo.
Although your card may get lost in a coat pocket, that can be a good thing. When that potential client comes across it again, the impression you've made is reinforced. Your business card has the ability to stand out far more than any electronic communication ever could.
There are so many types of business cards and finishes to choose from. To create business cards that make a quick visual impact on potential customers, consider these key steps:
1. Select a business card size and shape that fits in your wallet
Die-cut cards or thick stock paper create exciting visual and textural appeals, but if your business cards don't fit in a wallet, they'll probably get tossed. Ultimately, rectangular, standard business cards sized at 2" x 3-1/2" are the best bet. 
2. Choose one- or two-sided
While single-sided business cards are sufficient for most people, some choose double-sided cards to expand upon their branding. Some examples of uses for the second side include product images or logo, a promotional offer or special information like social channels.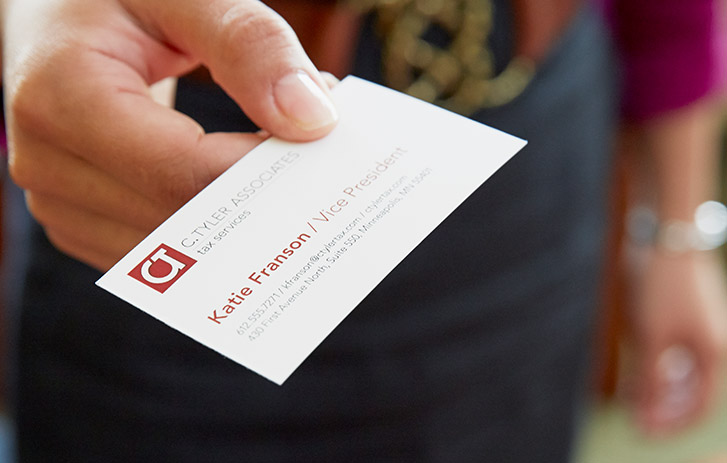 3. Choose a business card layout that reflects your brand without words
Your industry will play a role in determining your business card layout, along with the level of information you want to communicate.
Horizontal business cards: Horizontal or landscape is a tried-and-true layout that provides a traditional or formal look, perfect for attorneys, financial consultants or healthcare professionals. This is also a safer choice for long names or titles, which may not otherwise fit. 
Vertical business cards: A vertical or portrait layout goes against the grain and is often a better choice for those with a simple message or more creative businesses, like designers, photographers or craft makers.
Consider if you'd like bleed or no bleed, as this will impact your design. Instead of white borders, bleed gives the appearance that the design bleeds off the edge. The bleed area accounts for approximately 1/8th inch space border around your card.
4. Consider friendly font pairings
Fonts that don't play well together can be visually upsetting. For instance, a loud impact font combined with a tight calligraphy script is hard to read and gives a confusing impression of the company. If the cardholder can't relate to the image you convey on your card, they're more likely to toss it.
Choose fonts that complement both the tone of your company and each other. Check out our design tool for visually appealing font pairing examples and business card design ideas.
5. Opt for color or two-tone
Choose black and white for a simplistic, clean, professional look or go full color to accommodate logos or images, or to create visual appeal
6. Select a paper stock and finish
The most common paper stock weight for business cards is 100lb. The higher the number, the thicker and stiffer the card will be. FedEx Office offers 100-, 110- or 130lb. matte or glossy cardstock. Choosing a finish depends on your brand and design.
Matte finish: Sometimes called "dull" or "flat," matte business cards are smooth but don't reflect light. A matte finish provides a clean, professional look and is a good choice if you tend to write notes on your cards as you hand them out.
Glossy finish: For a smooth and shiny finish, choose a reflective glossy finish. Glossy is best for business cards with photos, and they're also typically more durable than matte.
If you're looking for something more premium, consider non-paper alternatives like metal, plastic or magnets.  

Taking the time to create business cards shouldn't be a toss-away task for new—or even established—businesses. Your business card is a note that speaks for you when you're not around. Is it as creative as the services you offer, as promising as your intended results and as professional as your actions? A creative, professional and error-free card lets your clients know that you care, even—and especially—about the little things. Whether you need a business card with a photo or are just looking for some cool business card design ideas, FedEx Office can help you create and print the perfect design for your business.

Related reading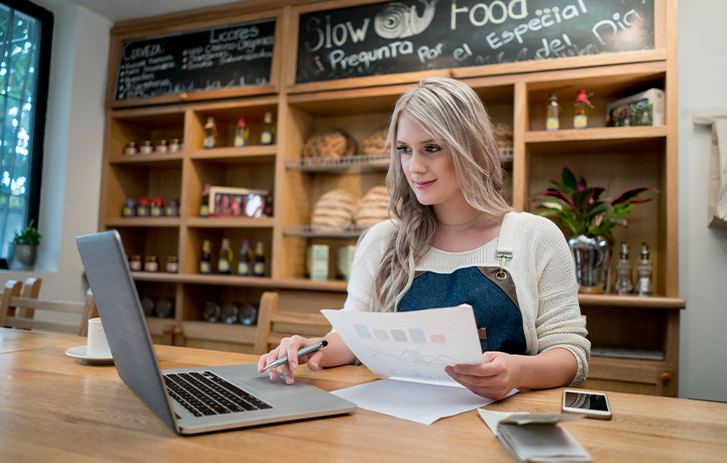 Free advertising strategies for small business
What business can say no to free advertising? Here are some ideas to get you started before you start investing the big bucks.
Read article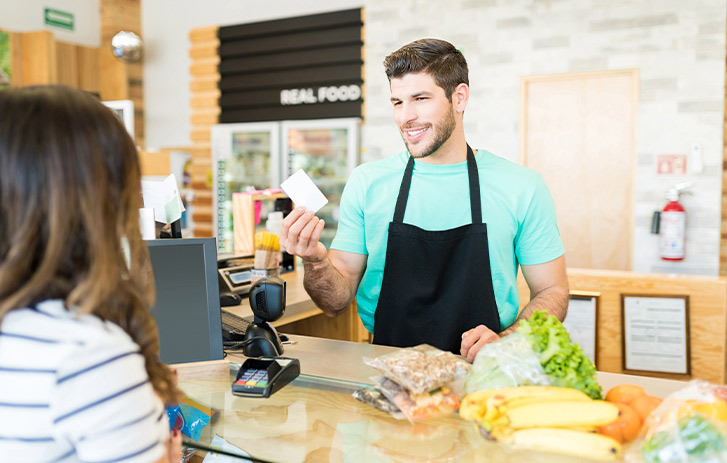 Alternative uses for business cards 
From coupons to frequent punch cards, there are many ways to get the most out of your business card.
read more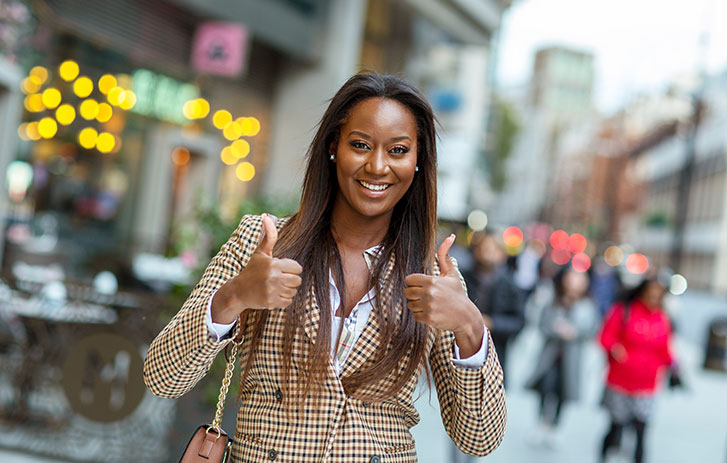 Creating an effective customer advocate program
Building brand advocacy through can be simple if you offer excellent service and products and show loyalty to your brand ambassadors.
read more
Additional resources
---
The information on this page and links provided are as a convenience and for informational purposes only; they do not constitute an endorsement or an approval by FedEx of any of business, products, services, or opinions of any other corporation or organization or individual. FedEx bears no responsibility for the accuracy, legality, or content of any external site or for that of subsequent links. It is important to do your own analysis based on your business needs before using any third-party products or services. Any actions you take upon the information on this page is strictly at your own risk.