3 powerful ways to boost your digital strategy
As we navigate the many new normals COVID-19 has imposed upon us, it's more important than ever to have a strong brand presence online. Customers are finding and browsing your products or services from behind a screen more often than ever before. What may have worked well for your website or social media channels may not work any longer.
Now's the time to take a look at your digital strategy to make improvements that can help fuel traffic and convert page visits into sales. To develop your online brand and position your business for success in an increasingly digital era, consider these three tactics:
1. Survey your customers
It's not easy for anyone to see your own online brand from the fresh perspective of a new customer. That's why surveying customers can be extraordinarily helpful. Surveys can be a quick and easy tool for gathering real-time feedback and uncovering issues. They can also show your customers that you're listening and ready to serve them.
Before you get started, keep in mind the following:
Consider surveying your most loyal customers. They know your business best and are interested in its success. And keep it simple – you don't need a large survey group to get valuable insights.
Focus on questions that reveal what your customers need and want from your business. You can also use this group as a sounding board and leverage this data to inform your future strategies and tactics. Ask your customers how they like to be reached, then see what they think of email newsletters vs. text alerts for weekly restocks.
Find a user-friendly tool. You don't need to be a data analyst to share a short survey. There is a long list of free and inexpensive survey tools available to small-business owners. Start with one of the most popular – Klaviyo, SurveyMonkey or Google Forms – or ask for a peer recommendation.
Keep it short. Focus on the questions that will garner the most useful information and ensure the survey will be brief for your customers. If you feel you need detailed input, consider asking a handful of loyal customers to participate in a 30-minute focus group that provides a participation reward.
2. Audit your website
Couple your survey feedback with an audit of your website – something that may take time to master but is easy to get started and certainly not short on best practices. In the months ahead, set aside time to regularly audit your virtual storefront and continue to find ways to make your website work for you.
Before you dig into auditing and optimizing your site, consider these guiding principles:
Use optimization tools. Check out our Tech Chat site for tips on website optimization and other helpful resources, such as search optimization tools HigherVisibility and Klevu, heatmapping and cart conversion applications.  
Review your website from the eye of the customer. Is your website easy to find from a Google search? What about the mobile experience? By conducting mini self-audits of your website from a desktop or your smartphone, you can better understand the customer's perspective. Be sure to also check out these tips for improving your site to convert more sales.
Analyze the backend metrics. Website traffic, traffic source, bounce rate, session duration and conversion rate are all important data points to consider when measuring your website performance in order to reveal what's working and what's not. Google Analytics is a great resource for small-business owners looking for quick insights and ways to track your trajectory over time.
Ask for input. Recruit industry peers and customers for focus groups discussing their opinions and feedback on your website and have them browse your website as if a first-time customer. Give them a product to find and purchase – from adding to shopping cart to checking out – and make notes of functions throughout the process that could be improved.
Polish your brand story. According to Liz Powers, co-founder at ArtLifting and FedEx Small Business Grant Contest winner, amplifying your brand story on your website comes down to five strategies, including sharing your inspiration and shouting it from the rooftops.
3. Explore a paid social media campaign  
As you reconsider where to put marketing dollars, you may be evaluating the value of a social media advertising campaign. While implementing a paid campaign may be easier than ever, be sure to take into consideration the following: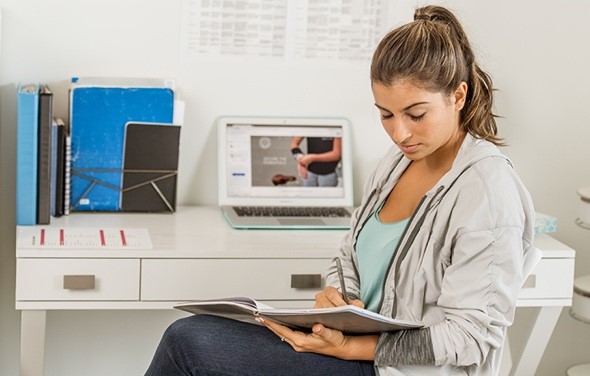 Build your social media. Begin by organically growing your social media presence. Kat Samardzija, owner of Locker Lifestyle and FedEx Entrepreneur Advisory Board member, provided helpful tips for enhancing your social media channels and mobilizing social media ads on Tech Chat.
Consider influencers. Many social media influencers are reasonably priced for the reach they provide and can be an authentic fit to partner with your brand. Be sure you closely audit their own online brand to ensure it aligns with yours. FedEx Small Business Grant Contest winner and co-founder of Shark Wheel, Zack Fleishman shared the value of social media and how influencers can authentically represent your brand, such as the adventurous, "break away from the norm" spirit of a skateboarding influencer to reach their skateboarding audience.
Closely monitor results. Keep a close eye on quantitative and qualitative results. Look at the numbers, such as engagements and click-through rate, to know what channels and sponsored content is performing best and be flexible.