FedEx® HealthCare Solutions
FedEx® HealthCare Solutions
Get to Know: Cell Therapy and Biologics
This article is in a series of articles profiling the various players in the global healthcare products supply chain.
What Are They?
Cell therapy is the injection of live, processed cellular material, such as stem cells, T cells and similar biologics into patients to treat cancer and other health conditions. There are two distinct type of products within this category: autologous and allogeneic. Autologous therapies use cells that are harvested from the patients themselves and are then combined with a culture outside the patient's body into larger quantities over many weeks and finally returned to the patient. In comparison, allogeneic therapies use adult cells of a single donor, which are then expanded to a product that can provide treatments to a large number of patients.
Since the U.S. Food and Drug Administration (FDA) classifies cell therapy products as biologics, the manufacturing and the transportation of these cells have strict guidelines posing some significant supply chain challenges. With live cells, timing and logistics are critical. The supply chain begins with the collection of tumor cells from patients using a specialized kit. The sample packaging features specific labelling to allow it to be tracked through the process of collection, manufacturing, distribution and administration. The process is especially critical for autologous therapies, since the supply chain must manage both outbound cells from the patient and then, weeks later, the inbound biologic product that has been created with the use of those cells. This process also not only reduces cost of goods sold, it makes scalability from a single product a much more realistic goal compared with autologous products.
The promise of cell therapy in treating patients with advanced disease is profound; however, the complexity of the manufacturing and supply chain makes the products expensive and limited to only a fraction of the potential patient population.
What Types of Companies Are in the Industry?
While physicians and their patients, usually located in a medical clinic or hospital, are the final destination of cell therapy products, there are numerous product touch points within the supply chain that have stringent requirements. These include academic institutions where research and care delivery may occur as well as independent cell therapy companies (CTCs) and contract manufacturing companies (CMOs). In addition, larger biotechnology and pharmaceutical companies are now becoming involved in cell therapy, bringing manufacturing in-house. Shipping requirements are similar throughout, where rapid shipping of products under controlled conditions with tight regulatory requirements is necessary.
The cell therapy supply chain starts with cells and tissues collected from the patient and shipped to the CTC or CMO. This early phase of production requires rapid same-day shipping during which critical cellular environments such as temperature, gas mixture and culture conditions must be maintained. Maintenance of these conditions is dependent on the type of container used for shipping, as well as the length of time in transit. Once the cells or tissues reach the manufacturing site, they must be processed and expanded to meet product requirements. This must be done as quickly and efficiently as possible in a cGMP laboratory using certified standard operating procedures. Once the cellular product is fully formed, it can be either shipped to the waiting patient or stored for future allogeneic use. These cells are cryopreserved and loaded into a dry shipping unit to be transported to the clinical site of administration. Inventory and tracking of each package is critical in this process. In all cases, when a patient is ready for a product cell therapy, companies must be ready to quickly deliver their products with a guaranteed on-time delivery.
What Value Do They Bring to the Healthcare Products Supply Chain?
Compared with the transportation of other products, live cells require a much more complex supply chain to keep those products alive and to support effective therapy for patients. For a typical autologous cell therapy, tumor cells are extracted from a patient and then transported to a storage facility where they will be inventoried and stored until ordered by manufacturing. During apheresis collection, timing and logistics are critical, since there are no storage options and the sample would have to be labeled specifically and transported to the manufacturer, preferably by a common carrier.
What Innovations Are They Bringing to the Healthcare Supply Chain?
Evolution of automated control systems: Unlike other biologics, stem cells can be reproduced only in smaller volumes. Due to this limitation, an increasing number of companies are investing in closed system bioreactors that provide an automated cell culture that can expand stem cells by minimizing labor-intensive manual tasks associated with flask-based cultures. This helps improve reproducibility and scalability of cells to meet manufacturing needs. These systems infuse consistent and reliable cell sources into the supply chain, enabling production efficiency and increasing the volume of quality products that can be transported to patients.
Standardization of collection kits: Cell therapy companies are developing and promoting the use of standardized kits for cell collection and product administration. As in every aspect of a supply chain, standardization of processes and packaging can help improve predictability and performance. Kitting ensures that clinicians have the materials and instructions they need to perform their assigned tasks. They are also incredibly important for ensuring uniformity across multiple sites and patients where clinical trials may be underway. Companies in the space are also taking additional steps to test and ensure every shipping container meets the specifications for keeping the cells and finished product viable.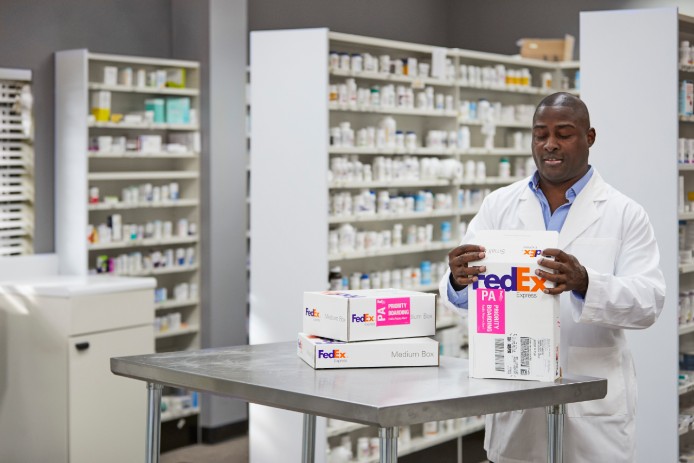 FedEx HealthCare Solutions Knowledge Center
Check out our library of articles, videos and webinars that discuss the healthcare supply chain as it looks today and where it's headed in the future. Plus, learn from experts how innovative technology, strong connectivity and data-driven solutions will help improve the healthcare industry.