FedEx® HealthCare Solutions
FedEx® HealthCare Solutions
Get to Know: Class III Medical Device Companies
This article is in a series of articles profiling the various players in the global healthcare products supply chain.
What Are They?
From pacemakers and coronary stents to hip implants and dialysis machines, Class III implants represent some of the greatest innovations in medical technology but require some of the most sophisticated supply chains in order to ensure efficacy and patient safety. Class III medical devices are considered by the U.S. FDA to be the highest-risk devices because they support or sustain human lives and are, therefore, subject to the greatest level of regulatory control. The devices must receive a pre-market approval by the FDA, as well as a scientific review prior to marketing. They are also subject to higher levels of quality assurance monitoring by manufacturers and their supply chain vendors.
What Types of Companies Are in the Industry?
Companies that make implants such as pacemakers and defibrillators, neurostimulators, breast implants, heart valves and orthopedic implants fall into this category. Processed allograft tissues and devices featuring biologics, such as hemostatic agents, as well as some in vitro diagnostic tests, are also Class III. In addition, non-implant devices that have life-or-death consequences, such as hemodialysis machines, automated external defibrillators, surgical ablation systems and cardiovascular catheters, are placed in this category. Combined, these products make up 10 percent of all medical devices and a disproportionate share of interest from the investment community. Physician preference plays a strong role in product selection for these tools, particularly for high-value devices such as hip or knee implants. These devices are usually expensive, difficult to track and account for a major share of the total cost of the procedure. They are often delivered by sales representatives of the suppliers or stored within a hospital and processed as consigned, bill-only orders once used. Since the products are so expensive and in many cases custom-fitted to individual patients, hospitals are less likely to maintain large standing inventories of Class III devices and instead rely on reps to provide the devices on consignment or overnight delivery.
What Value Do Suppliers Bring to the Healthcare Supply Chain?
The supply chain for Class III medical devices is highly complex. For many types of implants, the distributors often manage the inventory, but the manufacturers hold it in title. Much of this indirect inventory model is explained by the need for distributors to hedge themselves against the unpredictable product needs of their hospital customers once they are in the operating room. Unused implants, which may be owned by the manufacturer, are out of circulation as consigned inventory and unavailable for sale until they are sterilized, inspected, re-kitted, repackaged, re-inventoried and moved out to the field. Sales representatives often struggle to keep accurate inventory records, and manufacturers often have poor visibility into where millions of dollars in product may actually be located. Also, because of the high cost of the products and their life-sustaining nature, managing overstock returns, quality-control recalls and forecasting customer demand trends all cause logistical and operational challenges for Class III medical device manufacturers.
Every day, the healthcare supply chain loses inventory to shrinkage and product expiration, so hospitals are looking for more efficient ways to store and distribute expensive Class III devices in their ongoing effort to cut costs. Hospitals are closely scrutinizing anything that happens to a device on its trip from manufacturer to patient (i.e., distribution, inventory management or sterilization) to hold down expenses. The effective management of Class III medical devices is an industry-wide issue that affects the profitability for both healthcare providers and suppliers. An efficient supply chain enables hospitals to manage high-value products, frees up clinical staff from inventory management activities and allows them to focus more on patient care.
What Innovations Are They Bringing to the Healthcare Supply Chain?
Tracking and tracing medical devices with automated inventory tracking to increase inventory visibility: Manufacturers, supply chain companies and hospitals are deploying automated solutions to enable real-time visibility into inventory by employing radio frequency identification (RFID) tags at the manufacturing site with encrypted digital signatures combined with a unique identifier. This combination is decrypted and read to securely manage the inventory path of the medical device. RFID-tagged products, housed in a "smart" supply cabinet, can display critical information needed to track high-value medical devices from the manufacturer to the point of care. Manual entry is replaced with automated inventory tracking that shows when products are removed from the cabinet and enables alerts for products that are expired. The system can also identify when products are out of stock or recalled, perform inventory counts and enable supplies to be reordered automatically. In some cases, manufacturers and distributors are absorbing the costs of these systems themselves and deploying them in their customers' facilities.
A cloud-based data platform enabled by RFID technology can provide all stakeholders with full visibility into inventories to help with everyday management and long-term planning: This type of shared data platform, which would be accessible by the hospital, device manufacturers and distributors, helps control inventory, streamline workflows, correctly capture charges and unlock insights that drive down costs across the entire process. In preparation for bundled payments, this solution can help providers better understand the true cost of care. It also provides opportunity for providers to aggregate data and compare their own metrics, such as inventory turns and cost per procedure, to metrics of healthcare facilities across their network. This type of benchmarking can help hospitals identify areas where they can improve their operational performance.
A direct-to-customer distribution model using third-party logistic companies to cut costs and improve visibility to customers: To improve cost efficiency, manufacturers have started to look at serving customers directly. Manufacturers are working with 3PL providers to establish forward stocking facilities in major cities and metropolitan areas to more centralize consignment inventory instead of spreading it across hospitals. These stocking facilities can help enable quick product delivery and reduce the amount of inventory in the supply chain. This shared-services supply chain model can provide hospitals with improved collaboration and increased visibility to customers by cutting down the multiple levels of small distributors between the manufacturers and the healthcare providers.
With improvements in visibility and tracking, manufacturers are able to time the delivery of devices to the hospital to meet financial and timeline goals for all parties. When armed with more robust demand models based on customers' orders, manufacturers will be able to streamline inventories by stacking them up farther upstream in the channel in fewer, more centralized locations. Since Class III device sales representatives spend a disproportionate amount of their time effectively managing the supply chain of their products on behalf of their customers, a more efficient supply chain also holds the potential for radically changing the sales team infrastructure for many companies.
A tailored supply chain with temperature-controlled transport and monitoring: Class III medical devices often need temperature-controlled and cold chain transportation and storage. For these sensitive and high-value products, it is important to monitor the temperature range of the shipment while en route from the distribution site to the hospital so that the operating room personnel can receive a product they know will be safe. This means that the storage locations and shipping vehicles must provide the ability to manage temperature in a specific range. Logistic companies have come up with smart sensor-based technologies to continuously communicate critical, real-time information to hospitals via a web application. SenseAware®, a FedEx innovation, consists of environmental sensors placed inside the shipment on the box, pallet or elsewhere, depending on where the customer needs it. During transit, this device continuously communicates critical information to customers about the shipment, such as location, temperature, barometric pressure, light exposure, relative humidity and vibration exposure, and enables near real-time alerts and analytics between trusted parties.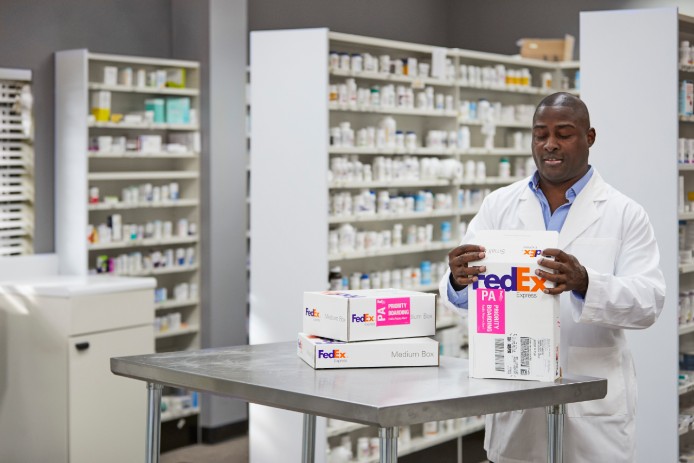 FedEx HealthCare Solutions Knowledge Center
Check out our library of articles, videos and webinars that discuss the healthcare supply chain as it looks today and where it's headed in the future. Plus, learn from experts how innovative technology, strong connectivity and data-driven solutions will help improve the healthcare industry.