FedEx® HealthCare Solutions
FedEx® HealthCare Solutions
Get to Know: Healthcare Products Distributors
This article is in a series of articles profiling the various players in the global healthcare products supply chain.
What Are They?
Healthcare products distributors are companies with specialized capabilities in inventory management, warehousing, transportation, packaging, asset management, reverse logistics and supply chain analytics. Most distributors competing in the U.S. are either national or regionally focused, with limited international customer reach. Pharmaceuticals, medical supplies, and Class I and II devices are the most common products these distributors manage, but some Class III devices move through distributors as well. In addition to distributing their clients' products, some of these companies also manufacture their own products, which they sell through their own channels.
Types of distributors include large, national companies as well as smaller independent and specialty operators. Catalogue and web-based distributors without a field sales presence compete in the market, too. Larger healthcare systems have also developed their own internal supply chain and distribution networks, which they use primarily to serve their own facilities and, increasingly, those of competitors in their region. Many of these in-house distributors support their own warehousing and even packaging, but they may also outsource some functions to external partners.
What Value Do They Bring to the Healthcare Products Supply Chain?
The role of distributors is to seamlessly and efficiently connect the supply of products from manufacturers with the demand of customers at the location where the products are being used. They also play an increasingly important role in coordinating with group purchasing organizations (GPOs) to meet the inventory and pricing needs of providers. By doing this, manufacturers have more freedom to focus on their core competencies of research and development, manufacturing, operations and promotion. Distributors that offer sophisticated data management and value analysis are becoming increasingly valuable as healthcare systems move toward more transparent and advanced decision making. The healthcare product supply chain is a goldmine of data that can be used to manage costs, improve patient care, and meet safety and regulatory compliance standards. This has led healthcare systems to seek transparency, visibility and flexibility in the supply chain.
What Innovation Are They Bringing to the Healthcare Supply Chain?
As the intermediaries between manufacturers and providers, distributors have been at the forefront of supply chain innovation aimed at reducing inventory, cost and inefficiency. Distributors have been leaders in exploring new ways to reduce the amount of healthcare products that are damaged, expired or held on consignment. Much of these efforts are driven through improved product tracking and integration of data systems at every stage of the supply chain. This helps to reduce what Cardinal Health estimates to be more than $5 billion in wasted value of high-value medical devices each year due to expirations, returns, damage, theft and other supply chain inefficiencies. In September 2015, Cardinal Health announced the opening of its Healthcare Supply Chain Innovation Lab, which is a research and development facility dedicated to reducing this waste using an Internet of Things solution. This system will include smart sensors, near-field communication, data integration and other solutions that enhance real-time decision making.
Distributors are also using new inventory management technologies to increase their supply chain visibility to reduce fragmented purchasing. In the past, it was not uncommon for healthcare providers to issue a replenishment order as soon as a product was used, but more recent approaches have been batching orders together and rationalizing shipments to reduce the number of smaller-volume, overnight deliveries, which tend to carry higher costs. Unified material management software and real-time track-and-trace solutions help keep inventory at a sweet spot where waste or overnight shipping is a rare occurrence. Maintaining sufficient inventory prevents cancelled surgeries, product shortages, expiration and unnecessary spending on supplies. Lost or unaccounted pharmaceuticals and medical devices can add up, if an automated system is not in place to facilitate inventory management.
Driven by increasing cost pressures, providers are working with their GPOs and distributors to reduce the number of products they stock to standardize around fewer manufacturers and SKUs. Providers still wish to keep outcomes the same or better while undergoing this standardization process. Distributors are one of the many stakeholders that providers are turning to for clinical, financial and operational data to identify pricing, usage patterns, product performance and availability to determine which products to keep and which to shed.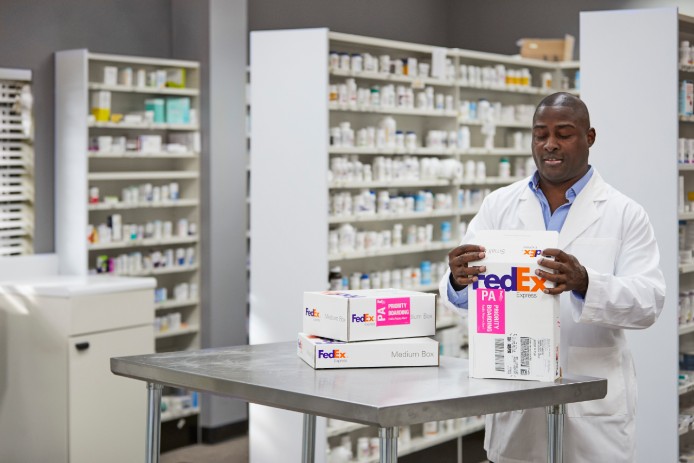 FedEx HealthCare Solutions Knowledge Center
Check out our library of articles, videos and webinars that discuss the healthcare supply chain as it looks today and where it's headed in the future. Plus, learn from experts how innovative technology, strong connectivity and data-driven solutions will help improve the healthcare industry.