FedEx® HealthCare Solutions
FedEx® HealthCare Solutions
Get to Know: Hospitals
This article is in a series of articles profiling the various players in the global healthcare products supply chain.

What Are They?
Hospitals are consistently identified by FedEx® healthcare products clients as their leading provider customers as well as the channel with the most opportunity for supply chain innovation. This is due to the wide variety of products used in the facilities, including many expensive and temperature- or time-sensitive products. Yet as the U.S. healthcare system continues to evolve toward a model where more care is provided outside hospital walls, healthcare products companies are still closely watching how the needs of acute care facilities are changing.
A hospital, as defined by the American Hospital Association, consists in part of (a) six or more inpatient beds, (b) a staff of licensed physicians who are accountable to a governing authority, (c) continuous nursing services and (d) pharmacy services supervised by a registered pharmacist. In 2015, there were 5,564 hospitals in the U.S., with a total of 897,961 inpatient beds. Of these hospitals, 4,862 were community hospitals (non-federal, short-term, general or specialty), and 702 were federal, psychiatric, long-term or institutional (e.g., prison). Of the community hospitals, 3,198 belonged to a multi-hospital or a diversified single hospital system; while the other 1,664 were single non-diversified hospitals.
What Types of Companies Are in the Industry?
Most U.S. hospitals are operated as not-for-profit, non-government community facilities, but approximately 1,000 hospitals are investor-owned and for profit. Approximately 1,300 hospitals are operated by federal, state or local governments. The services that hospitals offer vary significantly, often based on size, location and academic status. Hospitals can be further categorized as general, specialty, rehabilitation and chronic disease, or psychiatric, depending on their patient mix.
Hospitals rely on a complex system of manufacturers, wholesalers and distributors that specialize in capital items, medical equipment, pharmaceuticals, medical consumables, food and food service supplies, and commodities to run their operations. These goods comprise approximately 40 percent of a typical hospital's operating expenses.
Group purchasing organizations (GPOs) do not make actual purchases, but they work for hospitals to aggregate purchasing volume and negotiate discounts with manufacturers, distributors and other vendors. About 72 percent of purchases that U.S. hospitals make are through GPO contracts. Nearly every hospital in the U.S. uses GPO contracts for some of their purchasing functions.
How Is the Hospital Supply Chain Changing?
The use of telemedicine, remote patient monitoring, patient wearables and other connected devices has expanded healthcare delivery beyond the walls of the hospital into sub-acute facilities, homes, workplaces and elsewhere. Health system partnerships with retail clinics are increasing. The emergence and increasing importance of these channels, especially homecare, dictate a need for supply chain companies to recalibrate their distribution strategy, creating both a challenge and an opportunity for them.
While most manufacturers and distributors have fairly robust systems to track the supply chain of healthcare products downstream to the end-provider customer, upstream feedback for product use, inventories and reorder status is significantly weaker or, at least, untimely. The industry envisions a day when complete, two-way transparency exists across manufacturers, distributors and the end consumer. Future operating models that integrate unique device identifier (UDI) databases and analytical information are expected to increase collaboration.

What Innovations Do Hospitals Need From the Healthcare Supply Chain?
 
Impact of hospital reimbursement cuts puts the pinch on upstream suppliers: Changes to the healthcare landscape are leading to significant drops in reimbursement even as volumes for many types of procedures grow. Payers armed with data from electronic health records and detailed billing codes are leveraging data analytics to control payment costs and negotiate cuts with healthcare providers. The increasing use of bundled payments encourages hospitals to put greater pricing pressure on their suppliers.
Healthcare products and services companies, the hospitals they serve and the supply chain vendors that connect them are paying more attention to rationalizing consumer ordering patterns to reduce costs. Most of these efficiencies have come from better matching the speed of delivery for a product to when it really needs to be on site. Consolidated shipments and central distribution centers can improve the supply chain. Healthcare products companies must ensure that both stock-outs and unnecessary inventories are limited. A common solution is to have a locally or regionally managed facility that can manage the inventory across multiple healthcare systems.
Hospital consolidation leading to more supply chain leverage: Larger hospitals are consolidating their provider networks to achieve greater cost savings and improve efficiency. This means greater negotiating clout and the ability to wring price concessions from suppliers. These networks are forcing selected member hospitals to shed service lines to consolidate specialty care in fewer facilities that can operate as "centers of excellence." This has the net effect of focusing more of the supply chain for healthcare products, especially Class III orthopedic and cardiovascular implants, on fewer facilities.
To control costs, some hospital systems have developed their own state-of-the-art distribution centers. However, for every hospital that succeeds in self-distribution, there are many more that fail. Some innovative healthcare products companies see the challenges presented by cost constraints and consolidation as opportunities to reshape their business models. Revenues from service, consulting, training and software upgrades matter more than ever, but some leading healthcare products companies are going a step further to assume complete responsibility for the function of entire hospital departments, from dialysis and catheterization lab services to biomedical engineering and radiology. In these models, companies that were once focused only on selling products now see more of their compensation aligned with institutional goals of cost savings, outcomes and efficiency. Under these types of models, hospitals will expect their healthcare products and services vendors to extend the reach of their supply chain all the way to the patient and incur the additional burden of transparency and reporting.
New methods to reduce cost and environmental impact: Most supply chain competitors think about the inbound stream of products into hospitals without considering the outbound transportations of the tons of waste hospitals produce every year. Billions of dollars are spent managing the collection, transportation and disposal of hazardous and non-hazardous medical waste. Providers and manufacturers are looking for ways to improve the waste management supply chain to reduce environmental impact, improve safety and lower costs to the healthcare system. While non-hazardous waste makes up the majority of waste volumes, hazardous waste is significantly more expensive to manage, requiring a more complex chain of management from the provider to the point of destruction or disposal.
The use of reprocessed single-use devices has grown significantly in recent years as providers see the benefit of both reducing costs and the environmental burden of product disposal. The model requires a complex supply chain where companies collect, reprocess and resell selected, high-value, single-use medical devices at prices discounted off original equipment manufacturer prices to generate cost savings. The successful growth of this market and reliance on a complex logistics, ordering and distribution system indicate significant opportunity for growth.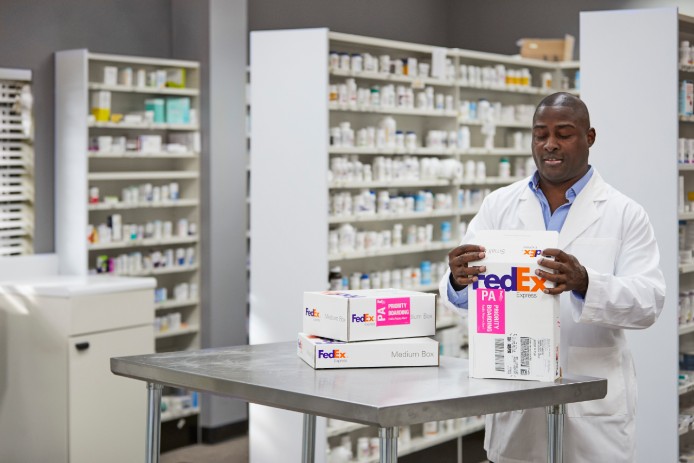 FedEx HealthCare Solutions Knowledge Center
Check out our library of articles, videos and webinars that discuss the healthcare supply chain as it looks today and where it's headed in the future. Plus, learn from experts how innovative technology, strong connectivity and data-driven solutions will help improve the healthcare industry.