FedEx® HealthCare Solutions
FedEx® HealthCare Solutions
Get to Know: Specialty Pharmaceuticals
This article is in a series of articles profiling the various players in the global healthcare products supply chain.
What Are They?
Specialty drugs treat smaller groups of patients with serious diseases. These drugs require higher levels of special handling, including temperature controls and specialized packaging, compared with mainstream pharmaceutical oral drugs. As such, specialty pharma manufacturers and distributors are much more reliant on sensor tracking technologies, as well as temperature-controlled packaging, transportation and warehousing. Revenues in the specialty drug segment of the pharmaceutical industry are growing rapidly due to the high cost of the drugs and their increased use. Companies that play a role in the specialty pharma supply chain, from the manufacturers at the point of production to the clinics and pharmacies at the point of patient administration, are facing real challenges as they work to expand access to their important therapies.
The specialty pharma supply chain is challenged by the high number of touchpoints the drugs take in the channel as they wind their way from the manufacturer to the pharmacy dispensing the drug to the patient. Not only are there temperature and packaging constraints, the new item-level products serialization requirement deadline looms. Once implemented, serialization will ultimately help with the management of recalls, returns and counterfeit drugs, but at the same time, it will push all supply chain stakeholders to adopt new technologies and processes.
What Types of Companies Are in the Industry, and What Do They Do?
Key players in the specialty drug delivery market include the drug manufacturers themselves as well as wholesalers, specialty wholesalers, repackagers, hospitals, clinics and pharmacies. Contract manufacturing and contract research organizations (CMOs/CROs) may also be involved at various phases of drug development and commercialization.
What Challenges Are Companies in the Industry Facing?
The U.S. Food and Drug Administration (FDA) 2013 Drug Supply Chain Security Act (DSCSA): In 2013, the FDA announced sweeping changes to the distribution requirements for drugs entering the U.S. market. Congress passed the DSCSA in an effort to increase patient safety by reducing the risk of unauthorized pharmaceutical products entering the market. This law requires all drug supply chain participants to develop and implement electronic systems and bar code tracking to verify the legitimacy of pharmaceutical drug products, including specialty pharmaceuticals, down to the lot level.
The goal of the "serialization systems" law is to minimize drug diversion and reduce counterfeit products getting into the U.S. The FDA set a November 2017 deadline for wholesaler distributors to be compliant with the "serialization segment" of the law. Non-compliant companies face the risk of regulatory penalties by the FDA. Industry insiders view the DSCSA as the more significant overhaul of the U.S. pharmaceutical supply chain since the Federal Food, Drug and Cosmetic Act of 1938.
Pharmaceutical manufacturers, distributors, repackagers and dispensers are all subject to DSCSA regulations, which require the use of an electronic, interoperable system to identify and trace bar codes on prescription drugs as they move through the drug distribution system. By 2023, pharmacies must be fully compliant with all the requirements for an electronic, package-level traceability system. Wholesaler distributors were required to make lot-level product tracking a standard part of every transaction in their supply chain by Jan. 1, 2015, and pharmacies were required to make sure they do business only with authorized and licensed wholesalers.
The group of pharmacies eligible to dispense specialty pharma drugs includes a wide variety of organizations, including pharmacy benefit management companies (PBMs), health plans, retail chains, pharmaceutical wholesalers, hospitals and physician practices. The pharmacies that dispense the products to physicians, hospitals or clinics must have a serialization system in place too.
Serialization requires supply chain participants to upgrade their technology and software to accommodate the huge increase in data transfer and storage. The legal requirement for serialization raised the business necessity for aggregation, which enabled a single scan to capture unique identifiers on each small, single-saleable unit product within a large shipment.
Regarding the focus on narrowing the drug distribution channels, specialty distributors sell specialty pharmaceuticals primarily to physician-owned/-operated clinics, hospitals and hospital-owned outpatient clinics. Drug manufacturers and networked payers (insurance companies) are limited in number of specialty pharmacies that are eligible to be dispensed, since the drugs are so expensive. New payer network contractual relationships shifted more specialty drug revenues into the largest PBM-owned specialty pharmacies and allowed mail-order pharmacies to capture a greater amount of the industry's prescription-driven revenue.
In addition, many U.S. hospitals are acquiring physician practices, especially in oncology, which is shifting patient care from the physician's clinic to hospital outpatient departments. This shift changes the spectrum of provider-administered drugs. Instead of a wholesaler delivering drugs to many individual physician practices, they deliver to a more limited number of hospital-affiliated pharmacies.
Hospital-affiliated pharmacies, by virtue of their size, are often able to negotiate lower prices that will put a squeeze on wholesaler profits. Also, when this type of shift occurs, the wholesaler channels are narrowed, since not all pharmacies are licensed to dispense specialty drugs. The result is that wholesalers deliver to fewer practitioners. In many respects, this consolidation of the dispensing channels will actually make supply chain management easier, but it will also place more control in the hands of fewer players downstream to negotiate terms in their favor.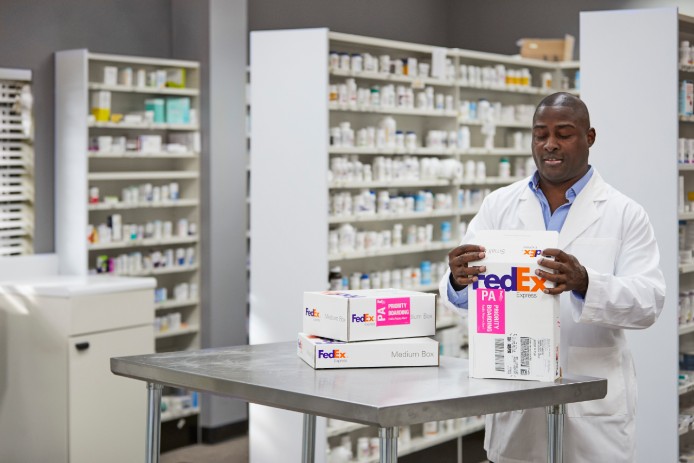 FedEx HealthCare Solutions Knowledge Center
Check out our library of articles, videos and webinars that discuss the healthcare supply chain as it looks today and where it's headed in the future. Plus, learn from experts how innovative technology, strong connectivity and data-driven solutions will help improve the healthcare industry.