FedEx® HealthCare Solutions
FedEx® HealthCare Solutions
GDP Certifications Are Not Required for Transportation Providers
by Dr. Christelle Laot
 
November 30, 2017
Progress in areas such as cargo operations, training and cold chain awareness has been made at international airports to reduce the risk of temperature excursions on tarmacs and prevent mode shift from air to ocean transportation. Many airports are coming together to discuss the International Air Transport Association (IATA) certification toward good distribution practices (GDP) standards for the pharmaceutical industry. The main benefit of the IATA Center of Excellence for Independent Validators in Pharmaceutical Logistics (CEIV Pharma) program is the enhanced communication between multiple stakeholders, such as freight forwarders, airlines and ground handlers.
FedEx Express does not endorse one GDP-type certification program more than another. There are many different GDP guidelines published around the world, and there is no global standard. GDP guidelines are much broader in scope than transportation, as they mainly apply to distribution (read this article for more information on transportation versus distribution) and regulators do not officially issue GDP certifications for transportation providers.
Pursuing a GDP-style certification can be prohibitively expensive. For instance, the IATA CEIV Pharma program currently lacks a workable solution for integrators, as each FedEx global facility would need to be individually audited. To date, FedEx Express has not pursued a GDP certification, relying instead on its decades of operational expertise, custodial control and strong reputation.
 
How Does FedEx Meet Good Distribution Practices?
Healthcare shippers need to demonstrate to regulators that they have established a methodology to assess their suppliers. While certifications can provide a level of comfort, measuring actual carrier performance, keeping track of technical developments and having quality statements on file may be just as important.
FedEx Express operations are ISO 9001 certified, and FedEx is fully aware of minimum standards provided in GDP guidelines. In some instances, FedEx Express actually exceeds those standards, as proven by the thermal mapping of the FedEx Cold Chain Center Memphis. Furthermore, FedEx established default temperature settings for long international flights following temperature distribution studies, resulting in rather reproducible conditions in its aircraft fleet around the world.
In contrast to many transportation providers, FedEx Express is an integrator, meaning that it has full control of its operations from pickup to delivery. FedEx project engineers trained in cold chain management have established robust standard operating procedures (SOP). For temperature-controlled shipments, engineers recommend shippers to select packaging systems that can maintain temperatures for a minimum transit time of at least 24 hours (domestic shipment) or 48 hours (international shipment) greater than the FedEx delivery commitment time. FedEx Express has contingency plans around the world, such as cold staging areas and dry-ice replenishment stations, and publishes world maps of contingency locations online.
FedEx Express is well-established in the transportation landscape, with years of experience handling complex healthcare shipments, and its customers have confidence in its operations. It is easy for shippers to measure FedEx performance using cold chain management databases and data loggers such as SenseAware®, a FedEx innovation, as well as to identify late deliveries and temperature excursions, if any. Shippers don't always select special cold chain services, and many temperature-sensitive shipments are still transiting through general cargo. Still, shippers can call FedEx and agree to pay a fee if delayed general cargo shipments can be located promptly and then placed in temperature-controlled staging rooms.
For more information about temperature-control solutions from FedEx, go to the FedEx HealthCare Solutions site.
---
Christelle Laot
Technical Fellow
Dr. Christelle Laot joined FedEx Express in 2007 and is currently technical fellow in the FedEx healthcare industry vertical. In this role, she provides thought leadership, strategic direction and subject matter expertise for healthcare transportation. Prior to her work with FedEx, Dr. Laot held managerial positions in R&D, innovation and strategy at Bayer in Germany for about six years.
Dr. Laot obtained a PhD and MS in chemical engineering from Virginia Tech (USA), a Diplôme d'Ingénieur from UTC Compiègne (France), as well as an MBA from HEC Montreal (Canada).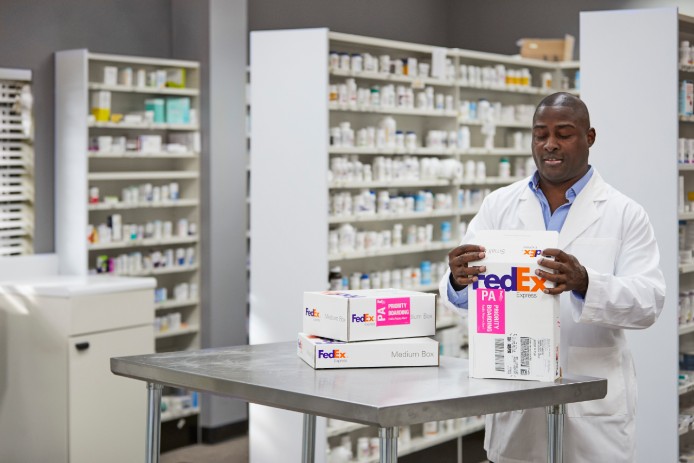 FedEx HealthCare Solutions Knowledge Center
Check out our library of articles, videos and webinars that discuss the healthcare supply chain as it looks today and where it's headed in the future. Plus, learn from experts how innovative technology, strong connectivity and data-driven solutions will help improve the healthcare industry.