FedEx® HealthCare Solutions
FedEx® HealthCare Solutions
Creating Innovative Supply Chain Solutions
Healthcare products companies and their vendors must rely on creative supply chain solutions that can adapt to market demands and changing product requirements. The field has seen rapid advances in individual packaging, tracking and reporting technologies, but it is the sum of these assets combined with infrastructure, data and human expertise that can actually create a solution that meets a customer's needs.
The most advanced radio frequency identification (RFID) sensor or fastest aircraft is ineffective without the larger network. Healthcare products companies must be able to support the complete product lifecycle, including fulfillment, inventory management, temperature-controlled transportation and returns management, if they are to succeed at positioning themselves as true partners to their customers. In addition, providing a more integrated supply chain solution is critical to manage risk and control costs in order to remain competitive. Healthcare products companies are investing in these comprehensive solutions for a number of reasons:
Managing Supply Chain Needs to Align With Budget Goals
As advances are made in medicine, healthcare costs in nearly every country have continued to climb. Government and private entities, armed with increasing amounts of data from the deployment of electronic health records, are better poised to leverage big data analytics platforms to control payment costs and negotiate rates with providers. Increasing use of bundled payments will encourage hospitals to put greater pressure on healthcare products manufacturers as all parties providing care compete with each other for their share of the fixed sum.
Globally, healthcare products and services companies, the providers they serve and the supply chain vendors that connect them are paying more attention to rationalizing consumer ordering patterns to reduce costs. Most of these efficiencies have come from matching the speed of delivery for a product to when it really needs to be on site, as opposed to older, less-customized stocking practices. As an example, surgical implant sales representatives often complain of the inefficient ordering patterns of the operating room managers in their customer facilities. Many hospitals would place overnight orders for the implants they needed on a case-by-case basis to reduce the amount of inventory they held. Shipping costs were extremely high, but hospitals were freed of much of the risk of maintaining excess inventories. However, recent trends have been toward batching orders together when possible for these products and ordering less frequently with shipping options that took longer but were less expensive. At the same time, providers increased pressure on their vendors to support a more generous consignment and returns policy.
Consolidated shipments and central distribution centers can also greatly improve the globalization of the supply chain, but companies must still have a back-up plan for when the unexpected happens. Relationships with trusted supply chain partners are critical to putting in place these contingency strategies. It sounds simple enough to implement cost-reduction plans, but it can be difficult when healthcare providers look for supply chain costs to reduce every year. While healthcare providers always appreciate lower prices, healthcare products companies must also ensure that both stockouts and unnecessary inventories are limited. There are various ways to do this, but a common solution is to have a locally or regionally managed facility that can manage the inventory across multiple healthcare systems.
Compared with other industries, healthcare products and services providers have been known for their healthy profit margins, but these competitors are looking for ways to shore up those percentages in the face of increasing price pressure from customers. The very high SG&A costs these companies generally report indicate strong opportunities for supply chain efficiencies to match new market realities. With products increasingly commoditized and established markets saturated, companies are also seeking new strategies to make them more competitive to grow their market share. This has been challenging in a market where growing regulatory and liability constraints demand greater attention to product integrity and security throughout the product lifecycle. Healthcare products companies are still working to apply rapid advances in technology, particularly in the fields of sensors, analytics and information technology, to optimize an increasingly complex supply chain.
Cold Chain Solutions Meet Demand for Temperature-Sensitive Treatments
When considering all industries, shipments leveraging cold supply chains are expected to grow at a rate of 8–11 percent in the next 10 years. China and India alone are investing billions in cold supply chain, implying rising demand for refrigerated trucks/trailers. Many healthcare products are not only expensive, perishable and fragile but also life-sustaining, so it's important to have technologies in place that protect the integrity of those products.
An estimated 25 percent of all healthcare products are temperature-sensitive, so maintaining a specific temperature range from pickup to delivery is a key concern. Use of biologic treatments and tissue-derived devices that are highly perishable has skyrocketed in recent years, and more growth is expected. Healthcare products companies should look for supply chain vendors that offer innovative packaging, storing and transportation solutions that can maintain temperature integrity and also eliminate unnecessary costs. While cold chain is usually not necessary, the lithium-ion and other batteries — common in wearables and other electronic medical devices — are temperature-sensitive as well and must be handled appropriately. Supporting complete cold chain solutions all the way down to refrigerated delivery trucks or vans has been critical to the growth of infusion therapy in the home and the increased use of new biologic drugs that are temperature-sensitive.
Expanding Supply Chains to Care Outside the Hospital
FedEx research shows that supply chain solutions serving the home represent the greatest potential for growth in coming years compared with all other healthcare settings. The use of telemedicine, remote patient monitoring, home drug infusion, patient wearables and other connected devices has expanded healthcare delivery beyond the walls of the hospital into sub-acute facilities, homes, workplaces and elsewhere. By the end of 2015, approximately 6 million homes are expected to be supporting telehealth services of some kind worldwide. And by the end of 2016, the United States may see as many as 2,500 urgent care centers and retail clinics in operation. This has led the healthcare market to embrace many aspects of the "on-demand" consumer marketplace demonstrated by the popularity of mail order services for medications, diagnostic testing and specialty medical supplies. Contract research organizations (CROs) responsible for managing drug trials are also taking advantage of more advanced supply chain solutions through direct-to-patient shipping. By providing enrolled patients with their medication instead of dispensing through a clinic location, these CROs and their sponsors are able to conduct more complex trials with more diverse populations. Home delivery allows for increased patient retention, enrollment rates and lower costs. The emergence and increasing importance of these channels, especially homecare, dictate a need for supply chain companies to recalibrate distribution strategy, creating both a challenge and an opportunity for them. Companies that deliver innovations aligned with channel needs stand to gain an important competitive advantage.
Connecting the Supply Chain to Provide Superior Support
While most manufacturers and distributors have fairly robust systems to track the supply chain of healthcare products downstream to the end provider customer, upstream feedback for product use, inventories and reorder status are significantly weaker. The industry envisions a day when complete, two-way transparency exists across manufacturers, distributors and the end consumer. With poor EHR and analytical implementation due to conflicting systems and the persistence of manual recordkeeping in many areas, steps in the supply chain are still dark to manufacturers and distributors. Future operating models that integrate UDI analytical information are expected to increase collaboration. To increase transparency and visibility, healthcare systems need to remove interdepartmental silos, improve real-time monitoring and implement analytics, adapt to regulatory oversight and quickly respond to device recall, and ensure the interoperability of healthcare data systems. In addition, clinicians are looking for supporting data on product utilization as well as quality outcomes. This outcome data is highly valuable to manufacturers as well, who need it for their clinical trials, product development and educational efforts. More than in the past, manufacturers must be able to provide quantitative data that demonstrates their products' success.
In conclusion, innovation in healthcare is often thought of as a new breakthrough drug or sophisticated medical device, but the most pressing challenges facing the healthcare system are systemic and require a solutions-oriented approach to make a major impact on cost, access and quality of care. Rather than taking it for granted, the most progressive healthcare products companies and their customers are leveraging their supply chains in new ways to expand their capabilities.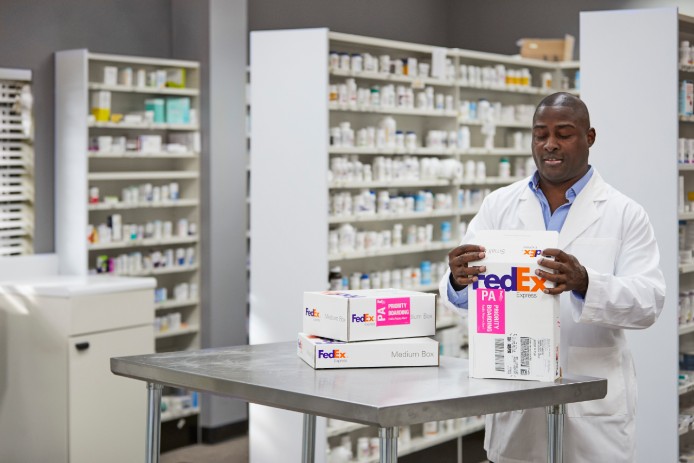 FedEx HealthCare Solutions Knowledge Center
Check out our library of articles, videos and webinars that discuss the healthcare supply chain as it looks today and where it's headed in the future. Plus, learn from experts how innovative technology, strong connectivity and data-driven solutions will help improve the healthcare industry.