FedEx® HealthCare Solutions
FedEx® HealthCare Solutions
How Reverse Logistics Can Increase Customer Satisfaction
When it comes to logistics, the healthcare supply chain often benefits from advances first made in other sectors. For example, many exciting solutions developed for managing retail returns and reverse logistics in the commercial sector are now being applied for healthcare products to great success. Now with the rapid growth of e-commerce, the healthcare industry is taking another cue and rapidly adopting automated reverse logistics.
The industry is expected to adopt app-based models, mobile freight brokerage and crowdsourced solutions that allow users to submit order details and get matched to a pre-screened driver database. The goal of implementing these solutions is to collect reverse flows as well as control tower solutions. The same types of crowdsourced solutions that make use of on-demand food delivery or return of products to retailers might be applied for the transportation of returned healthcare products on their own transportation modes. Healthcare providers are now also demanding an optimal user experience related to their product returns. Unfortunately, the reverse logistics segment has not yet witnessed the same level of technology permeation as the downstream supply chain and new technologies and solutions tend to be adopted later.
The Unique Challenges in Managing Reverse Logistics for Healthcare Products
A significant portion of medical devices, drugs and other healthcare products that are sold are returned back. Reasons for a returned product may include damage, expiration, recalls, management of consignment inventory, or end-of-life refurbishment and disposition. Most medical devices reverse logistics is associated with service and repair, while collection of expired product for destruction is the leading driver for pharmaceutical returns. Returns management for drugs are extremely rigorous to prevent the resell or illicit use of expired drugs or reverse engineering by potential competitors. Manufacturers and regulators are also taking a greater interest in reducing the environmental impact of expired and otherwise unused medications that might otherwise be put into landfills or the water system.
Manufacturers are taking an increasing interest in designing medical devices with a "cradle-to-cradle" approach, which places more emphasis on recyclable components and materials, and places returns management predictably in every product's lifecycle. For some types of medical devices — particularly those with precious metals, components that can be salvaged or materials that can be traded for carbon credits — effective returns management can result in new post-market cost savings and revenue opportunities for manufacturers and other third parties.
Envisioning Future Returns Management Collaborations
The way healthcare products companies manage their returns will have a significant impact on their warehousing and distribution networks. The reverse and returns process can either be facilitated in-house by the manufacturer, a distributor or through a third-party logistics (3PL) firm. Spikes in sales, seasonal trends, new product launches and major recalls can all have an impact on reverse logistics on the back end, driving companies to explore innovative tools — such as app or market-based platforms — to manage their returns. By using a cloud-based system, all stakeholders can be connected under a single platform to facilitate an efficient end-to-end return process. At the same time, returns lead times for healthcare products are declining as manufacturers deploy product swapping strategies instead of service depots. Manufacturers are also consolidating their warehouse space devoted to returns management and parts with a move toward consolidating in centralized facilities.
Managing the reverse logistics process for healthcare products is extremely expensive, in part due to the need for managing a wider and more uneven geographic distribution of the products. Manufacturers and distributors commonly encounter challenges with inefficient transportation since they lack the same economies of scale that they controlled for by aggregating outbound shipments. One strategy that manufacturers have employed is to collaborate with 3PL firms that specialize in returns management. The industry is seeing a growing number of partnerships and acquisitions between 3PLs and niche reverse logistics providers. The unique assets and geographic reach these providers can deploy can add flexibility to the returns supply chain and rein in costs.
The healthcare products industry can expect to see increased outsourcing to 3PLs that operate control towers to manage their customers' returns processes, freeing manufacturers up to focus on their core competencies of product development and commercialization. The ideal 3PL provider would be able to manage all stages of customer management and reverse logistics from the initial customer engagement all the way to claim settlement. By outsourcing the complete process to a specialized provider with centralized responsibilities and proven protocols, manufacturers can expect to see improved customer satisfaction, quicker resolution times and lower overall costs. These returns specialists would need to provide real-time visibility on return status, lead time, location and partner performance. Ideally, these companies should support web-based portals to inspect allocated work, manage data, capture time and submit claims.
Providing for Technology-Enabled Returns With Specialized Tracking
Just as manufacturers are pushing to improve visibility into their downstream supply chain, they are interested in applying these same tools to returns as well. More and more pharmaceutical products are requiring serialization or e-pedigrees. For example, California law now requires serial numbers on all drug packaging. Electronic pedigrees extend tracking beyond the package and across the complete supply chain. Manufacturers are exploring other tracking tools such as smart tags, barcodes and holograms to track and trace products to their final destination. These same tags and tracking codes will be critical methods for managing recalls or customer communication.
As the healthcare products market continues to grow around the world, so too will the demand for returns management to support the complete lifecycle of those products. How the future of reverse logistics evolves will rely heavily on how data analytics and cognitive solutions are deployed to address customer needs. With huge volumes of structured and unstructured data being created every day, the reverse logistics market is ripe for predictive analytics solutions. Companies in a number of industry sectors have already started to use these tools to predict when they can expect to receive returns and at what volumes in order to help manage that risk. In addition, the near future is likely to see increased use of robots, autonomous vehicles and drones to provide more effective returns solutions.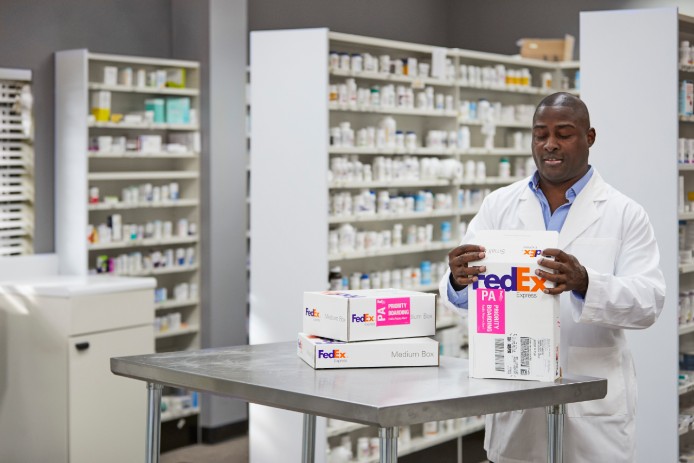 FedEx HealthCare Solutions Knowledge Center
Check out our library of articles, videos and webinars that discuss the healthcare supply chain as it looks today and where it's headed in the future. Plus, learn from experts how innovative technology, strong connectivity and data-driven solutions will help improve the healthcare industry.