FedEx® HealthCare Solutions
FedEx® HealthCare Solutions
Innovation Profile: The Musculoskeletal Transplant Foundation
The Musculoskeletal Transplant Foundation (MTF), the nation's leading tissue bank, saves and heals lives by honoring donated gifts, serving patients and advancing science. MTF is a nonprofit organization founded in 1987 by a small group of orthopedic surgeons who were looking for safe, high-quality tissue for their patients, many of whom suffered from bone cancer. Based in Edison, New Jersey, MTF provides approximately 30 percent of all bone, tendon, cartilage and skin grafts used in the United States, and ships more than 450,000 tissue grafts each year to hospitals, clinics and surgical centers around the country and abroad. Since its founding, MTF has provided over 7 million grafts for transplantation and has managed tissues donated by more than 100,000 patients.
Joe Yaccarino, executive vice president of processing operations for MTF, describes the organization's vital role for patients in need of organ or tissue donation, and how FedEx HealthCare Solutions helps get these temperature-sensitive donations to its doctors on time and intact.
What type of products and services does your company provide?
Joe Yaccarino (JY): While most people have heard about organ donation, tissue donation is much less well-known. Each year, more than 25,000 people in the United States become tissue donors, and approximately 6,000 of those are handled by MTF. More than 1.7 million patients receive a tissue transplant each year in the U.S. alone.
MTF's network of organ and tissue procurement agencies are notified by hospitals of recently deceased patients. These individuals may have previously registered as donors or their family members may wish to donate their organs, eyes or tissues. Then, the potential donor's medical and social history is extensively reviewed by medically trained professionals in much the same way as you might be screened prior to donating blood. Tissue recovery must take place within 24 hours of the donor's death in order to ensure the safety of the tissue for transplant recipients, so the decision to donate has to happen rapidly. Couriers transport the recovered tissue to MTF's New Jersey headquarters, where it is further screened and evaluated for suitability for transplantation.
FedEx plays an important role in this process by transporting blood specimens to a variety of laboratories for infectious disease testing. This step is vital — if the blood samples are lost or improperly handled, the donated tissues must be destroyed.
Once the donor's medical records and testing results have been reviewed by MTF's medical directors, we're able to prepare the donated tissues into a variety of sizes, shapes and tissue types. MTF provides donated human tissues that are used in many surgical procedures, including total joint repair, spinal fusion, sports medicine injury repair, hernia repair, breast reconstruction after mastectomy, burn and wound care, and dental procedures. Although the majority of tissue is sent to medical facilities in the United States, we also ship to approximately 50 other countries. FedEx and its ability to provide frozen shipping are critical to patients who are undergoing sports medicine surgeries, such as anterior cruciate ligament (ACL), posterior cruciate ligament (PCL) and meniscal repairs, and for patients battling bone cancer. We use dry ice and overnight shipping with FedEx, as it is essential that we maintain temperature control of these important tissue forms, and so that we can track the location of each shipment.
What have been some of the most critical supply chain challenges your company has struggled with over the last three years?
JY: Today's business model requires that hospitals cut costs wherever possible and that they have immediate access to products that are used in the OR. This can be difficult with donated human tissue because some tissues are in short supply. We need to balance the hospital's desire to maintain an inventory of a variety of sizes and shapes of donated tissues with the need to ensure these gifts are used. Our responsibility to the donors and families of patients who became donors at the time of their death is paramount. They donate in order to help others, and if tissue isn't used or improperly handled, that gift is lost.
Supply chain technology that tracks tissue transplants in our larger accounts will eliminate manual processes and ensure a more accurate tissue inventory. With increased scrutiny on healthcare costs, it is also important to show the return on investment of these tracking technologies and how they are driving costs down and ensuring proper usage of the tissue.
What innovative strategies has your company implemented to address the use and adoption of new supply chain technology?
JY: We are constantly trying to develop and validate new packaging that allows us to maintain tissue shipments at validated temperatures. Until recently, we did not ship frozen tissue on Fridays due to the risk of it becoming compromised over the weekend. With today's new packaging, we can extend our dry ice temperature hold for up to 120 hours. There is definitely an opportunity for innovation with shippers that could allow for longer dry ice and temperature times.
Many tissues are intended for a specific patient. If a package is delayed or lost, it can have a significant effect on that waiting patient. The FedEx Priority Alert® system allows us to easily track shipments. FedEx® overnight shipping with temperature control allows the medical facility, surgical team and patient to safely rely on our ability to deliver this precious transplant on time and ready to use.
What are some of the creative solutions you have used around cost management, cold chain, customer support or other integrated strategies?
JY: We are working toward using Electronic Data Interchange (EDI) with 100 percent of our customers. We are moving toward the electronic transfer of information and focusing on data transmission rather than shipping logistics. As we improve this technology, there will be fewer mistakes and opportunities for error, and improved efficiencies.
FedEx cold chain technology is critical to our success. Knowing that the temperatures of our shipments are monitored and maintained is vital to ensuring the safety of our tissues.
Our West Coast distribution facility, located in Redlands, California, receives bulk shipments of tissues via FedEx, which has allowed us to control shipping and storage costs. Each month, they ship over 2,000 packages to facilities on the West Coast. By working with FedEx, we have found ways to control costs that are ultimately passed on to those customers.
How do you use data and relationships to improve connectivity within your supply chain?
JY: Our distribution facilities, located in New Jersey, California and Olyphant, Pennsylvania, are all connected directly to the FedEx system. This technology allows us to ensure that each shipment is properly addressed to our customer. Our main facility in New Jersey is located less than one mile from one of the largest FedEx hubs, allowing for frequent and rapid pickups throughout the day.
How are you creating internal or leveraging external expertise in the healthcare supply chain specific to regulatory, clinical care, operations or other disciplines?
JY: We have placed major resources and focus on lean strategies and standardized work in operations. Our stewardship of the donated tissues requires that we minimize waste and work to benefit as many recipients as possible from the gifts we've been given. This has also helped us with compliance and overall costs.
What have been the measurable outcomes of this supply chain innovation? What benefits has it delivered to your company and others?
JY: Our focus on these strategies has led to a more than 30 percent improvement in available transplants per tissue donation in the past four years. We have done this while maintaining or improving our cost of processing, which then allows us to meet the needs of our customers and the overall healthcare system.
What do you believe are the most important ways in which supply chain innovation can make healthcare better?
JY: One of the most important areas is cost — ensuring the public is getting the highest-quality care at the lowest price. Dependable delivery at a competitive price is one way for us to control our costs.
What advice would you give to other supply chain executives in your specific sector of the healthcare market?
JY: Choose a good partner you can depend on, and someone who treats your business right. FedEx offers tools to help us see where our shipments are, where they need to be and if they got there safely in the condition we expect. We have a very specialized service and are constantly aware of cost and efficiency in the supply chain. At the end of the day, our relationship with FedEx allows us to meet our mission of saving and healing lives.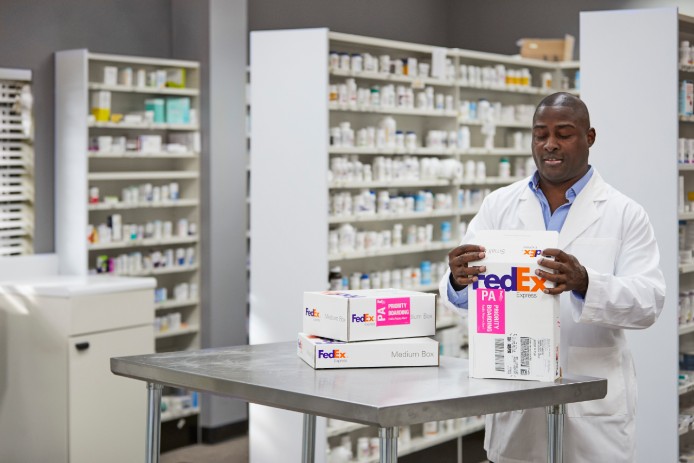 FedEx HealthCare Solutions Knowledge Center
Check out our library of articles, videos and webinars that discuss the healthcare supply chain as it looks today and where it's headed in the future. Plus, learn from experts how innovative technology, strong connectivity and data-driven solutions will help improve the healthcare industry.