FedEx® HealthCare Solutions
FedEx® HealthCare Solutions
Innovation Profile: Advanced Tissue
Advanced Tissue was founded in 2000 with the commitment to identify key markets in the under-served and under-reimbursed home healthcare space. Over the past 16 years, the company has rapidly grown by delivering individualized, unit-dose packages of wound-care supplies directly to patients' residences. Recently, the company integrated a proprietary patient education platform into its packaging — Advanced Tissue Smart Pac™ — that has been able to significantly reduce the amount of time it takes for patients' wounds to heal.
Kevin Lamb, the president and CEO of Advanced Tissue, has more than 30 years of experience in the medical field. Prior to founding Advanced Tissue, he operated companies that delivered pre-packaged pain management surgical trays to hospitals, as well as the home infusion pharmacy field. His experience selling customized trays to healthcare providers was the origin for Advanced Tissue's concept of unit-dose packages of wound-care supplies delivered to customers' homes. Advanced Tissue is now the national leader in the delivery of specialized wound-care supplies, and it's the only supply-delivery company serving the long-term care, nursing home, hospice and clinician markets.
What types of products and services does your company provide?
Kevin Lamb (KL): At Advanced Tissue, we only focus on wound-care disposables. This has allowed us to become extremely competitive and streamlined in our ordering, billing, delivery and educational training. The average wound-care patient is male and over 75 years old, so we understand their reluctance or perhaps inability to ask questions and purchase products at a drugstore. Historically, mail order delivery of wound-care supplies has not been successful because patients would receive too many items in various quantities and were tasked with using those under discharge instructions that could be difficult to follow. In the early days, patients used to use only a few kinds of dressings on their wound, but it's now not uncommon to have up to eight varieties of dressings, which can make it very confusing for patients.
Our Advanced Tissue Smart Pac offers a daily supply of wound-care dressings in an easy-to-use, individual package on which we have recently added QR technology. These unique QR codes can be used by patients to link to customized training videos that we have developed for each category of wound-care product they receive. In our packs, patients have everything they need for a wound-dressing change. The package reduces confusion, improves outcomes and reduces the risk of cross-contamination. We have served around 200,000 customers over the years. Some of these patients are one-time users, while others have been receiving our products for over 10 years. The physicians know exactly what the patients need, and we have been able to find an effective way to get those supplies sent to their patients while communicating beneficial information.
What have been some of the most critical supply chain challenges your company has struggled with?
KL: One of the most critical supply chain challenges we continue to address is regulatory requirements. HIPPA is at the forefront of our focus because we have to maintain the patient confidentiality of our services, while at the same time manage package transportation and the exchange of a great deal of clinician and patient data, which can be difficult to control. FedEx has really helped to secure our shipping process and takes great care when labeling our packages. They are able to show customers their package order status at any time. Because of concerns over confidentiality, we are also working on a new encryption technology that does not require patients to enter passwords. The technology development is a little outside of healthcare but it really ties in nicely with our compliance needs.
What innovative strategies has your company implemented to address the use and adoption of new supply chain technology?
KL: We created custom packaging using relatively old QR technology and integrated it with new educational videos that we developed. We have tested this solution with elderly patients to see how many would download a QR scanner app to their phones or tablets and we saw a tremendous response and improvement in adherence to their wound-care regimen. We know we have a population that can understand this technology and now we can track our wound-care products and their utilization. Payors that we have been communicating with have expressed significant interest in how we can use this approach to customized wound-care training to help improve patient compliance and lower costs.
What are some of the creative solutions you have used to improve your supply chain?
KL: We work with approximately 60 vendors that supply their wound-care products to us. For our inbound supply chain, we order products in a two-day window, keeping a smaller-volume inventory at our corporate office and redundant inventory at a distribution hub 22 miles away. We try to keep to just-in-time (JIT) inventory as much as possible. This helps keep our on-site inventory minimal and has the added bonus of being a part of our disaster recovery plan. Our warehouse manages about 200,000 packages and 10,000 shipments per month, and every night FedEx ships our products overnight or via ground service. Our inventory currently recycles about every 18 days, which is a 94 percent improvement from five years ago when we were at 35 days. We really believe that with wound-care reimbursement as tight as it is, managing these types of supply chain metrics are critical to our success. We have been developing our own software over the past eight years that has helped increase our utilization by monitoring historical, current and projected usage of our wound-care products. We can predict our inventory needs to within 1 percent. We are even able to predict when patients will heal with our internal algorithms.
How do you use data and relationships to improve connectivity within your supply chain?
KL: Every day, we gather data on trends in the Medicare and insurance market. This daily report includes every insurance company and how their reimbursement or contract price is changing in relation to our wound-care products. We make a substantial effort to closely monitor those relationships and respond back to payors whenever we see we are being paid differently from our contracted price. Our billing and invoicing are almost entirely automated, making our collection rates some of the best in the industry. Our new QR technology solution is also providing connectivity between us and the patients we serve. The training platform also facilitates improved communication between patients and their clinicians.
How are you leveraging expertise in the healthcare supply chain specifically to improve operations?
KL: We have leveraged our expertise and built a HIPPA-compliant online database for clinics. Physicians are able to access their patients' files and know exactly where the product is thanks to FedEx® tracking software. We are also exploring the production of educational videos on wound maintenance, nutrition and preventive health that wound-care centers can play in their waiting rooms. The majority of patients do not understand the importance of wound care and nutrition, so we are working to develop instructional videos on easy-to-prepare meals. Our goal is to encompass the entire wound-care space.
What have been the measurable outcomes of this supply chain innovation? What benefits has it delivered to your company and others?
KL: Using our approach to packaging and delivering wound-care supplies, patients' wounds heal faster, which improves their lives. We have been told by clinicians that the Advanced Tissue Smart Pac has significantly improved outcomes. In some cases, the heal times have been reduced from eight months down to three and a half months.
What do you believe are the most important ways in which supply chain innovation can make healthcare better?
KL: The biggest challenge we see in the future of healthcare is the commoditization of products. There are probably 40 different collagen dressings on the market now with hardly any difference. There are so many products available today and they all do basically the same thing. This affects not only the supply chain but the acceptance of new products as hospitals can barely manage the large number of SKUs already in-house. What we think is more important is for caregivers to standardize around wound-care protocols and consolidate purchasing as much as possible.
The second challenge is the privatization of Medicare. If you have 1,000 private insurance plans, you have 1,000 sets of rules that are taken more like suggestions. They are also not paying out claims like they are instructed to. It really makes a mess out of patient insurance. The process is also driving down rates in commercial plans and increasing premiums and deductibles for patients. We like working with Medicare, since it has a consistent application and set of rules for reimbursement. But with the ongoing privatization of Medicare, we are facing more challenges due to the increased rule sets that make it harder to deliver products to patients.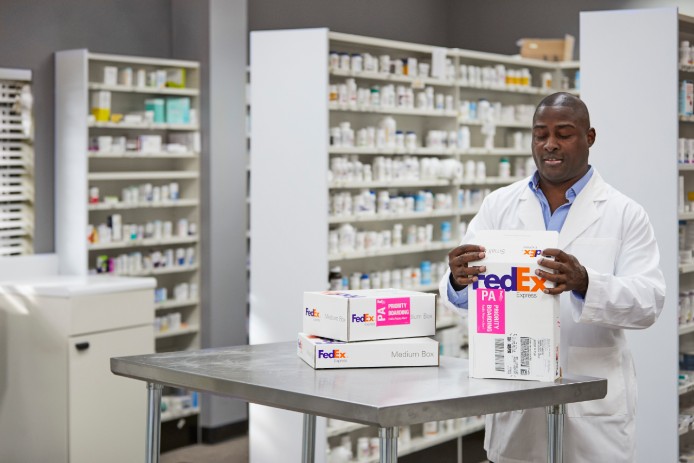 FedEx HealthCare Solutions Knowledge Center
Check out our library of articles, videos and webinars that discuss the healthcare supply chain as it looks today and where it's headed in the future. Plus, learn from experts how innovative technology, strong connectivity and data-driven solutions will help improve the healthcare industry.