FedEx® HealthCare Solutions
FedEx® HealthCare Solutions
Benefit From Vertical Integration in Product Manufacturing
While the outbound supply chain for finished goods tends to receive the majority of attention when discussing new innovations in the healthcare products industry, manufacturers can also benefit from investments in their inbound supply chain. The ultimate goal for any logistics function is to perfectly match the incoming streams of supplies and components with the outbound demand for finished goods. Achieving this balance can be challenging for manufacturers who may have customers, component and service suppliers, and their own manufacturing and distribution warehouses in disparate locations. As profit margins for healthcare products companies are squeezed, more are outsourcing to logistics providers who can use their skills and systems to better integrate the complete manufacturing chain, including reverse logistics.
The goal of vertically integrated manufacturing is to reduce the risks associated with upstream suppliers as well as downstream distributors and sales channels. Improving vertical integration can help to ensure better control over the volumes, cost and quality of inbound components and materials through smarter sourcing and ordering. Creating a more robust system can also help companies adapt to an ever-changing regulatory environment under the backdrop of heightened concerns over security and patient safety, enhanced cross-border controls and an increase in temperature-sensitive products entering the marketplace.
Compared with many other industries, healthcare products required a significant investment in product development and regulatory clearance before they can reach the market. Recalls due to product failures or lapses in the supply chain can be catastrophic. Seamless vertical integration can help reduce the risk of these events occurring.
While most healthcare products companies employ their own operations teams to manage the manufacturing supply chain, bringing in outside experts to improve the process can bring added benefits: Outside vendors are often in a better position to rationalize sourcing from suppliers, find innovative ways to overcome entrenched problems and hold all members of the supply chain accountable to timelines. When these vendors are able to leverage their own expertise, proprietary technologies and assets, such as warehousing and transportation, they can be an effective force in helping their clients achieve performance they were unable to deliver on their own. Placing responsibility with an outsourced services provider for managing more of the manufacturing supply chain allows a healthcare products company to focus more attention on researching, developing and commercializing products to meet the needs of their customers, rather than on supporting operations.
Beyond Transportation Offerings
Many logistics companies are moving beyond transportation offerings and expanding the roles they play in managing more of the supply chain for pharmaceutical and medical device companies. These companies are increasingly outsourcing logistics as they look for ways to cut costs from backroom operations and focus on product development instead. Rather than invest in their own networks of stocking locations and regional distribution centers around the world, companies are leveraging existing vendor locations for stocking and third-party logistics (3PL) regional distribution centers to expand their market presence with a minimal investment in their own ground operations.
Getting Inbound Logistics Right
Inbound logistics is focused on the efficient planning, sourcing and delivery of raw materials and components up to the customer's point of production. These systems must be tightly integrated with production schedules to meet the demands of global trade, just-in-time (JIT) and lean manufacturing. Emerging global markets, combined with more offshore manufacturing, make inbound supply chains complex. Manufacturers and their outsourced partners must deal with multiple suppliers located across the world and in the process bridge differences in time zones, cultures, languages, regulations, infrastructure and many other variables.
Healthcare products companies should seek out logistics suppliers with established networks of healthcare-specific distribution locations around the world, consistent standards and clear transparency. The best vendors offer complete solutions to manage the front end of the supply chain, including inbound customs clearance, raw material warehouse management, inventory optimization, vendor compliance and order management, all managed by robust software technologies. Some vendors also provide financing solutions and advance funds for in-transit inventory as part of their solution offerings. The best vendors are able to help their customers get to market faster, while reducing the risk of shortages, stock-outs or delays in delivery, without the need to hold higher levels of inventory.
Expanding Outbound Logistics
Outbound logistics of finished products leaving manufacturing and distribution locations has been the traditional focus of 3PL companies, which have invested heavily in warehouses, transportation networks and information technology systems. Healthcare companies are increasingly turning to 3PL providers to help simplify a complex international logistics landscape and to deliver products quickly, efficiently and inexpensively to healthcare professionals and patients. 3PLs are increasingly investing in dedicated healthcare distribution and warehousing facilities, which are often temperature-controlled and equipped to manage products that require special handling and storage.
Use of sensor tracking is more common on high-value finished goods in the outbound supply chain, compared with inbound. These sensors are usually placed inside the shipment, where they are able to wirelessly communicate critical, near-real-time information during transit. An increasing number of healthcare products companies are using tracking technologies to monitor temperature, barometric pressure, light exposure, humidity, vibration exposure and other variables their products are subject to.
Delivering Reverse Logistics Capabilities
Managing reverse logistics, whether for expired, returned or broken healthcare products, is a major challenge for many companies in the field, especially as the process continues to come under increasing scrutiny by regulatory authorities. According to the Healthcare Distribution Management Association (HDMA), approximately 3–4 percent of drugs leaving warehouses are returned for disposal or redistribution. Medical devices are also commonly returned, whether due to end of life, breakage, reprocessing, inventory consignment or repair.
As these products become more sophisticated, healthcare providers will rely more on manufacturers to support a service backbone that they are not able to deliver. Along with robust tracking, labeling and packaging solutions, reverse logistics networks rely on warehousing facilities with added security features designed especially for returned healthcare products. Using centralized locations to handle products can cut time and costs from the reverse supply chain in order to return products back to customers or get products disposed of as quickly as possible.
Using a contract provider to support increased vertical integration across the many steps of a healthcare product's manufacturing supply chain can bring added efficiencies while at the same time making a company more competitive in the marketplace. Removing risk from the inbound supply chain helps manufacturers deliver a steadier inventory of products, ensures product quality standards are met and even helps to keep end prices stable through more effective sourcing. End customers experience the outbound supply chain directly, and improving its operations allows manufacturers to meet orders in a timely manner and deliver products that meet quality and regulatory standards. Healthcare products manufacturers will be investing more in reverse logistics solutions as products become more complex and will require support that only they are able to deliver.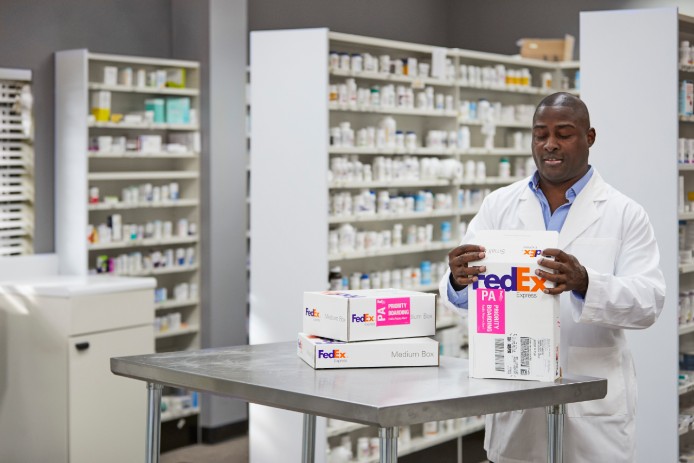 FedEx HealthCare Solutions Knowledge Center
Check out our library of articles, videos and webinars that discuss the healthcare supply chain as it looks today and where it's headed in the future. Plus, learn from experts how innovative technology, strong connectivity and data-driven solutions will help improve the healthcare industry.