FedEx® HealthCare Solutions
FedEx® HealthCare Solutions
Big Data: The Foundation for Healthcare Products Supply Chain Innovation
The most exciting opportunity for innovation in the healthcare products supply chain will not be point technologies, such as bar code scanning or cold storage containers, but complex solutions that are able to integrate all stages of the process, delivering complete visibility where data can be used to drive performance improvement and reduce costs. As in other fields, significant growth is expected in the use of analytics and big data mining in the supply chain for healthcare products and services.
What does this mean for healthcare providers, the product companies that serve them and their supply chain vendors? It means all must have a highly connected network where information about the products in the system are captured at every level. In the future, businesses will expect seamless, real-time tracking of a product's supply chain over its entire lifecycle. Users will be able to query a database all the way up to a patient's bedside to confirm a product was not tampered with, defective, expired or recalled.
Creating a Flexible Supply Chain That Adapts to Changing Demands
Connectivity means more than just linking distribution hubs and modes of transportation; it also includes the data about products in transit, as well as the networks in place to manage that data. This component is increasingly important not only when companies expand into global markets but also when they expand into new customer settings, such as patients' homes or retail pharmacies. Providing supply chain capabilities to support the complete product lifecycle, including returns management, is important if healthcare products companies are to succeed at positioning themselves as true solutions providers. This is made possible by a custom-built, scalable and flexible supply chain.
Flexibility begins with package design when companies consider their choices of carton sizes, materials, durability, weight, tracking capabilities, temperature control and other variables. More and more healthcare products companies are opting for supply chains that share resources in exchange for lower costs and more flexibility. Capabilities such as multi-mode transport, multi-tenant warehousing and consolidated less-than-truckload shipments are becoming more common in the field. This flexibility can extend to the destination as well, with cash-on-delivery options, customizable delivery time and location, and remote signature options.
On the back end of the supply chain, improved reverse logistics strategies leveraging product identification and tracking, combined with reusable packaging and different labeling solutions for return addresses, can help support technical service needs, recalls and product disposition. Improved connectivity will also require investments in new warehousing and logistics strategies to handle faster turnaround times with lower costs. This will include cross-docking to supply products directly to the end consumer with less handling and storage time. Programs that can help to "sweep the dock" during the weekend and after hours can help reduce late pickups and deliveries.
By creating supply chains that are better connected, companies have the visibility and flexibility to scale up or down to meet seasonal changes in load. This may include providing additional storage capacity that could be valuable for emergency response during sudden disease outbreaks, product launches or even major recall events. A better connected supply chain provides the critical flexibility that larger organizations need to manage complex requirements, but smaller companies can also benefit from the cost efficiencies, superior performance and scalability such a system provides.
Improving Connectivity to Ensure Product Security
The better connected and transparent a healthcare product's supply chain becomes, the better companies are able to ensure their products have been safely delivered on time and to their intended customers. In addition to ensuring that transportation workers have been vetted and their vehicles are safe and functional, in-transit storage areas and hubs should be secured with biometric-based access management, camera surveillance, and fencing and alarm systems.
Along with physical assets and infrastructure, the control and visibility of the products in transit rely heavily on the centralized monitoring and management of data. Data may be pulled from sensors embedded with the product packaging, in the transportation vehicles, in warehouses or inputted by supply chain personnel. Using this data to create a continuous story about the chain of custody and product status can help to identify stress points in the connected supply chain where vendors and their customers may need to intervene to reduce risk.
In addition, integrated management software applications aid in tracking the status of products during transit and in handling customer service requests. This helps supply chain vendors proactively provide notifications of delivery delays and efficient knowledge transfer in times of volatility. Regulators, as well as healthcare providers themselves, are increasingly demanding visibility into each step of the supply chain for the most critical drugs, test samples, biologics and medical devices. A more connected supply chain allows healthcare products companies to deliver on the promises of safety and efficacy that they make to their stakeholders.
Harnessing the Power of Big Data, Prognostics and Analytics
Bigger and better data captured across a connected supply chain will enable companies to gain both wide and deep views of their business processes. Shipping companies can improve on-time performance by leveraging data about port availability, weather, traffic and prognostics data. Proactive decision making derived from the power of big data can support smarter decisions, enable more precise interventions and deliver more accurate predictions, enabling bottom-line growth.
As the U.S. FDA's unique device identifier (UDI) program is phased in through 2020, healthcare products companies selling and transporting applicable products will be required to track them from manufacturing, through distribution, to patient use. Realizing the full benefits of the UDI in relation to patient safety will require a seamlessly connected supply chain for the relevant products, with labeling and public databases as only a starting point.
A key input to gathering actionable results from analytics lies in gaining accurate real-time tracking of data. Automated real-time alerts can be triggered for any unusual activity based on deviations from designated routes or prescribed external conditions, such as temperature, humidity, light, motion or pressure. Big data can provide a variety of benefits to the supply chain, including:
Optimizing freight schedules and routing

Improving operational efficiency and inventory management

Augmenting service for an improved customer experience

Leveraging end-user experience to reduce risks

Improving fleet operational costs and uptime
Connectivity and Return on Investment
By using more connected infrastructure, transportation and data sharing, healthcare products companies will be better positioned to meet the demands of their customers and regulatory bodies. Harnessing the power of the data pulled from these supply chains to drive continual improvement could have a significant impact on improving costs, outcome and access to care in the broader healthcare industry.
To date, most information generated by healthcare providers is categorized in either clinical, administrative or operational silos, but a truly connected healthcare supply chain will begin to create bridges across all these data repositories. Providers can combine data for inventory management, predictive analytics and patient outcomes into a single platform. Consider the potential of a unified data set for joint replacement surgery: UDIs could be used to track the implants, track instrument sets, anticipate what products will need to be shipped to a patient for home rehabilitation and track 90-day patient outcomes for reporting to Medicare's Comprehensive Care for Joint Replacement Model (CJR) program — all in one system. Connectivity will extend to every clinician and sales representative by leveraging mobile enterprise solutions for logistics operations. Automating processes from the point of purchase to payment and connecting that financial data with manufacturing and operations can help healthcare products companies be nimbler and more responsive to their customers.
In the future, healthcare products supply chain connectivity will provide companies with greater flexibility, security and insight that will allow them to better respond to changing market conditions. Companies with the foresight to make these investments will have the opportunity to deliver new value to their customers in four primary ways:
Diversity: Analytics are leveraged to derive micro-segmented solutions for customers based on location, care setting, treatment volumes and payment rates.
Adaptability: Customers assume suppliers are agile enough to change with shifting demands for clinical services and treatment trends.
Transparency: Customers will have high expectations for the types of metrics and information that distributors track regarding the use of products and supplies.
Predictability: Customers using analytics-based inventory management should see greater predictability in consumption, allowing for more accurate financial forecasting and inventory management.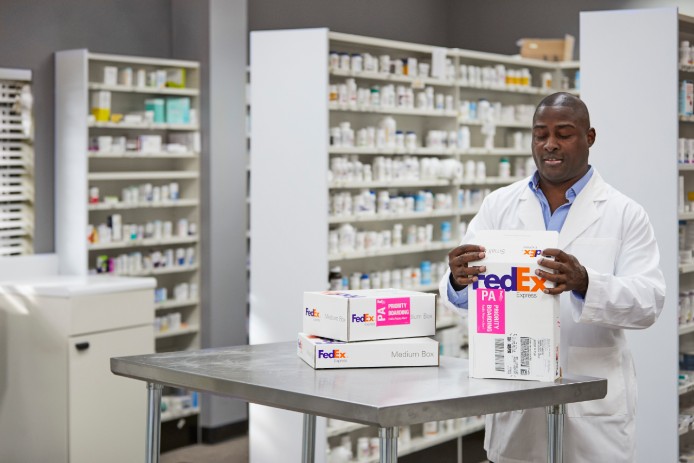 FedEx HealthCare Solutions Knowledge Center
Check out our library of articles, videos and webinars that discuss the healthcare supply chain as it looks today and where it's headed in the future. Plus, learn from experts how innovative technology, strong connectivity and data-driven solutions will help improve the healthcare industry.