FedEx® HealthCare Solutions
FedEx® HealthCare Solutions
Logistics Technologies: Digitization, Data Analytics and Drones
Logistics costs for healthcare and life-sciences companies vary from 5 to 15 percent of industry revenue and are increasingly targeted as an important focus area for controlling cost and improving margins. Rapid technological changes are transforming many of the business processes related to supply chain management. Logistics providers are finding ways to reduce costs and improve efficiency by modernizing their transportation vehicles and storage infrastructure, as well as modifying the distribution network to adapt to changing demand conditions. In the last decade, the industry has seen the emergence of new logistics models built around online freight brokerage and other e-commerce solutions that cater to the needs of vertical industries such as healthcare, automotive and retail.
Transportation and logistics costs for healthcare products tend to be higher than for other products for a number of reasons, including stricter safety and security requirements of the product shipments, delays associated with cross-border transportation, accommodations made for temperature-sensitive products and the need for greater regulatory compliance. Complicated trade and environmental regulations, which change frequently and vary greatly by country, also make the healthcare products supply chain more challenging. For example, a transportation delay due to customs delays can result in spoilage if the healthcare products are temperature-sensitive. More countries are adopting electronic submissions for documentation in order to streamline processes, but integrating with those systems requires that logistics vendors and their customers have their data as accurate and complete as possible, and prepared for submission at the appropriate time.
Shift to Online Procurement Models Improves Inventory Management
Inventory management for healthcare products is critical but often poorly managed and prone to errors due to time constraints, improper reporting, inadequate storage facilities and unorganized inventory usage. Thankfully, more healthcare products manufacturers, their supply chain providers and end customer facilities themselves are implementing digital tracking and reporting solutions to create more visibility across the supply chain. These inventory systems are being integrated with online procurement tools, which can help customers obtain competitive pricing and monitor inventories in real time. Facilities can use this information to not only select the shipping method that meets their particular time and cost constraints but also plan their purchases of healthcare products in more aggregated volumes in order to receive discounted pricing. These types of solutions that bring transparency to not only inventories and supply chain operations but also product pricing and forecasted changes in demand are the foundation for integrated systems of the future.
Transportation Management and Data Analytics to Improve Logistics Efficiency
Clinical trials require special logistics service offerings, since the drugs are often tested across multiple geographic locations and for shorter periods of time. In addition, local regulatory requirements, temperature monitoring during transit, and the storage and distribution of products are all common challenges for clinical trials logistics. Contract research organizations (CROs) and their manufacturer sponsors often incur higher logistics costs for clinical trials because of inefficient transportation management in the attempt to coordinate needs across many different geographic locations. Many logistics service providers offer technology-enabled integrated solutions for planning, storage, transportation and managing trade regulations to overcome the challenges in the clinical trial supply chain.
Recent studies estimate that 3–4 percent of healthcare products are returned to manufacturers. A manufacturer's ability to support a robust reverse logistics strategy is vital in the case of recalls due to defects or inconsistencies in labeling or packing. The complexity of the healthcare products supply chain and the number of stakeholders through which the product passes on the way to the end customer requires that a manufacturer be able to stop distribution of a recalled product at any stage or location. Sensor tracking systems combined with advanced data capture and analytics technology will be critical for managing recalls in an environment where regulators are placing even more scrutiny on manufacturers for managing these events.
Transportation management systems combined with data analytics are providing better visibility into goods in transit. These solutions can also provide real-time tracking, load planning and potentially a reduction of freight cost through consolidation, resulting in improved efficiency. Analytics can also be used to identify performing and non-performing trade lanes and then create strategies to address each accordingly. These systems will be used by logistics providers to continuously fine-tune the supply chain to reduce overall transportation costs and improve efficiency.
Drone Delivery Network Likely to Take Off
The healthcare sector is likely to be one of the first adopters of drone deliveries, especially as future designs are developed, which can allow for easier transportation of refrigerated products. Blood products, drugs and other emergency medical supplies have already been delivered via drones on the battlefield and in regions where due to weak infrastructure or natural disaster conventional means of transportation are ineffective. Drones are expected to remain a tool in situations where small dimensions of products must be delivered fast over relatively short distances.
Plans are already underway for developing a drone port to supply blood and lifesaving medical supplies in Rwanda, where transportation infrastructure is extremely limited. The widespread implementation of commercial drones in the logistics industry faces regulatory hurdles based on concerns over their safety and security. However, the potential for the technology is so high that drone operators and government agencies are expected to agree on regulatory frameworks that will ultimately allow drones to be a more common mode of transportation in healthcare product logistics.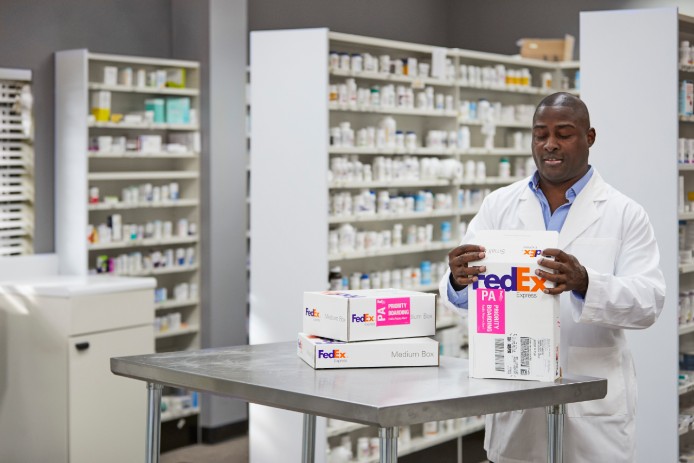 FedEx HealthCare Solutions Knowledge Center
Check out our library of articles, videos and webinars that discuss the healthcare supply chain as it looks today and where it's headed in the future. Plus, learn from experts how innovative technology, strong connectivity and data-driven solutions will help improve the healthcare industry.