FedEx® HealthCare Solutions
FedEx® HealthCare Solutions
Tracking Technologies Are the Cornerstone for a Competitive Supply Chain Strategy
The pressures placed on the global supply chain demand the latest technological innovations in transportation, information technology and materials. In tandem, the value of medical products continues to rise, so suppliers need new types of packaging, transportation, and tracking and analytics capabilities in order to give them an edge. So, which supply chain technologies are best able to help suppliers, manufacturers and the providers they serve meet regulatory demands, lower costs and improve workflow?
The answer comes in the form of sophisticated technologies that provide product temperature monitoring, advanced safeguards that prevent damage and real-time alerts during transit. Specialized packaging technologies can already provide near real-time information about the location and environmental condition of shipments and allows users to generate reports with analytics tools. But in the future, regulators will expect healthcare providers to present complete transparency on the lifecycle of the products they use, and those providers will, in turn, demand that the supply chains of their vendors be equally transparent. This change will require healthcare products companies to use a variety of new technologies that will help reach the level of transparency that all stakeholders demand:
 
Sensors and Wireless Communication — How It Works
Sensing technology will become a critical part of the healthcare products supply chain. Solutions today often use radio frequency identification (RFID), which is an electronic labeling and data collection system using RF signals (low, high, ultra-high, and ultra-wide band) to identify individually tagged objects or personnel. Sensor technology, such as RFID, combined with wireless communication represents the most significant technological breakthrough impacting the healthcare supply chain because it's a foundational tool that captures and communicates data about how products move through the supply chain. Sensors can be attached to products or placed in packaging to monitor critical parameters such as temperature, pressure and vibration during transit. The high growth of low-power, low-cost wireless sensors, coupled with the breadth of applications using cellular communication, has provided value chain participants a means to monitor their movable assets. Use of cellular networks and mobile phones to extend supply chain visibility and anytime access by using commercially available handheld devices is rapidly becoming the acceptable standard for enterprise solutions. While cellular costs are generally higher than wireless, the technology is ideal for tracking products that are in transit and logistical monitoring. The wide area of coverage, second only to satellite, makes the technology well suited for machine-to-machine (M2M) communication across international supply chains. The ability to tap into data remotely using a mobile network and the fast communication speed are also advantages that can create real-time supply chain visibility.
 
Sensors in Healthcare Settings
In the past, healthcare providers used auto-identification (ID) applications such as bar-code scanning, voice recognition and biometrics to track medical supplies. These technologies had several disadvantages, including low data-storage capacity and low transparency. RFID was developed to overcome these constraints, since it can store large amounts of user data and complements processes that improve safety and clinical workflows.
In the healthcare industry, sensors find application in tracking not only medical devices, mobile equipment and high-value assets but also in monitoring pharmaceuticals and medical supplies from manufacturers, distributors, pharmacies and patients. Healthcare providers are using RFID to accurately identify laboratory specimens, such as biopsy samples and containers of blood or urine, which reduces errors and improves patient safety. RFID is also used for tracking patient compliance in medication as well as in monitoring infants and elderly patients. These benefits help provide uninterrupted real-time information about a person or object with higher accuracy at lesser costs. It also contributes to operational efficiency by reducing medical errors, improving patient safety for hospitals and easier supply chain management.
 
Overcoming Challenges
Increasing concerns about counterfeit drugs entering the supply chain and the tightening of regulations — such as the Federal Drug Supply Chain Security Act — have resulted in pharmaceutical companies using sensor tracking to reduce the threat of counterfeit drugs. However, the reduced uptake of sensor tracking in the pharmaceutical industry is attributed to the complexity of the supply chain that has three stakeholders: manufacturers (includes pharma companies and contract manufacturers), distributors (wholesale companies and third-party suppliers) and dispensers (pharmacies, hospitals and clinics). The challenge will be for all three stakeholders to uniformly adopt sensor tracking in a fully integrated solution. Once all three groups validate this technology, the benefits for every stakeholder will become increasingly clear.
 
Sensor-Enabled Supply Chain Technologies
Ensuring a company's healthcare products are undamaged, safe and authentic is critical to avoiding damage to the brand and possible legal and regulatory repercussions. Technology in the track-and-trace sensing platforms provides stakeholders transparency into products' status at various points in the supply chain. Technologies in this field fall into three separate categories, which combine to form a complete solution:
Product marking technologies: Includes technologies such as inkjet marking and laser coding that are used to label and uniquely identify individual components as well as fully assembled systems.
Packaging execution systems: Includes software used at both the line level and plant level that is used to generate unique serial numbers and manage the subsequent coding application.
Traceability software: Includes a platform that facilitates data sharing between value chain participants. Examples include a supplier web-hosted platform (enterprise level) or an MES solution with track-and-trace capability (production level).
With the increasing demand for healthcare worldwide, healthcare products companies will need more tools and services to help them operate in an increasingly global marketplace. Companies face the challenge of molding their supply chain strategy to fit specific market demands and investing in new technologies that improve the visibility of products moving through more complex, global chains. Enabling technologies that give decision makers more information and flexibility while reducing risk and cost can help open up new opportunities for growth.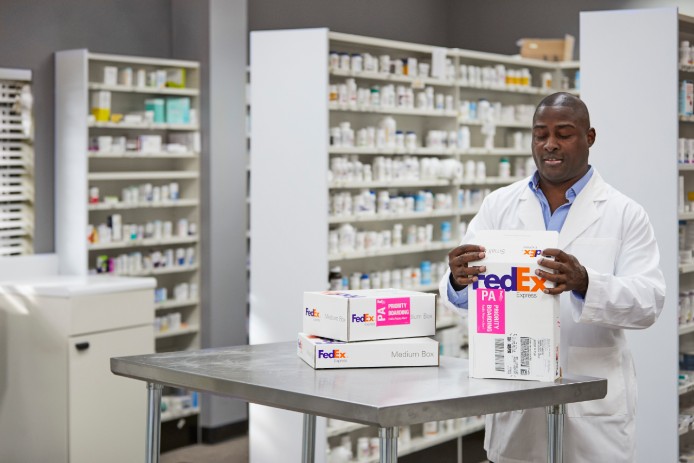 FedEx HealthCare Solutions Knowledge Center
Check out our library of articles, videos and webinars that discuss the healthcare supply chain as it looks today and where it's headed in the future. Plus, learn from experts how innovative technology, strong connectivity and data-driven solutions will help improve the healthcare industry.