Get ready for the Shipathon!
Get ready for the Shipathon!
This year, the traditional holiday season will bring peak delivery volumes as more customers are shopping online during the global pandemic. Discover how our team members and customers are preparing for this unique Shipathon, and how we are leveraging our business to encourage all to shop — and ship now!
This year, the traditional holiday season will bring peak delivery volumes as more customers are shopping online during the global pandemic. Discover how our team members and customers are preparing for this unique Shipathon, and how we are leveraging our business to encourage all to shop — and ship now!
Shipathon resources
We're known for connecting people and possibilities around the world, and while we make the most of every season, we know how important holiday connections can be. Read our stories here, or learn more about our holiday resources for small businesses or consumers, including delivery schedules, preparations for the busy season, and more!
Shippers: Prepare for Shipathon!
The 2020 holiday season is on track to be the busiest in e-commerce history. Are you ready? Get tools, tips and resources to make this the most wonderful time of the year for your business.
See the holiday help hub
Featured stories and news

From Seasonal Work to New Careers: How FedEx Team Members Made the Transition
With the holiday season here, there are many businesses and companies looking for seasonal employees to support the holiday demand – FedEx included.
Whether you're looking for seasonal work or just happen onto a seasonal position like Elisyah Mitchell, a Store Consultant with FedEx Office in Houston, TX, who heard about seasonal work with FedEx through a former manager, seasonal jobs can have a lot of benefits. One of those benefits is flexibility which attracted mom and Special Assignment Operations Coordinator, Stephanie Nunez to FedEx Ground in Dallas, TX. There is also the opportunity to improve your resume, gain new skills, and discover hidden talents. For Michael DeBarge, Business Operations Intelligence Analyst with FedEx Supply Chain in York, Pennsylvania, seasonal work allowed him to grow his network by meeting diverse and interesting people.
But a seasonal position doesn't have to be just seasonal. It can be an opportunity to start your career as Phalisha Jackson, a Communications Specialist with FedEx Express in Memphis, TN did in 2015. Phalisha majored in Journalism but began at FedEx Express as a handler post-college graduation, holding various roles throughout the company to eventually (and with fervent determination) obtain a position in the Communications department. Phalisha's story is not out of the norm. What began as seasonal work for many of the FedEx team members mentioned above soon developed into full-time positions with FedEx.
Read their journeys from seasonal work to new careers below.
FedEx: What attracted you to FedEx?
Stephanie: At the time, I was looking for jobs with flexible hours, and I saw a posting for a FedEx position on a jobs website and thought I would apply. The job posting said the position had flexible hours and listed different shifts. At the time, my child was really young, so it kind of stood out to me as I could be home with my kid and also work. It looked like FedEx was really willing to work with me and my schedule.
Michael: I had recently moved to Pennsylvania and was looking for seasonal opportunities. One of the things that I first noticed about FedEx was that the pay was pretty competitive for seasonal. I was looking for an opportunity with a good company and also a company that had a decent financial return as far as seasonal workers. When I went to a recruitment fair, I saw that FedEx was putting a lot of effort behind the people that they were recruiting. Recruiters were happy to answer questions and talk about possible opportunities. That really stood out to me.
Phalisha: Both my parents worked at FedEx. My dad still works there after 35 years as an aircraft mechanic, so I've been around FedEx my whole life. Every [FedEx] event, we were always there. I graduated from college in 2015 with a degree in Journalism, and when I graduated, I didn't graduate with a job in my field. So, I was just kind of looking for work. I was working as a waitress and a sales associate at a boutique in my hometown. I came home one day, and I was really tired. My dad asked me why I was making myself tired with two jobs when I could just have one good job. And so I thought: okay, well that makes sense. And so that's what made me initially sign up because in my mind I thought: well, I'm not gonna be here long. I'm just gonna do this job until I can get a job in my field.
FedEx: What was your experience like at FedEx? What did you like? Were there any challenges?
Elisyah: I started working for FedEx Office in Dec. 2018 in Houston, TX. I was a Store Consultant where I was mainly in shipping. Now I rotate around to three stores in the Houston area. A challenge for me is being organized and keeping up with both schedules and making sure I'm on time and getting enough rest. One thing that I really like about FedEx are the managers, as they'll never hold you back. If you want to grow with the business, they'll give you new opportunities to learn new things. There is always more to learn with them.
Stephanie: When I first started, it was a couple of months before the peak season (November - January). So, I have to say it was actually pretty rough at first. I wasn't physically active before I came, so when I actually started working, I wasn't used to always handling packages. You are loading trailers which is not the easiest thing for me because I'm 4'11'. For the first few months, I was really struggling to load a trailer, but I want to say after the fifth or sixth month, it got a bit better. The management team actually had recommended that I work in other parts of the building, not because I was small, but because I didn't give up. I came in and did what they asked, they saw potential in me. They would tell me, "you would be great for this open position. If you're interested, I'm willing to train you." I had some managers take the time to teach me how to do admin work. That motivated me more, knowing that we had some good managers who were willing to train package handlers because they saw quality work in them. It really gave me hope for growth.
Michael: I knew about FedEx which I traditionally just thought of as last-mile delivery, but I wasn't aware of the 3PL side and the FedEx Supply Chain subsidiary or company as a whole. I wasn't aware of how prominent the supply chain operations were and how big the footprint really was. When I got into the job, I was really drawn and really enjoyed just the size of the operation in general. When you go into the facility, there's a lot of conveyors, huge storage racks and there's just a lot of mechanical moving parts. It's pretty cool to see all that stuff happening throughout the facility. My particular job was pretty physically demanding. I probably walked more during that time frame than I ever had before, because I was constantly on the move. But I also liked getting to meet a lot of people from a lot of different backgrounds.
FedEx: How has your career progressed with FedEx?
Phalisha: I started as a part-time seasonal employee. Just kind of looking for something during the holidays. My first role was as a handler in heavyweight in 2015 where I scanned pallets and filed paperwork for said pallets. I didn't like my schedule, because I worked the night operation at the time because that's how my parents had always worked. Once I found out there was a dayside operation, I applied for a day position as a material handler in 2017. The position was more hours, but also more physically demanding than the heavyweight position, because I actually had to learn how to stack freight so packages wouldn't move during transport on the airplane. I tried to stay in a position for no more than a year so I've had different positions at FedEx from the operations floor to being a tour guide. My parents had told me not to stay in one position for too long to move up. I found out about the communications side of FedEx when I saw the monthly show they put out. I went home and told my dad about it. I told him, "that's where I'm going, that's where I've gotta get." I'll stay as long as I can to get into this [communications] position. My parents encouraged me to keep at it and stay in good standing so when the opportunity does come, I'm ready for it and that's exactly what I did. In Aug. 2020, I was hired as a Communications Specialist.
Michael: I started at the York, Pennsylvania FedEx Supply Chain facility in Aug. 2017 as a full-time seasonal team member. My job title was Packer in the shipping group, but my primary duty was being a box runner. My job was to make sure all the supplies were available for the teammates who were putting the packages together so they didn't have to leave their stations. Since I was seasonal and eventually my employment would end, what I did when I arrived was learn a little bit about operations and about other opportunities available. I started talking to people about my experience and I also spoke with some people at the local HR team, who were in the process of working to create some additional positions that would be more in line with what I wanted. As I was going through that process, I found another job and left FedEx for a while, but decided to come back this summer. One of the reasons I wanted to come back was because of the experience and exposure. So, when I saw the posting at FedEx that fit my skill set and background, I have a Master's in Business Administration, I was very excited to apply for the [Business Intelligence Analyst] position.
FedEx: What advice would you have for someone considering FedEx for seasonal work?
Phalisha: I would tell somebody that if you're thinking about coming on, use the time to your advantage because they're growing. You're gonna work hard, so you might as well use it to your advantage. With my story, I came in, I kept my head down and I worked hard every day. And then when I saw the opportunity, I just took it and ran with it. So, I would say, figure out what interests you. You don't have to figure out what you want the first day walking into FedEx, but when you do figure it out, use it to your advantage.
Elisyah: Get hands-on experience first, then after a while, you can start moving around. I see myself staying with FedEx for more than a couple of years because I want to end up as a manager and also because the benefits are good and there are great opportunities. It's not an easy job but if you're willing to learn, then it can be very rewarding. It's a great atmosphere, environment and opportunity. The people you'll work with are very supportive.
Stephanie: Just come in every day and work hard. If the management team sees you working hard, there might be a possibility that they come to you and say: hey, we're considering keeping you as a full-time permanent team member.
FedEx helps you determine where you want to be and it helps you grow too. I would say that I didn't exactly know what kind of job I wanted, and I want to say FedEx helped me a lot. It's helped me understand I might want to be in the office, but at the same time out on the dock. I think it would be an opportunity for someone who may not know exactly what they want to do career-wise.
FedEx Express courier Kyle Mendoza, and our entire FedEx team, have been training for the busiest holiday shopping season ever, aka the "Shipathon". Hear from Kyle why you should shop and ship early this year.
Christmas cheer is needed more than ever this year, which is why suppliers of the time-cherished holiday centerpiece—the tree—are receiving online orders earlier than ever this year.
"The reason sales are up is that a lot more people are interested in making the holidays special and memorable when everything else is uncertain," said Matt Bliss, whose company—ModernChristmasTrees.com, which makes collapsible, minimalist holiday trees—switched to using FedEx in 2017 because of the brand's reliability.
FedEx has been in the tree delivery business for decades, but, as interviews with some of the company's small business customers suggest, preparation for the 2020 holidays began in September, two months earlier than normal, and more people are ordering live trees for delivery than in years past.
According to Bliss, ModernChristmasTrees.com saw a 65 percent jump in sales in September alone, in part because of a $15,000 grant he secured from FedEx to boost his advertising. The bulk of his business is usually conducted in November or December.
Bliss and other small business owners like him have all heeded FedEx's advice to prepare for an unprecedented holiday season, with peak volume already reached due to the surge in e-commerce from COVID-19. They're encouraging consumers to shop early so they can ship early—and are working with FedEx to implement new service options to help keep up with demand, from seven-day residential delivery here in the U.S. to FedEx Express for quicker international deliveries.
"For many people, that tree is the center of their Christmas celebration," said Wayne Raisleger, co-owner of Windblown Tree Plantation, who has shipped exclusively with FedEx for 20 years. "We rely on FedEx because they deliver when it absolutely has to be there on time." According to the National Retail Federation, consumers plan to spend nearly a third of their holiday budget this year on non-gift purchases like decorations and food to bring some holiday cheer.
When e-commerce spending skyrocketed in March as Americans went into lockdown, Laurie Kane, owner of a Chicago, Ill.-based artificial tree company, Treetime, said the company started to see online purchases of decorative items like garland, wreaths and trees tick up, when sales usually don't take off until after Halloween.
"People needed something to bring joy into their lives, especially for those far away from home," said Kane. "We think people are buying earlier because they might be worried about demand and concerns about getting trees on time."
Raisleger also confirms that while his company has been shipping live Fraser Fir, Douglas Fir and White Pine trees from his farm to online customers across the nation since 1999, this year is unlike others.
"As of early October, we already had orders booked here for shipments. We expect the volume to be larger even than last year—and we had to turn some folks away [in 2019] to avoid depleting inventory," said Raisleger.
"Sometimes people are ordering last minute, so they really need that dependable shipping time," said Kane who is utilizing seven-day shipping for the first time this year. "Having the ability to [deliver] seven days a week is a gamechanger for us – I really think this has helped give us a leg up on [competitors]."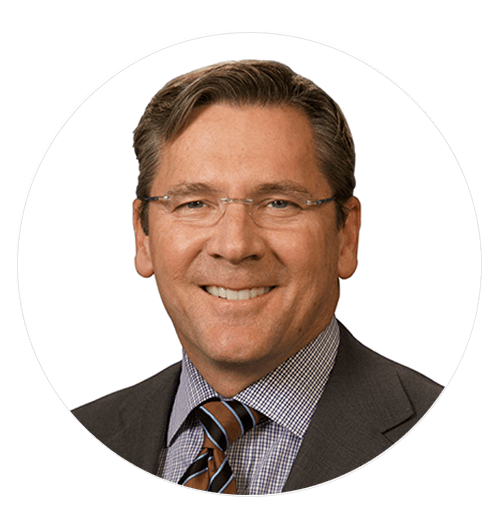 Written by Rob Carter, Executive Vice President and Chief Information Officer of FedEx Corp
In 1978, when FedEx Founder and CEO Fred Smith said, "The information about the package is as important as the package itself," he created the concept of a digital twin. That statement has firmly rooted innovation in our DNA here at FedEx and inspired a longstanding legacy of bringing our own industry firsts to the mainstream, including the first real-time tracking technology, and the first transactional website, allowing customers to track their own packages from the comfort of their homes.
More than four decades later, the same innovation and ingenuity that inspired our start is fueling our future. As a company founded on a disruptive business concept – overnight delivery – the only constants have been an ongoing state of change and a culture eager to embrace it.
How our innovations have prepared our network for the e-commerce surge
Global e-commerce continues to grow at a dramatic pace. Pre-COVID, we projected that the U.S. domestic market would hit 100 million packages per day by calendar year 2026 – COVID has slingshot us ahead three years - we're now projecting the market will hit this mark by 2023, driven by e-commerce. And now, as we enter into the holiday season, online shopping is expected to reach record levels as COVID-19 continues to keep shoppers out of stores.
At FedEx, we are well prepared for what we're calling "The Shipathon." We have long been driving the development of new advanced technologies and intelligent automation solutions to keep up with the exponential growth of e-commerce. It's these innovations that have prepared our networks to accommodate this year's unprecedentedly busy peak holiday shipping season. For example:
FedEx Ground hubs and automated stations are among the most technologically-advanced in the industry and rely heavily on automation and robotics. We now have nearly 140 fully automated facilities in the Ground network, which affect more than 97% of package volume.

We've also teamed up with Yaskawa America and Plus One Robotics on a cutting-edge robotic technology solution that streamlines the repetitive process of sorting small packages and letters, with the installation of a fleet of four fully-operational robotic arms at the Small Package Sortation System in our FedEx Express hub in Memphis, TN.

This year we also celebrated the successful completion of 2-year pilot program with Mercedes Benz to further develop, test and implement an advanced scanner and software technology solution – Coros – that uses AI and machine learning to omit the need for manual scanning of packages being loaded into our vans, streamlining logistics operations within the FedEx Express network.
The FedEx network links 99 percent of the world's gross domestic product and creates petabytes of data, both about the package and the world in which it travels. Leveraging real-time predictive analytics, decision science and machine learning, we are transforming our network to enable efficiency, transparency and reliability into the package's journey like never before. Recent innovations such as the SenseAware ID device and FedEx Surround will provide our customers with an unprecedented level of control and insight into their global supply chains.
Preparing our network for an increasingly connected world
Ongoing investments in network capacity, automation and technology are helping us build an extraordinarily flexible and responsive network to navigate the connected world of tomorrow. We are channeling our innovation know-how to reimagine what is possible as we sit at the intersection of physical and digital networks.  
For FedEx, the rise in shipping volumes has created an opportunity to accelerate the development and deployment of automated and sensor-based solutions we have already been testing across our entire portfolio, not only to increase capacity across our network to handle unprecedented demand, but also to improve the safety, security and timeliness of deliveries.
We have been testing drone use and delivery in and around our operations for almost two years. Most notably, in October 2019, FedEx and Wing launched the first scheduled, commercial residential drone delivery service and the first scheduled e-commerce delivery via drone trial in the U.S.
Last year, we also introduced RoxoTM, the FedEx SameDay Bot, and last month completed the latest round of testing with our third-generation bot in Manchester, NH.
FedEx has a longstanding commitment to putting its people at the heart of technology innovation, empowering customers, vendors and employees through benefits such as same-day delivery, real-time package monitoring and upskilling our team members. It's innovations like this that are preparing us for the upcoming holiday e-commerce surge and beyond.
Our team is helping retailers get a head start on this year's holiday shopping season. Learn from Ryan Kelly, vice president of global e-commerce marketing, how you can prepare for this year's shipathon.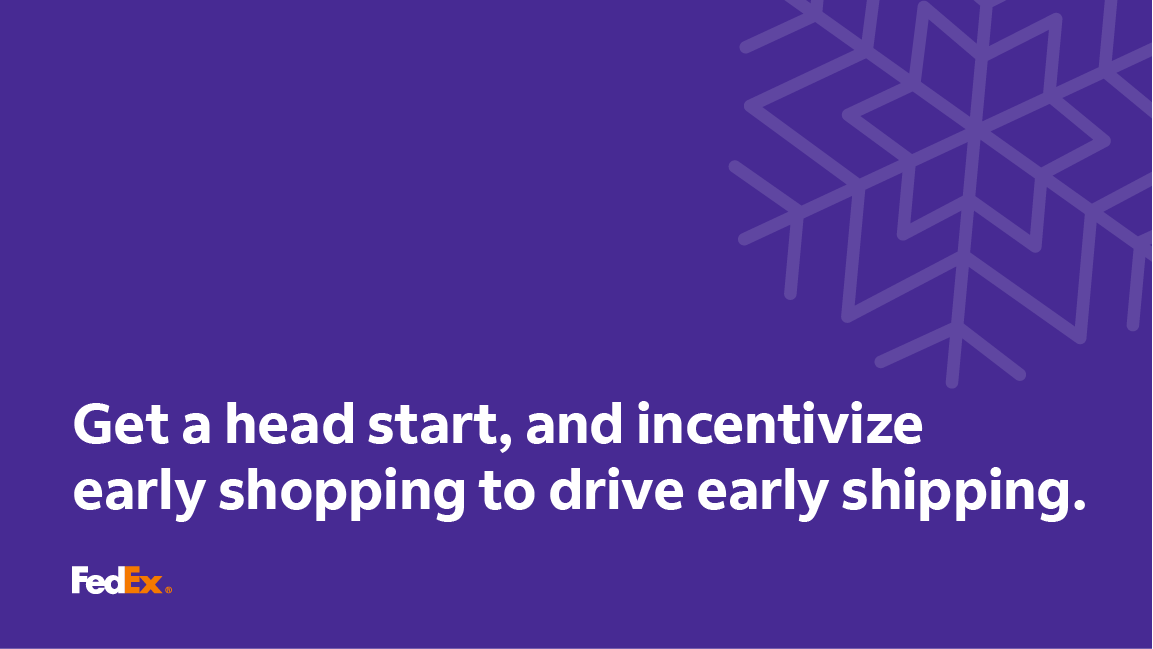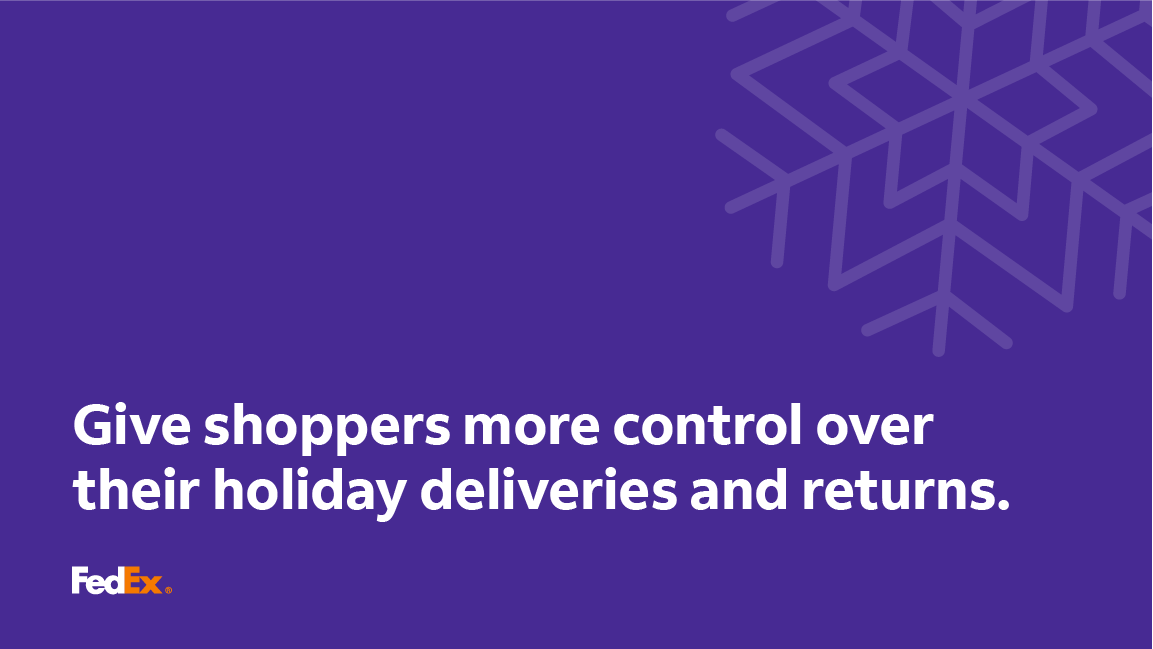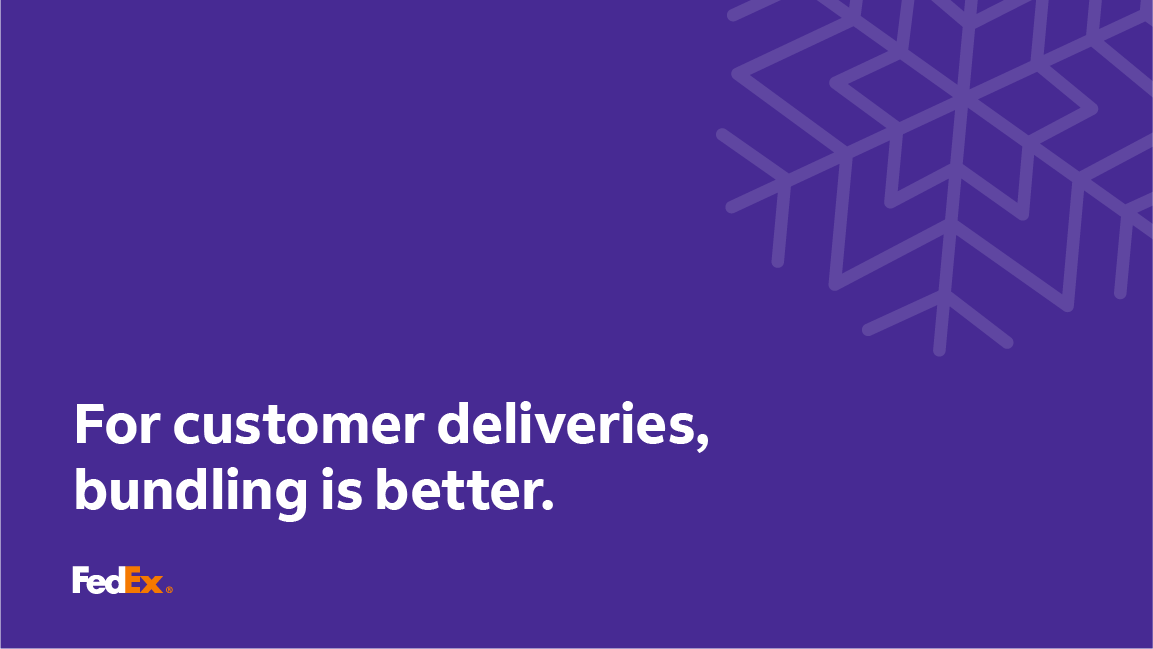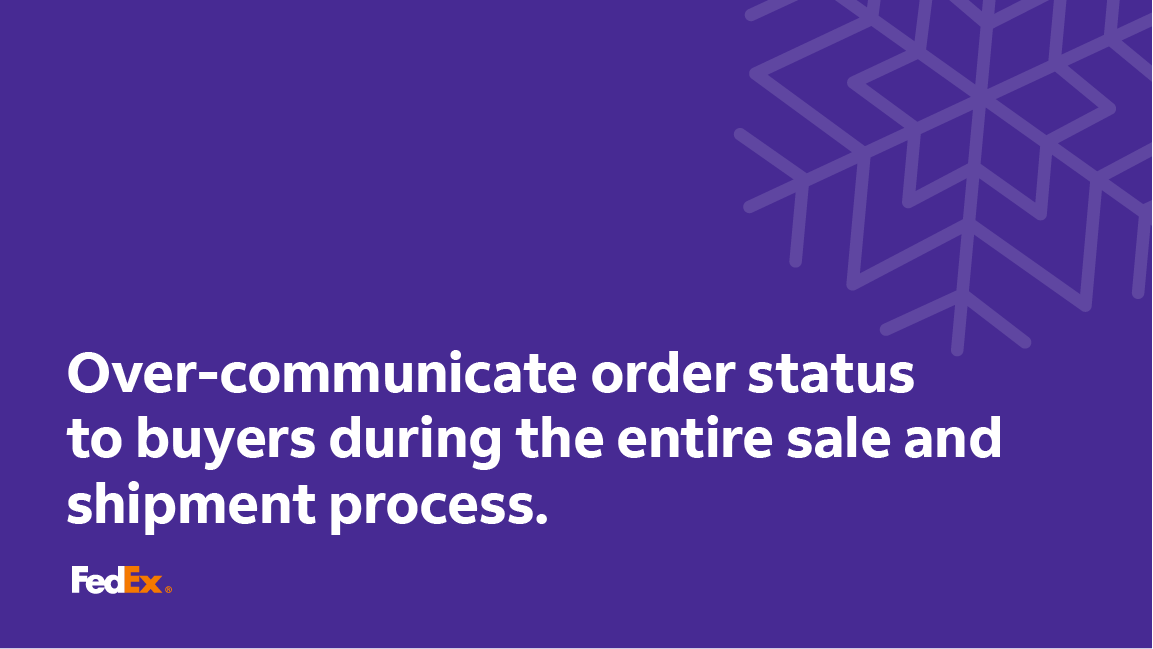 FedEx engineers collaborated on the design of the newest addition to our feeder fleet, the Cessna 408 SkyCourier. The twin-engine prop plane was designed with a cargo door large enough to load it with containers, rather than the hand-loading required for existing Cessnas in the feeder fleet.
Our 500,000 team members have been heroic during the pandemic and peak seasons. They've delivered essential personal protective equipment, medical supplies and all the ordinary items needed for daily living. This video says thank you to our dedicated frontline workers. 
As our team of more than 500,000 team members is busy preparing to deliver the holidays, we once again expect to see a large number of packages traverse our global network over the 2020 peak holiday shipping season. In order to provide the best possible service during this busy time of the year, FedEx is increasing hours for some existing employees and boosting our workforce with seasonal positions, as needed. Currently, we expect to add more than 70,000 positions in the lead-up to this peak season, with the majority of those added to the FedEx Ground network.