How to ship products from your home business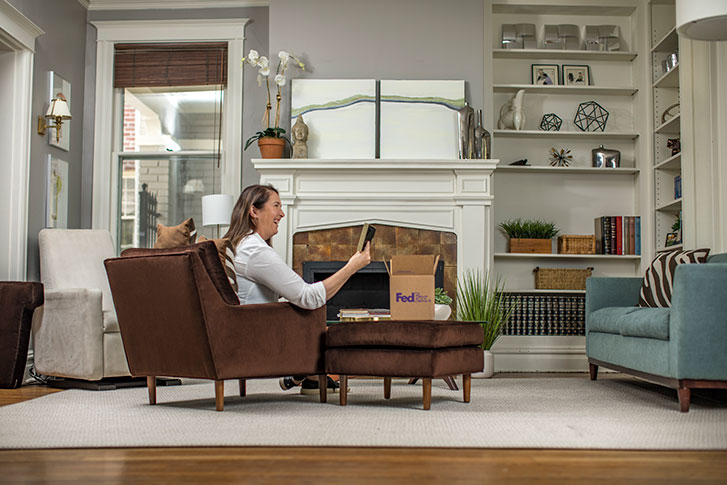 As a small business owner working from home, are you wondering how to ship products? No matter what you're selling, shipping from the comfort of your couch is a straightforward process once you've figured out a strategy, the fees and gathered the appropriate materials. 
Consider establishing a relationship with a shipping service
There are many moving pieces when running a small business, especially when you're doing it from home. To help your business run even more efficiently, it can be beneficial to work with a shipping carrier who can help you navigate the ins and outs of shipping. Plus, there could be financial benefits. By building a strong connection with a particular service, you could offer flat fee shipping in the U.S.
Determine your shipping fees
Most businesses ask customers to pay a shipping fee based on delivery speed, location, and item. If the product is not perishable, you can offer ground shipping, which usually takes 1 to 5 business days, depending on the recipient's location. However, for perishable items or when a recipient requests a quicker delivery, you can offer FedEx® next day or FedEx 2Day® shipping.
Stock up on shipping materials
Before you begin taking product orders, you'll want to purchase packaging supplies. This way, you'll be able to quickly pack and ship out items. Efficiently boxed items can save you and your recipient on shipping fees. Look for the most appropriately matched boxes, tubes, or poly mailers according to your products' sizes, allowing for cushioning. You can purchase these items at an office supply store or the post office, but your shipping service may also provide some of them for free. Any fragile package needs an overbox or poly bag to act as its shipping container for the label and to help protect the package.
Choose your packaging supplies wisely
As recipients are looking to reduce their environmental footprints, it makes sense for your business to package your products sustainably whenever possible.
There are also various cushioning materials available to replace plastic and polystyrene, such as biodegradable packing peanuts, corrugated fiberboard, bubble wrap, and air pillows made from recycled, biodegradable material. Use a quality material that can be reused or is an object that is complementary to the ordered item.

Take special care with fragile items
For easily breakable products, invest in high-quality cushioning materials that will sufficiently protect your recipient's order. 
Manage Perishable Items
Place perishable items inside an insulated box that includes a sufficient number of ice packs. If you don't have those on hand, We offer cold shipping boxes for items that are to be delivered the next day and must remain cold overnight.

Employ the right tools to help
To complete your shipping preparations for delivery, purchase one or more of the following materials: Scissors or an Exacto-blade, packing tape, stapler and staples, rubber bands and string. Ordering some of these items in bulk can save you money and time.
If your recipients can purchase your product in different weight increments, you will need to invest in a scale. Ultimately, the weight of the product and its packaging will determine the shipping cost. To create a list of your shipping fees, weigh each product in its packaging. Then, refer to your shipping service's chart of weight-based shipping costs.
Create your shipping labels
If you plan to use a shipping service, you may want to create shipping labels online. Then you can print the labels at home, or, if you're on the go, from your local shipping service's brick and mortar location. If you're not planning on using a shipping service, you can simply write your return and customer addresses directly on the package before dropping it off.
Send your packages
Before sealing the package, consider adding a small handwritten "thank you for your purchase" note, business card or flyer for a discount on a future order. Once you're ready to ship, you have two options. If you have the capacity, or if you'd like to speak with a shipping expert in-person, drop off your packages at the post office or shipping service drop-off location. However, if you're crunched for time, you can schedule a pick-up. This way, you're free to focus on other aspects of your business. For high-volume shipping, you can schedule a regular pick-up from your business location. There may be fees for scheduling a pick-up, though.
Visit the FedEx Small Business Center for insights into managing and scaling your business, and check out our Learning Center for more tips on packaging and shipping certain items.