Small-business tips for starting up, scaling up, and stocking up.
We recently got the chance to sit down with Andi Green, small-business owner and creator of the WorryWoos®. She shared her personal tips for small businesses and startups on everything from networking and self-promotion to prepping for the holiday season.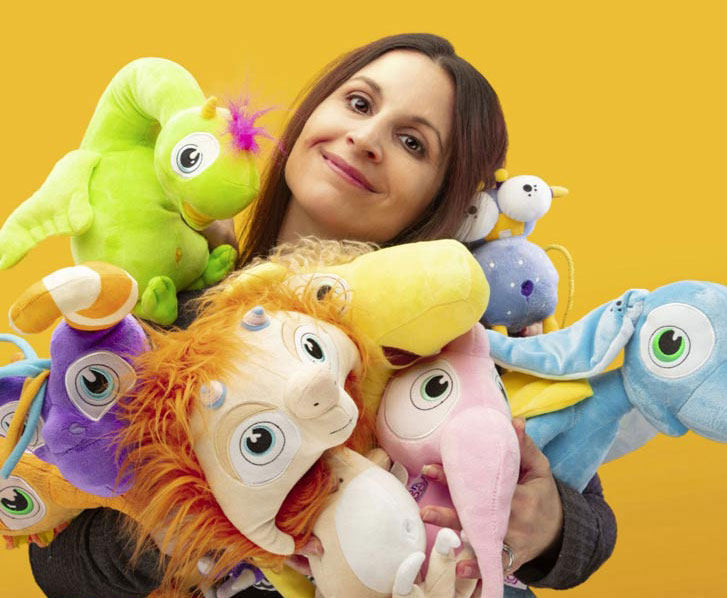 Tell us about the WorryWoos.
Andi Green: The WorryWoos are a series of books and plush characters that help kids of all ages embrace their emotions. We also have an entire social and emotional learning (SEL) curriculum that schools can use to help kids understand their feelings.
Kids have had a lot to process since the pandemic. How do the WorryWoos help?
AG: Kids need to talk about their feelings, and not just happiness or sadness. They need to understand and talk about loneliness, frustration, insecurity, worry. Ten years ago, we really weren't having these conversations. And it's more important than ever to have them now.
The goal has always been to teach kids that feelings are not negative. None of them are. These feelings are just something we work through. They're part of being human. COVID made it even more pressing for us to give them tools to process these complicated emotions.
COVID created challenges for companies of all sizes, especially those trying to grow. What tips do you have for small-business owners who are trying to scale up?
AG: Find the right partners, especially when it comes to storage, fulfillment, and shipping. When I first started, I had this enormous storage unit where I kept all my products. I would pack every box myself and ship it, usually with FedEx because they were the most reliable.
My dad started helping me because he realized how much time it was taking me. He said, "This is insane. You get one box done an hour. You have 50 boxes to pack." Now I work with a mom-and-pop warehouse company, and they also use FedEx. I love working with a smaller company. Having those personal relationships with people I do business with is important to me.
How do you promote the fact that WorryWoos is a small business? Does being small help you maintain those same close personal relationships with your own customers?
AG: I used to hide the fact that I was a small business. There are competitors out there—and a lot of them are big corporations—and I was almost embarrassed of my company's size. I felt like I needed to be 10 people instead of one. Because I projected that bigger image, people believed my company was large.
I started realizing that was the wrong approach to take. I asked myself, "Why am I hiding that I'm a mom, that I'm a business owner, that I'm a woman, that my company is small?" So now I embrace it. I am very hands-on, and I return emails and phone calls to customers myself, which never fails to surprise people. I realized that it meant something to them for the owner of the company to call them directly. Now I do everything I can to make sure people know that I'm a small, woman-owned business and that I'm pretty much a one-woman show.
What advice can you share with small businesses and startups who are looking to connect with others in their local business communities?
AG: It's so important to grow a network in your own area, to find other like-minded business owners. Meet them and see what they're doing. Find out how they can help you and how you can help them. One way I did that was by joining a women's small-business group. We're always texting each other about what we're doing, about how business is going. We help each other, whether it's attending each other's events or sharing ideas about how to solve a problem. I think those are really important connections.
Getting plugged in to groups like that is easier than you might think. You can search online for local small-business events, go to networking lunches, exchange business cards, go get coffee, just get out there and meet people. You can learn so much.
How have Small Business Saturday® and the Shop Small® movement helped you get connected and promote
your business?
AG: I went to Shop Small and Small Business Saturday events where I got to meet other business owners from around the country and hear about the way they worked. It was extraordinarily helpful for me to step outside my own box and learn from other people.
I also used Small Business Saturday to promote the small bookstores that I partnered with in the early days. I probably could have promoted myself more, but I was proud of the partnerships I had made, and I wanted to use that platform to give them shout-outs.
How have FedEx and Amex been helpful for you as a small-business owner?
AG: In 2015, I was the recipient of a FedEx Small Business Grant. I was so, so excited. That was a highlight of my life, because that experience enabled me to meet some unbelievable people. It was one of the first times I was able to really connect with other small-business owners from around the country and learn from them.
As for Amex, the first thing I got when I opened my company was a business Amex card. I thought, "This is it. I've hit the big leagues!" I was delighted. I use the rewards for business expenses, and it's been wonderful. American Express has been a fabulous company to work with. I recently took advantage of their COVID relief program where they waive interest, which has helped me quite a bit.
How do you prepare for peak season? Do you have any tips or strategies you can share with other business owners for having a successful holiday season?
AG: Stock up early! I start prepping online content in advance and make sure I have inventory on hand. People buy WorryWoos for their kids for Christmas, but I also get a lot of year-end business from schools, so I have to make sure I have enough product in stock.
Use a shipping carrier you trust. FedEx is the best for delivering on time. I'm a WorryWoo at heart, so anything I can do to avoid stressing about on-time deliveries is a win for me.
Also, promote yourself! And don't be afraid to say you're small. Amex provides a lot of materials to help with this, especially for Small Business Saturday. People want to shop small and shop local businesses, so take advantage of hashtags like #ShopSmall and #SmallBizSat on social media. If you use those along with other hashtags that are specific to your region, it's an easy way to let people know who and where you are.
Want to know more?
Small Business Saturday is November 27, 2021! Learn more about Small Business Saturday and the Shop Small movement and get free materials to promote your small business.
Related reading