A return strategy perfectly suited for success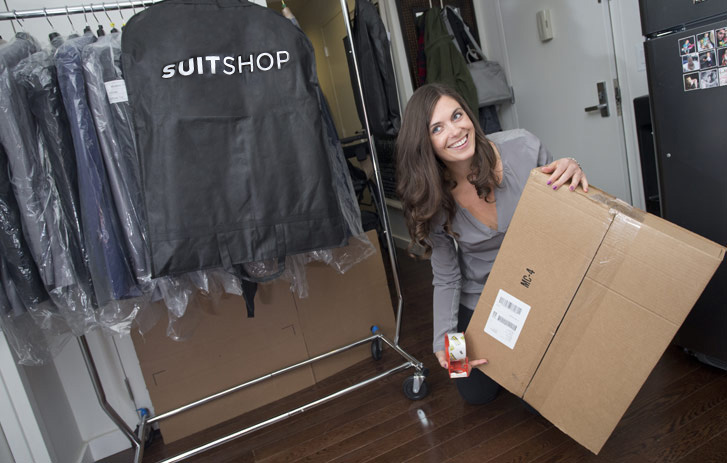 Tips to engage customers with great returns — from a business who's been there.

Returns and exchanges are a necessary part of running an e-commerce business, but what many entrepreneurs don't consider is that creating an easy return and exchange process that serves both you and your customers can help generate positive reviews and turn a one-off purchase into repeat business.
FedEx Small Business Grant winner Diana Ganz, co-founder SuitShop, has returns and exchanges down to an art form.
SuitShop sells affordable men's and women's wedding suits and attire through their dynamic e-commerce site and, to a lesser degree, their complementary brick and mortar showroom locations. Shopping for clothes online can be tricky. On one hand, you have access to a wider selection of styles — especially if you live in a rural area. On the other, making sure everything fits can be difficult. Due to the nature of their business, SuitShop has a high return and exchange rate — about 30 percent of sales, but due to their hands-on customer service approach, the vast majority of these transactions are exchanges. To manage these returns and exchanges, Diana and her partner, Jeanne Foley, have become experts in returns, exchanges and customer service. In fact, they have developed a strategy using FedEx returns options that is convenient for customers and ultimately drives more sales for their business. 

She shares her tips. 

Develop a clear return policy

Your return policy will create the foundation for your return process. It ensures every request is handled uniformly. Data shows customers consistently search for return policies on e-commerce sites, and if they don't find one, they often shop elsewhere. 

Diana and Jeanne have a customer-centric return policy clearly outlined on SuitShop website. They offer free 30-day returns and exchanges as part of their return policy because this approach works financially for their business. They've found offering free returns and exchanges encourages customer confidence and drives sales conversions.

In order to foster positive customer relationships, a return policy should clearly indicate what items can be returned, the condition of the returned item, the return time frame, the form of compensation for the return (store credit, cash, exchange only) and how a customer can initiate the process.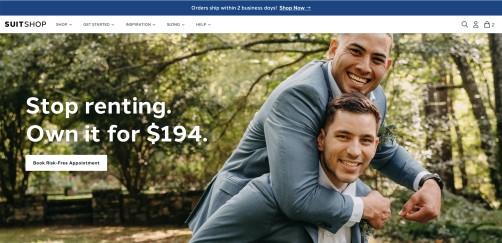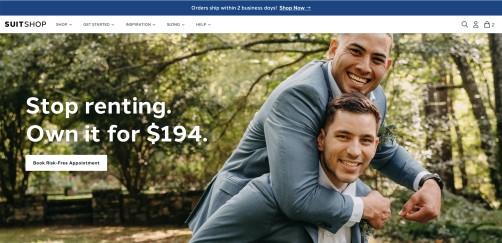 SuitShop's home page includes key messaging about their return policy as well as how to connect with help. 
Cater to your customer

Diana knows that coordinating wedding party attire is inherently stressful. Her business focuses on reducing that stress through her return process.

---
"When our customers shop with us, they're planning for a special occasion. If we want their business, we have to get the fit right. And we have to be ready in case something changes for the big day," says Diana.
---
Customers initiate exchanges and the occasional return through SuitShop website, and then staff personally reaches out to the customer with any questions. SuitShop prefers the option to talk to the customer before they ship returns. Then after any questions are addressed, they share a prepaid return shipping label via email with the customer. (Some businesses might be better off including the return label with the original shipment). Diana encourages other business owners to think about what's most important to your customers — convenience, communication, or something else — and build your plan around that. 
When it comes to managing returns and exchanges for customers, their motto is to get customers what they need ASAP! Once the customer initiates an exchange or return, Diana's team will immediately send out the replacement suit, before receiving the returned garment.

SuitShop uses returns and exchanges to build customer relationships.
---
"We see a lot of cases where a groomsman has lost or gained weight before the wedding, and he's trying on the suit a couple days before the event. We have to make sure he gets what he needs as soon as possible," according to Diana.
---
She says the benefits of this customer-first returns philosophy far exceed any risk. In fact, she views their return process as a marketing strategy for their business. Customers are often so pleased with the convenience of the process they refer their friends to SuitShop. 
During the exchange or return, FedEx provides SuitShop and its customers additional flexibility:

Customers can easily drop the exchanged suit at a secure FedEx location.

They can also choose to have the suit delivered to one of 2,000 nationwide FedEx Office locations or one of the many retail locations in the FedEx convenience network, such as Walgreens or Dollar General. This helps Diana's team avoid a missed delivery. 

SuitShop also has exchanges shipped to or from their local showroom locations to help their customers save time and properly manage inventory.
Help prevent returns

Diana and Jeanne make SuitShop shopping experience as user-friendly as possible to help their customers get the right fit upon first purchase. Making sure your website accurately depicts your product so there are no surprises when it arrives at your customer's door can help lower your return rate. SuitShop website offers a sophisticated "Fit Finder" tool that allows customers to enter their measurements for help finding a properly sized suit.  They recently invested in an upgrade to the accuracy of the tool, which they expect to reduce returns by about 10 percent. 

Include a personal touch

Diana and Jeanne realize different customers have different needs and preferences in terms of customer service. While some customers are self-sufficient and prefer to manage their purchases and returns through their website, others require more personal interaction. For these high-touch customers, their team reaches out directly to answer questions or manage the return process. They have also established brick and mortar showrooms, where customers can interact with employees and try on suits to get the right fit. This in-person experience in their showrooms has helped reduce returns as customers can choose the right suit on-site.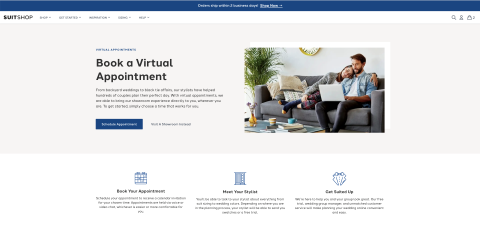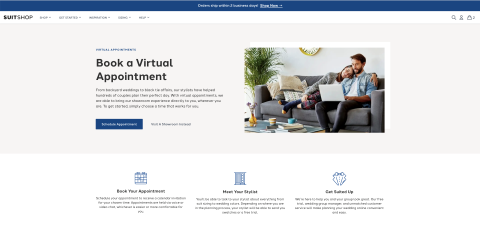 Use automation tools to your advantage

SuitShop uses automation technology to help improve its shopping and return process. Their system automatically notifies the team when a customer makes a return of a suit that is more than one size off. Diana and Jeanne recognize that when a customer makes a purchase that is drastically incorrect in sizing, the customer likely needs a deeper level of support. The team will contact the customer to help ensure the exchange is made for the proper size suit. She says this notification tool helps prevent multiple exchanges. 

Additionally, SuitShop has created a responsive and dynamic website. The site updates content served to the customer based on the customer's location. Customers who live near one of SuitShop's brick and mortar locations will see content on the website driving to these showrooms, while customers located in areas that are not near a showroom are served up e-commerce shopping options.

Tips for growing online businesses with returns

Diana also shared her insights on growing your business with returns:
Your first customers are everything. Build relationships and make sure those first 1,000 customers are super happy — even if it means breaking even to give them a better experience.
Treat customers well when they're returning products. These moments have the power to build brand loyalty. Your business's return strategy is an opportunity to build relationships, so you can't neglect it.

Choose the right fulfillment partner(s). Our first choice didn't have experience handling garments on hangers, and it hurt delivery speed, returns and quality. Now we have a new fulfillment center that ships using FedEx shipping options. Things are much smoother.
Find the right fit for your returns

A few questions to ask yourself:
Could product exchanges or free trials help your business?

How easy is it for your customers to ship returns?

Do you need help managing return inventory?
How FedEx can help:
Return shipping labels: Providing easy-to-use printed or email return labels for customers.
FedEx Pickup Options: Offering cost-effective residential pickup for returns.

Optimizing the logistics of your returns, with help developing and implementing a return strategy.
Click here to find more resources from FedEx to help you create an efficient and convenient return experience to benefit both your customers and your bottom line.  
Related reading