When your shipment needs special care: alcohol, perishables, temperature control, and more
Some products need a little more TLC when they ship. If your shipment is breakable or perishable (or both), it really comes down to packaging correctly and selecting the right shipping service. And doing both in a way that won't break your budget. Here are some considerations for special care shipping.
Pack your breakables/perishables the right way
For in-depth information on packing breakables, download the How to Pack guide and search for your product type to get detailed packing info.
Six tips for packing breakable items:
1. Choose the right box
The right box does more than just fit tightly around your product. Your box should be sturdy enough to support your item's weight and large enough to accommodate cushioning material.
2. Double-box fragile items
Double-box fragile items within a larger box and include 3" of cushioning in and around the interior box. See our infographic for the best way to double-box.
3. Restrict items from moving
The correct placement of your cushioning is critical. And so is how much cushioning you use. Place the product in the middle of the box with ample cushioning on all sides. Use filler like crumpled newspaper, foam peanuts, or other cushioning material to keep your product from moving around.
4. Pack fragile items individually
Wrap fragile products individually in a minimum 3" thickness of air-cellular cushioning material, and then fill any empty spaces with foam peanuts or other cushioning material.
5. Seal the box tightly
For a standard corrugated box, create an "H" by taping down the middle seam and on each edge.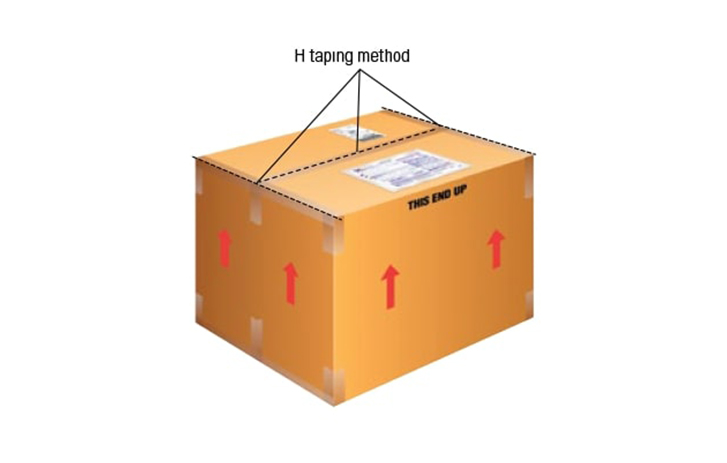 6. Always mark the box with "Fragile"

Properly place the shipping label on the package's largest surface; this will increase your chance for the preferred orientation.
Tips for shipping perishable items
Selling perishable products doesn't mean you're limited to your local market. FedEx small business clients ship everything from fresh oysters to designer chocolates. They've successfully grown beyond just serving local and regional customers.
Don't think you're limited to using FedEx Express® on every package either. FedEx Ground® can get your products to customers in closer areas in as little as one day. We can even integrate with your shipping systems. When you enter a customer's delivery address, the software automatically defaults to the most economical shipping options that meet your transit time requirements.
When it comes to packaging, FedEx Express requires that perishable shipments traveling in the U.S. are packaged to withstand a minimum transit time of 24 hours greater than the delivery commitment. Check out the Packaging Perishable Shipments guide for step-by-step instructions on packing. And go to the Perishable Shipping info page for more information.
Guidelines for shipping temperature controlled items
There are a lot of ways to keep your perishable shipment cold. The goal is to do it in an economical and environmentally friendly way. And you'll want to make sure that whatever you choose to cool your shipments is as light as possible to minimize your shipping costs. Check out the Packaging Perishable Shipments guide for more in-depth step-by-step instructions on packing for temperature control.

General guidelines for temperature control:

1. Use proper packaging
It's worth investing in the right packaging up front, especially when dealing with perishables. You'll avoid customer service headaches and the cost of replacing shipments.
- Make sure your box is the right size. Too big and you're cooling extra air.
- When using insulated foam containers, use ones with a minimum of 1-1/2"-thick walls. And place foam containers inside sturdy outer containers.
- Bag perishable products that can melt or thaw, or shipments that contain liquid, using minimum 2-mil watertight plastic bags.
- Make sure your packaging can withstand handling in different orientations.
2. Use the right refrigerant
You'll need a refrigerant that will keep products within your required temperature range. Use gel coolants for refrigerating products between 32ºF (0ºC) and 60ºF (16ºC). Use dry ice for frozen items.
Remember when using dry ice, it's important to know that it's considered a dangerous good/hazardous material and requires special handling. For more information, check out the shipping dangerous goods via FedEx Express and shipping hazardous goods via FedEx Ground sections of the service guide.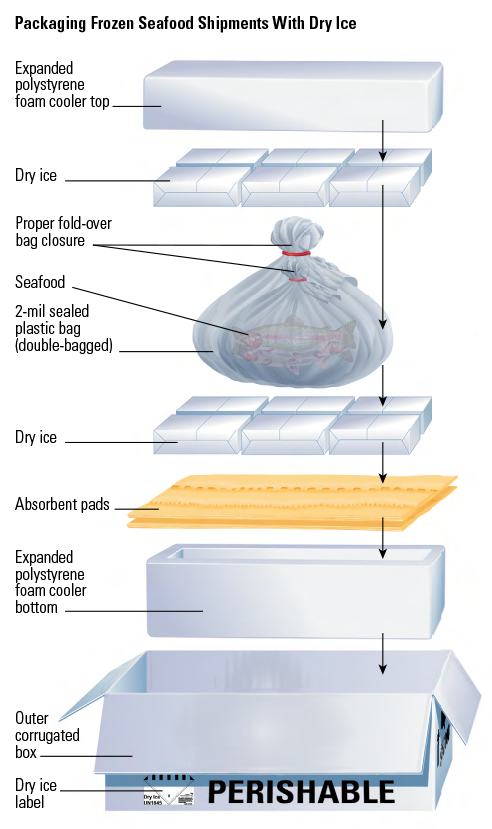 3. Use advanced technology for shipping valuable items

Temperature-controlled shipping technology can be a safe and cost-effective way to ship high-value, temperature-sensitive items. Our portfolio of cold shipping solutions is called FedEx Temp-Assure®. Solutions include rechargeable cold shipping packaging, deep frozen shipping, and thermal blankets. There are also health care solutions as a part of FedEx Custom Critical® service.
4. Allow extra time for shipments

Plan for an extra delivery day when you're choosing temperature control packaging. It gives you a margin of safety for unforeseen weather delays. And always include the address and 24-hour phone number of both the shipper and the recipient on each shipping label.
5. Communicate delivery status
Coordinate deliveries with your customers to ensure trust and avoid spoilage. Confirm the package arrival date and time. Encourage customers to use FedEx Delivery Manager® to automatically get tracking notifications.
Considerations for shipping alcohol

Shipping alcohol brings unique challenges. There are regulations on who can ship and where they can ship to. Only certain shipping services can be used because a signature of someone over 21 is needed to receive a shipment. Check out the Alcohol Shipping Center for easy guides to regulations and services. And you can find out more about wine region-specific delivery and consultation options.
Need help finding solutions and savings? Request a consult.
Related reading
Additional resources