Three key steps to help you stabilize
your supply chain
Getting your product made and into customers' hands in 2020 has included some new challenges. From importing difficulties to scarce resources to fulfillment challenges, many small-business owners have been left waiting for factories to restart, searching for new suppliers and manufacturers or completely rethinking product design and offerings.
To get a better sense of how small-business owners are navigating disrupted supply chain challenges, we talked to our Small Business Grant Contest winners, Entrepreneur Advisory Board members and analysts from the research firm Gartner. Collectively, they offered three key tips aimed at helping small-business owners stabilize their supply chain for long-term success: nurture your supplier relations, reexamine your supplier mix, and prepare for long-term shifts in consumer spending habits.
1. Nurture your supplier relationships
In any relationship, communication is crucial, and working with suppliers is no different. To help reduce disruptions to your supply chain, it's important to establish effective communication with your suppliers and build strong relationships.
While it may seem like a no-brainer, only 53% of small business owners reported being in constant communication with their suppliers, according to a recent report by Digital Commerce 360.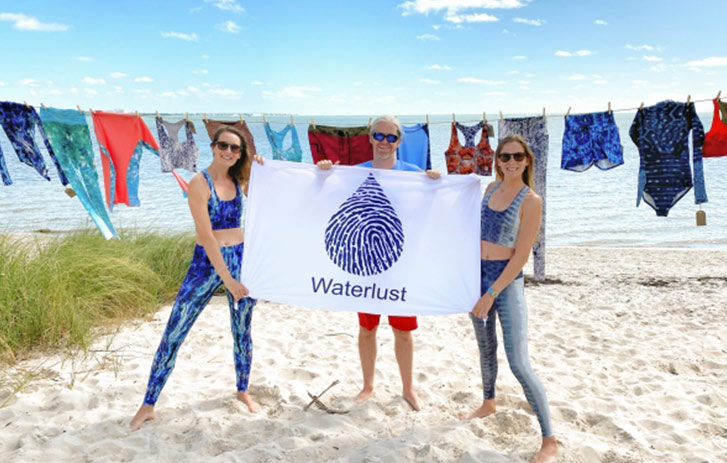 FedEx Small Business Grant Contest winner and founder of Waterlust, Patrick Rynne, had this to say about working with suppliers, "During times like this, supply chain delays are inevitable and often out of our control. Our biggest piece of advice would be to make sure you're developing a strong relationship, both personally and professionally, with your suppliers."
Patrick offers a good reminder that being intentional about relationship-building can lead to flexible partnerships and meaningful business opportunities.  
In fact, when the COVID-19 crisis hit, the Waterlust team wanted to do something to help and the fact that they had a good, open relationship with their factory, allowed them to find a way to do that. In response to the global health crisis, Waterlust was able to devise a plan to manufacture and sell masks quickly – at cost with no profit – using their large amounts of scrap fabric.
As the founders of Waterlust proved, a strong relationship with your supplier can help you in unexpected ways, especially as a small business owner. "Suppliers are key to your success, and if they feel like a true partner of yours, they will be more likely to bend over backwards to help you succeed. This has been crucial to our success in the past and rings true even more in challenging times like these," said Patrick.
2. Reexamine your supplier mix
In recent months, you've likely been rolling with the punches and handling obstacles that could include closed factories, backorders and extended lead times.  As you respond to these disruptions or prepare for other potential uncertainties, now is the time to review your supplier mix, identify vulnerabilities in your supply chain and act to make changes.
When planning for the year ahead, consider diversifying your suppliers and identifying alternative supply sources to minimize the risk on your supply chain. According to the World Economic Forum, "The urgent need to design smarter, stronger and more diverse supply chains has been one of the main lessons of this crisis," and recent data "suggests the effects of the initial shock may continue to linger for the coming months."
While searching for new suppliers, conducting research and asking for recommendations from industry peers may be helpful. During COVID-19, Kat Samardzija, owner of Locker Lifestyle and Entrepreneur Advisory Board member, faced the temporary closure of one of her factories.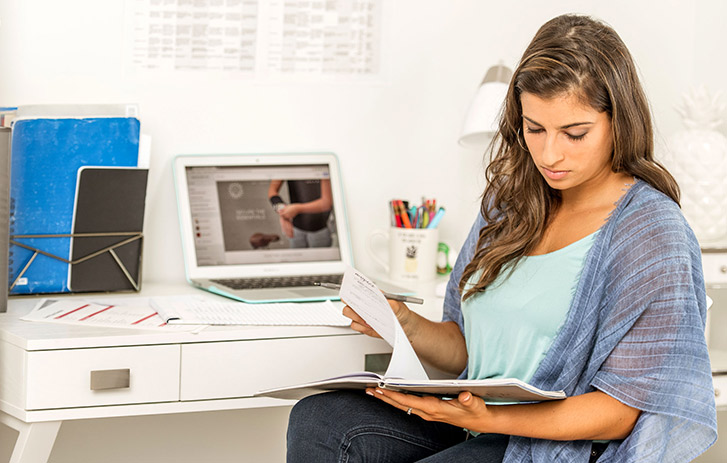 When asked how she found new suppliers, she said, "We turned to our mentors to assist in finding contacts. Our new suppliers are more reliable in terms of producing samples, giving shipping and lead time estimates and quality control."
Having a more stable supply chain means developing a reliable and resilient network of suppliers. For some, this may mean finding suppliers closer to home. Consider looking for local suppliers to regionalize your supply chain – while product costs may be higher, transportation costs will be lower and more predictable.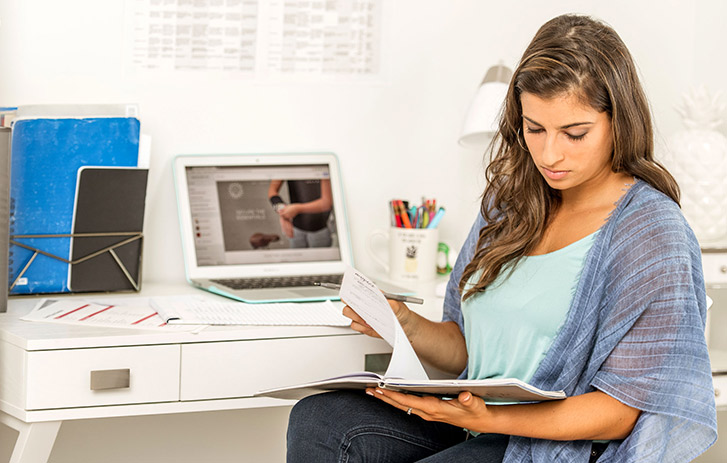 3. Prepare for long-term shifts in consumer spending habits
Business basics tell us that consumer demand equals supply needs. During these times, some businesses are experiencing drastic shifts in consumer buying habits. Whether demand for your product has been overwhelming or fallen in recent months, you should consider what demand will look like moving forward so you can best prepare.
Jeanne Foley, Small Business Grant Contest winner and co-founder of SuitShop, an online retailer for wedding attire, is ready for customer demand to return. "We are monitoring sales day-by-day and forecasting based on that, so much will depend on when communities, cities and states are allowed to reopen and when gatherings can happen again. We are already starting to see sales pick up as people reduce their wedding sizes and continue to have smaller ceremonies. We feel prepared for a surge at the end of this year and a booming wedding season in 2021."
While small business owners manage disruptions to their inventory and ready their inventory for anticipated changes in demand, it may be helpful to examine a few economic scenarios for possible unforeseen impacts in the coming months.
Below is a situational graphic by Gartner which shows the Common Economic Recovery Curves Being Modeled by Businesses in China.1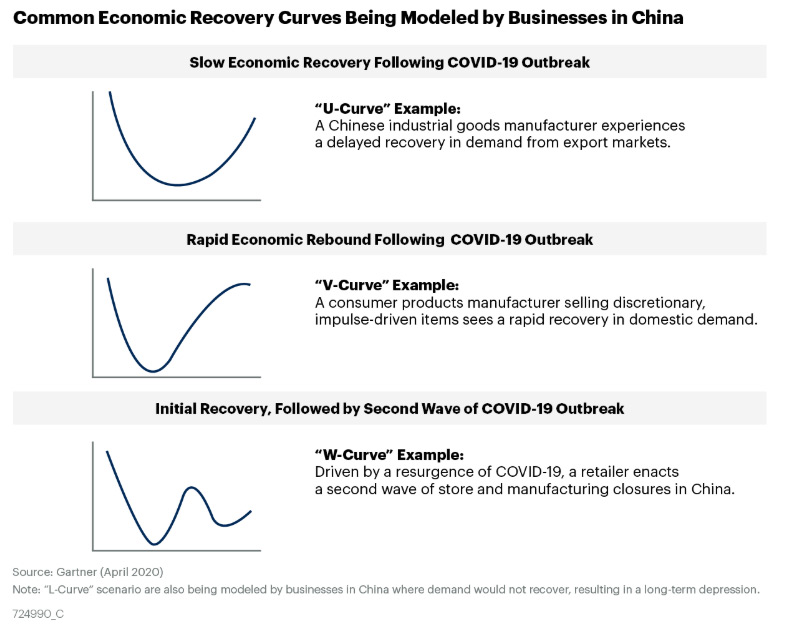 V-Curve: Rapid economic rebound following COVID-19
In this best-case scenario, a steep decline in the economy is followed by an equally rapid upturn. A quick rebound means that customers will immediately resume spending habits.
To meet rebounding customer demand in this scenario, you may want to consider a risk assessment for your supply chain to make sure your suppliers and manufacturing processes are prepared to quickly meet these demands by consumers. Also, consider stocking up on your inventory to meet potential surges.
U-Curve: Slow economic recovery following COVID-19
In this scenario, once the economy declines, there will be some time in a recession before the economy is able to slowly rebuild.
During this downturn and resulting recession, global trade may continue to be restricted, and small-business owners who import raw materials will likely need to consider long-term alternatives. Meanwhile, overall consumer spending will be lower during a recession, so consider ways to reduce inventory costs without sacrificing the quality of your product and find ways to continue fostering customer loyalty even when they're not spending.
W-Curve: Initial recovery, followed by second wave of COVID-19 outbreak
In this scenario, a V-curves recession and recovery is followed by a coronavirus resurgence and another steep recession and recovery period.
In the event of a resurgence, it may be a good idea to reflect now on any challenges or obstacles faced during the first wave to prepare your business for what may come in a second wave. Customers will remember how your business reacted, so it's important to secure your supply chain and adapt to any changes as quickly as possible to stay ahead of your competition.
To us, these above scenarios are food for thought and inputs into business contingency planning. Among the complimentary research and insights reports available from Gartner, we recommend reading the 6 Strategies for a More Resilient Supply Chain Smarter With Gartner article.2
As we enter the recovery stage, your supply chain may look different than it did pre-COVID-19, and that's ok. While you've quickly adapted to overnight changes and fluctuating consumer demand to make it day-by-day, now's the time to stabilize your supply chain so that you can focus on growing your business.
You can find more resources and information related to navigating 2020 disruptions here. To explore our supply chain services and access industry-leading supply chain insights, visit our Supply Chain Resources.
Related reading
Additional resources
---