Tips for changing your returns policy during COVID-19
Did you know that 66% of customers said a clear return policy on a website gave them the confidence to buy, and 95% of consumers say a positive returns experience makes them want to shop again from that retailer?1 Returns and exchanges continue to play an important role for many small businesses in creating opportunities to cultivate a positive customer service experience and improve customer retention and loyalty.
Between the new ways to shop in-person and the ongoing surge in online shopping, business owners may want to consider revisiting their return policies and process to ensure they are simple, easy for customers to follow and take the current circumstances into consideration. A flexible and convenient return policy is key to ensuring consumer confidence and converting sales.
We spoke with FedEx Small Business Grant Contest winners to see how they've changed their return policies to stay current with health and safety precautions and what to keep in mind when considering a revision.
How flexible should your return policy be?
A strong customer service experience is vital, especially now, to engage your customers. By tailoring your offerings and being flexible – while keeping your customer and team members safe – you open the door for a customer relationship that goes beyond the point of sale.
Jeanne Foley is the co-founder of SuitShop, an online retailer for affordable men's and women's wedding suits, who has returns and exchanges down to an art form. When wedding season was turned upside down due to COVID-19, they received an influx of return requests from customers who were unsure when the ceremony would happen.
"We have learned that being flexible is key. Couples are still planning their big day, but the landscape has drastically changed," says Jeanne. "By extending the time frame and reassuring people that we would be flexible, we were able to let a lot of customers hold onto the suit until they had a new date. If they were concerned about the suit fitting, we would happily exchange closer to the wedding date as long as items were not altered."
By increasing the flexibility of their returns and exchanges, SuitShop was able to avoid having to refund so many orders. "We worked with each unique customer request to determine the best option for them while mitigating the risk to our business having to issue return labels and refunds for all of the weddings that were affected by COVID-19," says Jeanne.
For some, a flexible return policy may be a win-win, but no two businesses are the same. Here are a handful of questions to consider when determining how flexible to make your return policy:
How can you make the return process simpler for your customers?

What is your average inventory sell-through rate?

How will flexible returns affect your cash flow?

How will you manage fulfillment for exchanges?

How will you communicate new policies – internally and externally?
How can you change your returns policy for safer handling?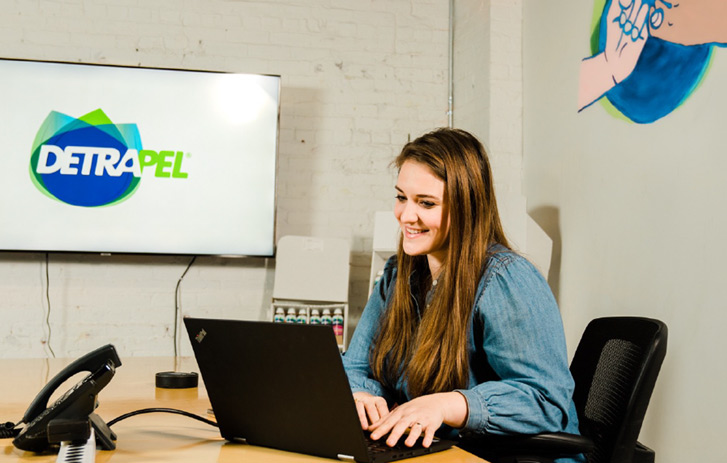 At DetraPel, a company selling nontoxic liquid-repelling protective coating for fabrics and leather, the safety of its shipping and receiving team is a priority. "The primary concern at this time is handling returns in the safest manner. For ecommerce, companies should still be able to accept unopened products from their customers, as long as the shipments get sanitized and disinfected upon receipt," says Ania Scott, the marketing manager at DetraPel.
Ania believes safety is the most important returns issue during COVID‑19.
While we are still learning about the virus, consider taking special precautions to keep your team safe as they accept and handle returns and exchanges. The CDC and WHO offer in-depth resources and guidance for the workplace, including recommendations for employers, such as conducting a hazard assessment, encouraging employees to wear cloth face coverings, implementing policies for social distancing and more.
With changing guidelines from the CDC website or WHO website, be ready to amend your return policy and processing if appropriate and openly communicate any changes to best support your team.
What are shippers and carriers doing to stay safe?
We understand the role we play in keeping e-commerce retailers running smoothly, and we're helping small businesses with the return resources and support they need to fulfill their current return policies in a way that's safe and simple for all customers and team members.
From implementing no-contact pickups and deliveries to maintaining the sanitation and cleanliness of our workspaces, we are taking precautions throughout the shipping process. For more information and details on restarting regular parcel pickup and delivery, service updates, logistics information and more, visit our COVID-19 Resource Page.
Whether it's increasing the flexibility of your returns and exchanges or creating new processes for health-sensitive products, take the time to consider all the factors and what makes sense for your business. It may be time to make some updates to your return policy.
A favorable return policy supported by friendly customer service will help give first-time buyers the confidence to purchase, leave your repeat customers coming back and keep your business moving forward.
See more about how a returns policy and process that works hard for you and your customer can boost online sales. For tools and services that help you same time on money, see how we can help you manage returns for your business.
Related reading
Additional resources
---
1Finding the ROI in online returns. Digital Commerce 360, 2019.